Hireflix - SOC 2 compliant one-way video interviews 🎉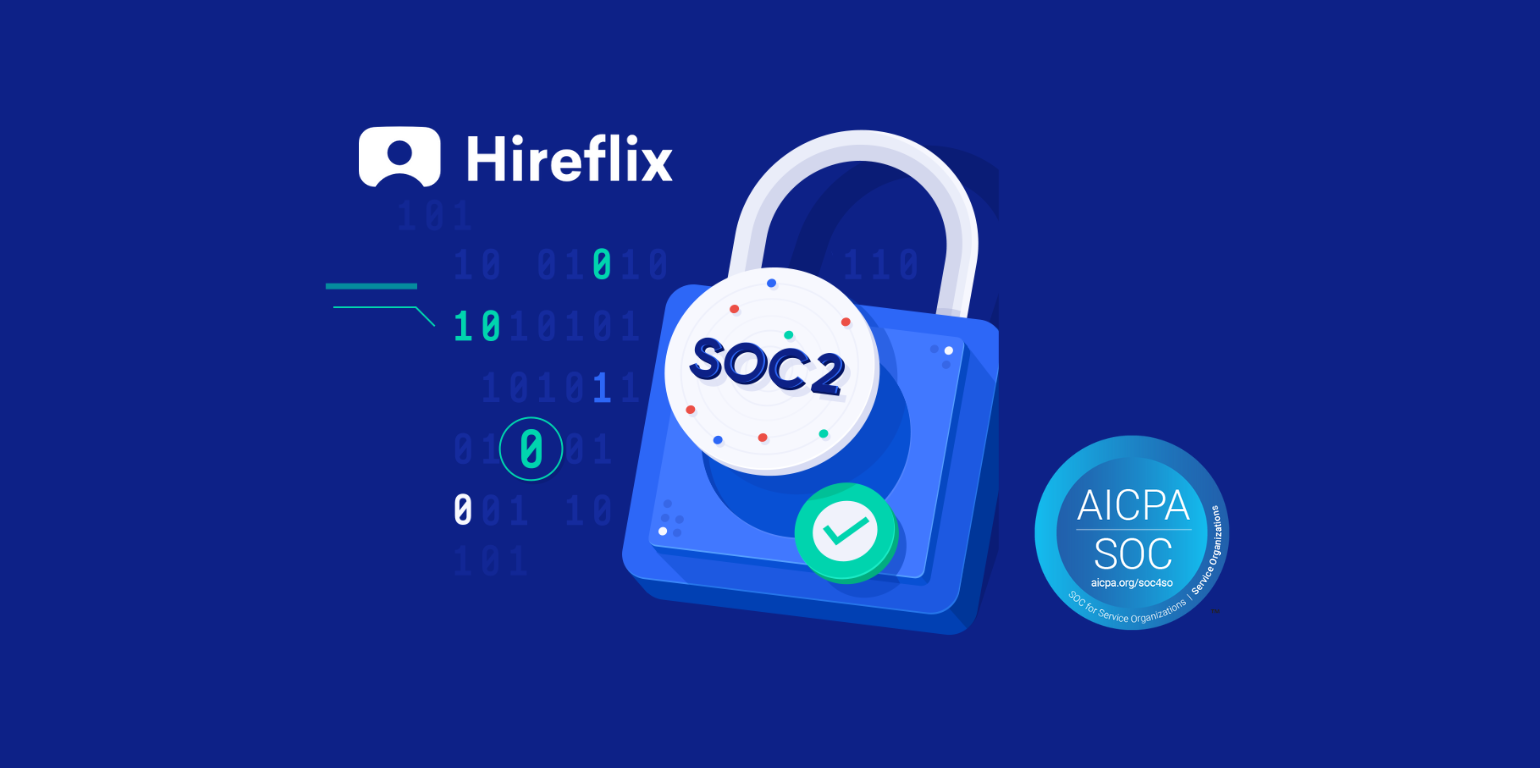 At Hireflix security and privacy is one of our core guiding principles. We have been GDPR compliant for years now and we are now glad to announce that we have achieved the SOC 2 compliance certification.  😊🙏
We understand how important your data is. We designed Hireflix with security as a core principle from the start. We chose the SOC 2 audit because it is arguably the most well-known widely recognized security audit in our industry. The SOC 2 certification is one more reason why you can be at peace that, with Hireflix, you work with the world's best one-way video interviewing software and the best video interviewing API - Antonio, Hireflix Co-founder and CEO
What is SOC 2 compliance?
SOC 2 compliance is essential for tech based services storing data in the cloud. If you are looking for a reliable one-way video interviewing software, it is critical that you make sure it is SOC 2 compliant. The Service Organization Control 2 (SOC 2) standard is established by the American Institute of Certified Public Accountants (AICPA).
The SOC 2 certification is awarded to businesses by outside auditors upon assessing the extent to which they comply with one or more of the five trust principles (Security, Privacy, Availability, Processing Integrity and Confidentiality). Getting a SOC 2 certification takes several months.  
When a software is SOC 2 compliant, you can be assured that it is implementing proper security systems to meet the stated principles.
Security is in the Hireflix DNA. Dani, the Hireflix Co-founder and CTO comes from the fintech-crypto industry and Antonio the Co-Founder and CEO has experience implementing process heavy ISO audits - Nacho, Hireflix Advisor
Looking for secure one-way video interviews?
The SOC 2 compliance is a testament to Hireflix commitment for customer data security and privacy. Hireflix also offers SSO, automatic data deletion, access and usage logs... basically all the security features needed for world class one-way video interviewing. Hireflix is currently the world standard for one-way video interviewing. If interested in knowing more, book a demo with us 😊🙏.
Hireflix became SOC 2 Type I compliant in May 2022