5 Strategies to Handle High-Volume Hiring
High-volume hiring involves handling a high volume of applications. You may find yourself in this situation if you have many positions open at the same time or if you receive many applications for your open positions.
Finding the key people to fill your open roles is one of the most critical aspects of running a business. Unfortunately, finding the most suitable candidates can prove a time-consuming and expensive process.
When you're looking to hire for multiple openings or for positions that get a high volume of applications, the process becomes even more complicated.
At least, that's the way things have traditionally gone.
Fortunately, you don't have to settle for business as usual. There are definite strategies you can put in place to deal with whatever comes your way. Even better, recent advances in technology have made high-volume hiring easier to handle than ever.
What Is High-Volume Hiring?
High-volume hiring, sometimes referred to as "mass recruitment," is a situation in which an employer (or recruiter) needs to fill a vast number of openings in a short period of time. An example would be the seasonal hiring that many retailers do each year during the holidays. Another would be a company expanding into a new market.
You may also find yourself in a high-volume hiring situation if you receive lots of applications for your positions, regardless of the number of positions you have open.
Though "high-volume" can feel a bit subjective, high-volume hiring generally involves hundreds and sometimes thousands of applications in need of prompt screening.
Failing to meet high-volume hiring demands can lead to serious problems. It can mean a poor candidate experience due to delayed communication. It can mean missing out on the right candidate for your position. Or, at worst, it can mean a grim company-wide reputation that repels qualified candidates.
Situations That Lead to Mass Hiring
While some industries lend themselves more toward these circumstances than others, most employers will likely face a mass hiring situation at some point.
High Employee Turnover
There are times when, for one reason or another, employees will exit their jobs en masse. Sometimes it's because of internal issues within the company. Some examples of internal issues are:
Employees feel they have little growth opportunity
Employees are overworked and burned out
Employees feel they have little opportunity for strategy and decision-making
The company is not investing in their employees' training and development
The company is not providing adequate compensation and rewards for its' employees' work
The company's hiring and selection process is flawed
Sometimes there are external factors involved. For example, your particular industry may be suffering from employee attrition in a job role. And it may have nothing to do with the company.
Either way, when workers quit in large numbers, there will be many positions to fill at the same time.
Rapid Expansion
Rapid expansion can take various forms, such as:
Opening new stores or branches
Opening services or products to new markets
Experiencing exponential customer or subscription growth
All of these can be exciting experiences. However, if you cannot keep pace with recruitment and hiring, you will struggle to keep up with your own success.
Unique Changes to the Job Market
From time to time, the job market experiences unique fluctuations. For example, during the Great Resignation, workers have been quitting their jobs in record numbers.
With job growth surging at the same time, the number of open jobs has been outpacing the number of available workers, leaving gaping staffing holes across industries.
Employers in the U.S. face an interesting challenge ahead — how to fill nearly 10 million job openings with about a million fewer workers than there are positions available. (CNBC)
Employers scrambling to fill holes left by the Great Resignation are finding that one of the only ways to keep up is to turn to high-volume hiring practices.
But this approach is not without its own challenges. Not only do you need to get people in the door, you need those people to be the right fit for the role.
High-volume hiring has the risk of becoming ineffective hiring if the proper strategy and processes aren't in place. And because it's at scale, you won't be able to sweep this ineffectiveness under the rug.
Unique Challenges of Volume Hiring
Like any approach, high-volume hiring has its own particular difficulties.
Finding the Right Candidates
Though thousands of open positions could quickly lead hiring managers to pursue any available person, leading to an "any warm body" scenario, it's still vital that you find qualified candidates.
Without the right person, the opening could quickly become vacant again in the near future, leaving you in the same position you were in the first place.
Pushing Against Time Constraints
As previously mentioned, too many open positions left vacant for too long can lead to serious problems. But too many open positions means too many applications and not enough time to read them all, let alone set up interviews.
Naturally, you're hoping to fill these positions as soon as possible.
But there is only so much time in a day.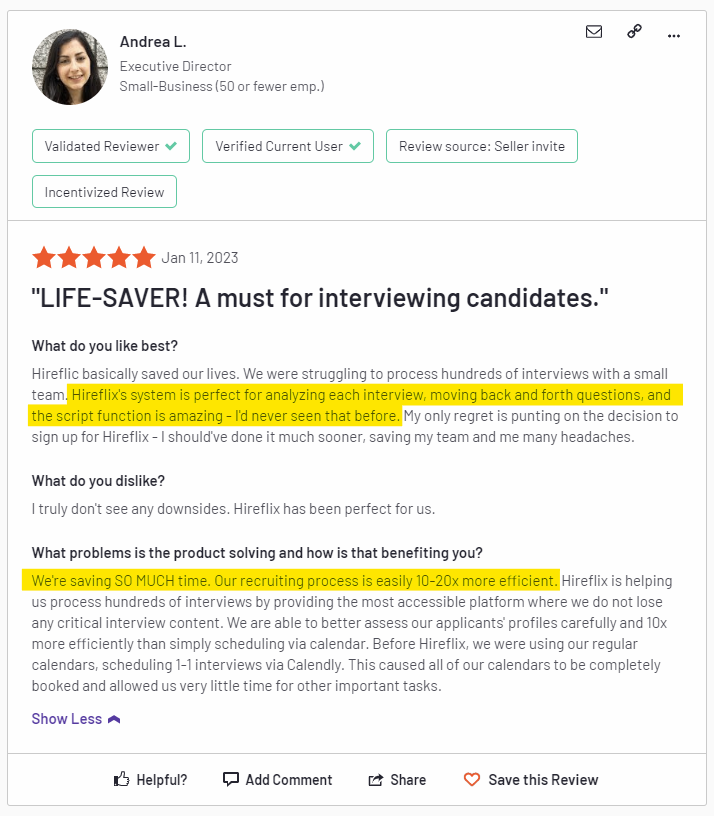 Experiencing Candidate Drop-Off
Even when you start with a large group of prospective hires, you may find that as candidates work their way through your hiring process, they begin to drop off.
While not all candidate drop-off is within your control — they may have landed other jobs along the way or experienced an unexpected life situation such as illness or personal crises — if you're noticing prospective hires dropping off at alarming rates, it could be that there's something amiss in your hiring process that's causing people to voluntarily exit.
The steps may seem needlessly complicated from their perspective, or — perhaps because of the overwhelming nature of how many hires you're trying to accomplish at the same time — you're falling behind on communication or forward momentum in the hiring process.
Fortunately, there's hope. Read on to learn five strategies to handle the heavy volume of applications.
5 Strategies to Handle High-Volume Hiring
In order to make the most of your efforts at high-volume hiring, be sure your hiring team is taking advantage of the best possible strategies. These strategies all involve either finding candidates to enter your hiring funnel or improving that funnel in some way.
Strategy 1: Look beyond job board postings.
Strategy 1 is around finding candidates for your funnel. Job aggregator tools are responsible for 75% of all job applications. They are also responsible for 47% of all hires in the United States.
But when you're engaging in high-volume recruiting, you will need to cast your net a bit wider than the usual talent board.
Talent rediscovery. Some of your best applicants may already be part of your talent pool because they applied to your company in the past. Whether or not they're still actively searching for a job right now, they may be open to entertaining a job offer from you. It doesn't hurt to reach out and see who reaches back. Simply tap into the power of your ATS (Applicant Tracking System) to find potential candidates and set up a system to help them re-enter the application process.
Employee referrals. Some of your best candidates may be one degree of separation from you right now. Establishing an employee referral program can refine the recruitment process and open a line to a steady stream of candidates who come to you.
Social media recruitment. Four billion people are currently using social media. That's over 50% of the world's population. The world is not only your oyster — it's now also your hiring pool for volume recruiting. Put out application calls through your social media channels, and ask your followers to refer their friends and contacts. You may be surprised by how effective this method can be.
Recruitment software. With this technology, you can source and attract talent much quicker and at a larger scale. It allows you to tap into the power of big data and AI. So you can get in front of your candidates in more places. You can post on multiple job sites in one click. You can share to your social channels with ease. You can start and manage a referral program. A great example would be Workable's sourcing tools.
Strategy 2: Improve candidate engagement.
When it comes to filling positions quickly — or even at all — you absolutely cannot drop the ball when engaging candidates.
Some current candidate experience statistics worth noting:
75% of professionals claim they were influenced to accept their current position because of a positive hiring experience
63% of candidates say most employers do not communicate adequately
53% of applicants said they did not receive a response from employers until 3 months after applying
30% of job seekers ranked responsiveness after they apply as most important to them when it comes to candidate experience
Those numbers paint quite the picture.
It's vital that you have systems in place that will allow for robust candidate engagement, particularly when you're engaging in mass hiring.
But how do you improve candidate engagement in a high-volume hiring situation? And what are those systems?
First, consider the basics. Put yourself in the candidates' position. They are applying ferociously to many positions. If there are hold-ups in your hiring process, they are likely to play a numbers game and move on. Resultantly, you must keep your process simple.
In high-volume hiring situations, it can be difficult to keep the candidate experience human. Too often, applications get lost in the shuffle. Candidates don't know where they stand in the process. Are they still in consideration? In some instances, your position may be their top priority, and they'd be willing to wait. But only if they know they're still in the game.
Have they been ruled out? Making sure candidates know they are no longer in consideration promptly is an important aspect as well. It may not immediately improve hiring, but it creates the proper reputation for your company, and in the long-run will make you more effective in hiring.
The best way to manage candidate engagement at scale is through an applicant tracking system. In all likelihood, you are already aware of this. But we'll go ahead and list a few great ATS options:
Lever
BambooHR
Workable
Teamtailor
Greenhouse
Jazz HR
Recruitee
And 50 Skills
Strategy 3: Streamline the application process.
Sixty percent of job seekers abandon the application process if it feels too time-consuming or complex. If you want to keep a job seeker engaged for the entire application process, be sure to streamline your process.
A few steps you can take to streamline the application process:
Make the application process mobile-friendly
Write your job description succinctly and clearly. No novellas, please…
Have processes in place to keep it both professional and human – before, during and after interviews
Measure your company's time-to-hire, or how long it takes to hire a new employee – by measuring, you give yourself a benchmark to improve upon
Implement pre-screening methods – Hireflix's one-way interviewing happens to be an excellent resource for pre-screening, something we're about to discuss in detail
Strategy 4:  Use one-way video interviewing for pre-screening/interviewing candidates

Pre-screening is the evaluation of candidates prior to interviewing them. It is necessary in high-volume hiring. Traditionally, pre-screening involves reviewing cover letters and resumes, running applications through applicant tracking systems, and phone calls. Most of these steps take time when you have to sort through hundreds or thousands of applications.
But now, Hireflix's one-way video interviewing software can help companies go through the pre-screening process much faster and more effectively. So you're not only quicker to hire, but you're better at it, too.
In fact, it may not even be fair to call it pre-screening, even though it serves the purpose. It may be more fair to call it the beginning of the interview process.
Hireflix's one-way video interviewing allows you to record questions for candidates. Then you can send those questions out to candidates, who can then record responses. The result is that in the time it would take to interview one person, you can interview thousands.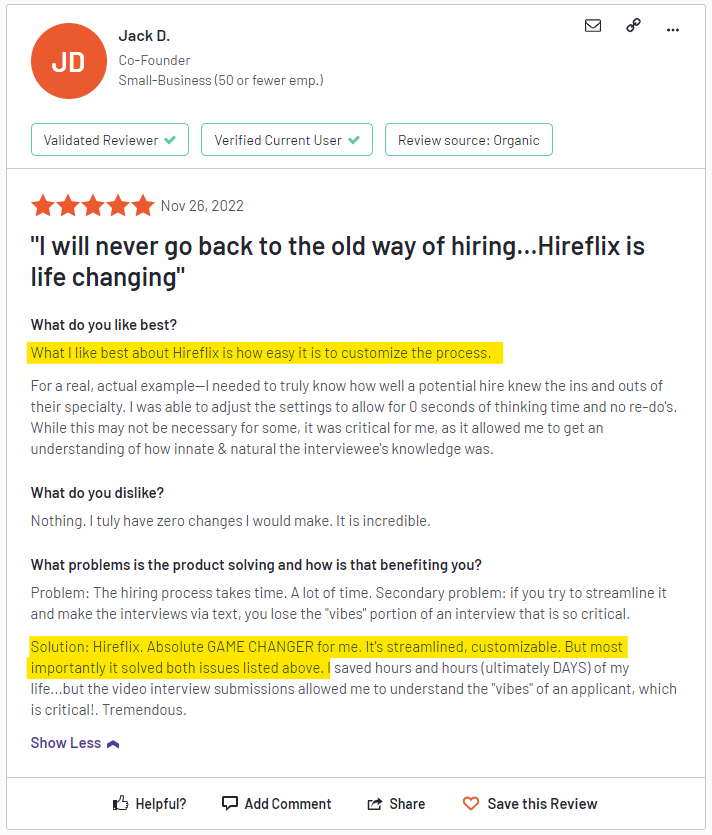 As a result, you can save a great deal of time in scheduling and interviewing and narrow your search much quicker than with traditional pre-screening. And you have richer data to base your decisions on – actual interview question responses.
Because you are able to narrow your search faster with greater effectiveness, it makes managing high volumes of applications easier. You can ensure the candidate experience for the right candidates. One-way interviewing both streamlines the process and makes engagement easier, since you have fewer candidates to worry about now.
Rather than lining up interviews back to back (even screen interviews) and dealing with multiple candidates who are late or no-shows, HR professionals can leverage the power of one-way video interviews to make the interview process even more convenient for themselves and the job seekers.
Hireflix's one-way video interviews are compatible with most ATS's and Zapier, and they can also be integrated onto any other software to streamline the application process, allowing candidates to sail right through without a hitch. (Click the link here if you'd like to learn more about Hireflix's amazing video interview API.)
You may automatically assume that such technologies are beyond your budget, but that's not necessarily the case. Check out Hireflix's one-way video interview software pricing to learn just how affordable it can be to get the latest technology working on your behalf.
Strategy 5: Study recruiting metrics.
Data-driven metrics can help you recruit and retain top employees.
The rise of digital collaboration platforms and new methods for harvesting data, along with new technologies and novel approaches for finding and managing talent, are redefining how companies will build their workforces going forward. (Harvard Business Review)
Though debates rage about "big data," there is no doubt that insights drawn from recruiting metrics can point you toward a better and more efficient approach to talent acquisition and management. This is a definite advantage in any case, but particularly when you're staring high volume recruiting straight in the face.
High-volume hiring may seem like a daunting task, but with the right strategies in place — and the right platform having your back — you can handle it like a pro.