The Best Video Interviewing Software to Manage Hiring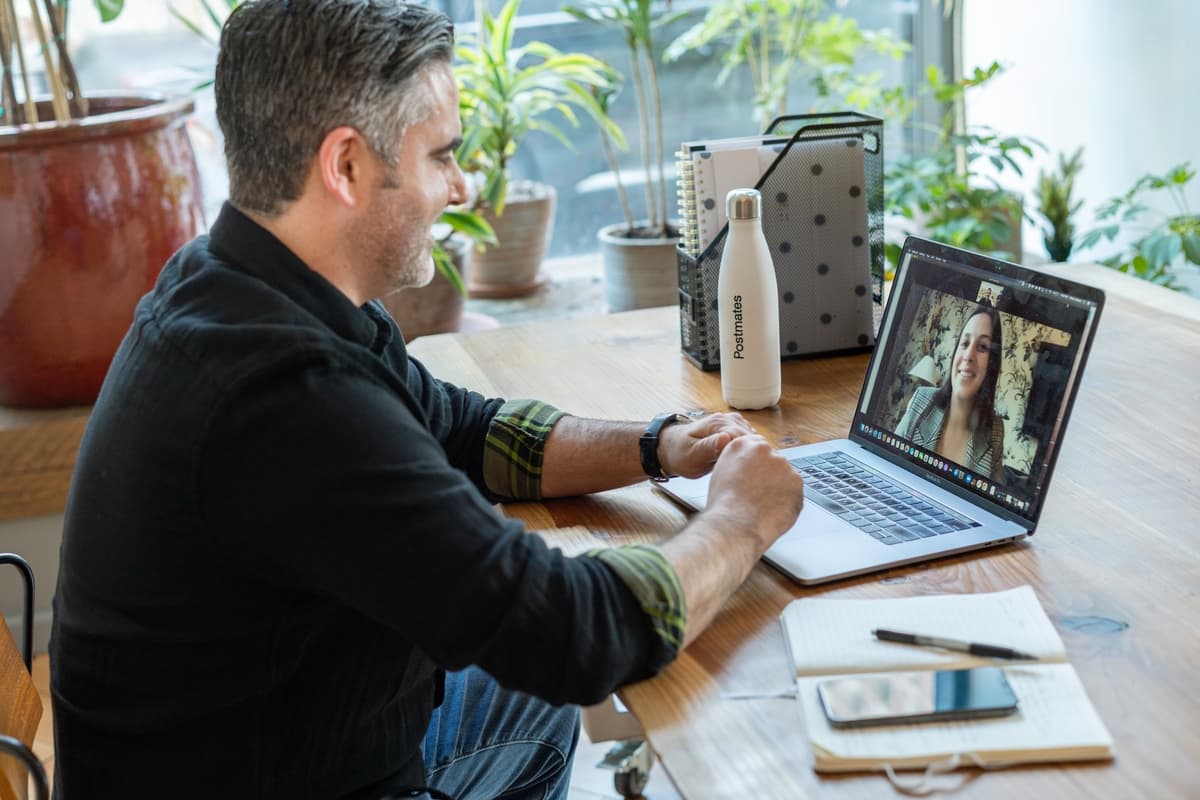 It's no secret that 2022 has come with unique staffing challenges. Workers have been quitting their jobs at alarming rates, both in the United States and worldwide. Citing low pay, a lack of opportunity for advancement, and a lack of respect and recognition, workers took the nation's "quit rate" to a 20-year high. The majority of those who quit did so to seek better opportunities elsewhere.
As you can imagine (or perhaps even experienced), this led to astounding turnover rates, leaving hiring managers and recruiters scrambling to fill large numbers of vacant positions. Many of them turned to video interview software to make the best use of their time and energy in talent acquisition.
Others are just now coming up to speed and have begun looking into finding the best video interviewing software available.
What Is Video Interviewing Software?
While the use of video interviewing software had been on the rise in recent years, the COVID-19 pandemic led to a sharp uptick in popularity—for obvious reasons. With most of the global population working to maintain social distancing, video interviews seemed the safest and best way to keep hiring on track.
As of the fall of 2020, nearly 89% of organizations surveyed claimed to use some form of video technology in their interview process. Whether they were using the best video interviewing software for them, however, is anybody's guess.
Video interviewing software provides companies the ability to conduct interviews in two ways: live or on-demand. In a live video interview, the candidate and interviewer participate together in a real-time video call.
However, many times with video interviewing software, interviews take the form of an on-demand, asynchronous system. The interviewer presents the job seeker with a set of interview questions—pre-recorded by a hiring manager or recruiter. Candidates are then free to think through each interview question, record their video responses, and submit them at their convenience.  
There's evidence to show that video interviewing improves outcomes.
According to a recent HR Research Institute survey, an HR professional who rated their organization's overall talent as above average or top-notch was 15% more likely to use video-based interviewing systems than their counterparts. (Forbes)
The best video interviewing software can help:
Save overhead and labor costs
Save time and travel expenses
Reduce labor costs and conflicts related to scheduling
Introduce increased structure that can eliminate bias
Streamline hiring decisions when filling high-volume positions
Allow a wider pool of candidates to apply
When it comes to getting the most out of your video interviews, the first step is to choose the best video interview software.
Simply put, that means finding the video interview platform that's right for you and your current needs.
The Best Video Interviewing Software
The best video interviewing platform is the one that has all the resources you need but doesn't bog down your recruitment process with too many confusing or unnecessary options.
The most objective software ranking currently and the standard in the industry is the G2 video interviewing software ranking. Unlike other rankings, the G2 ranking is based on objective verified independent reviews from real customers + other objective data. The below are the rankings as of July 2022:
🥇 Hireflix
🥈 Spark Hire
🥉 Vidcruiter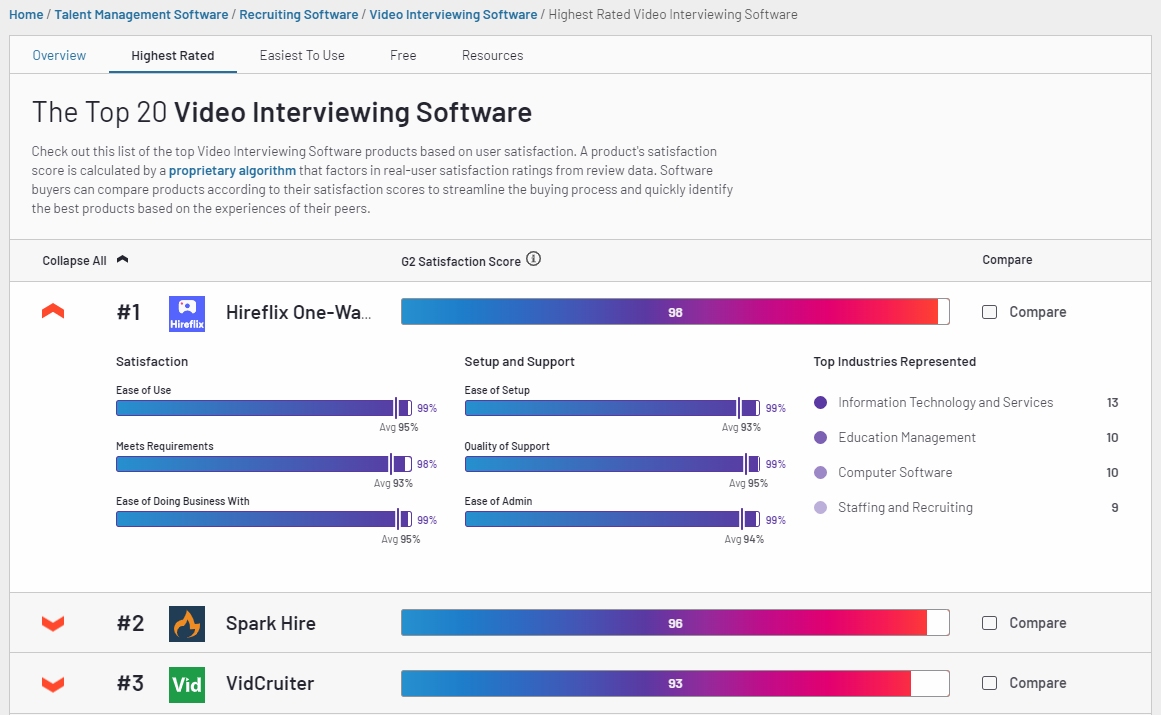 Hireflix
Hireflix is the best video interviewing software currently available on the market (recently awarded 19 awards on the G2 Summer 2022 reports)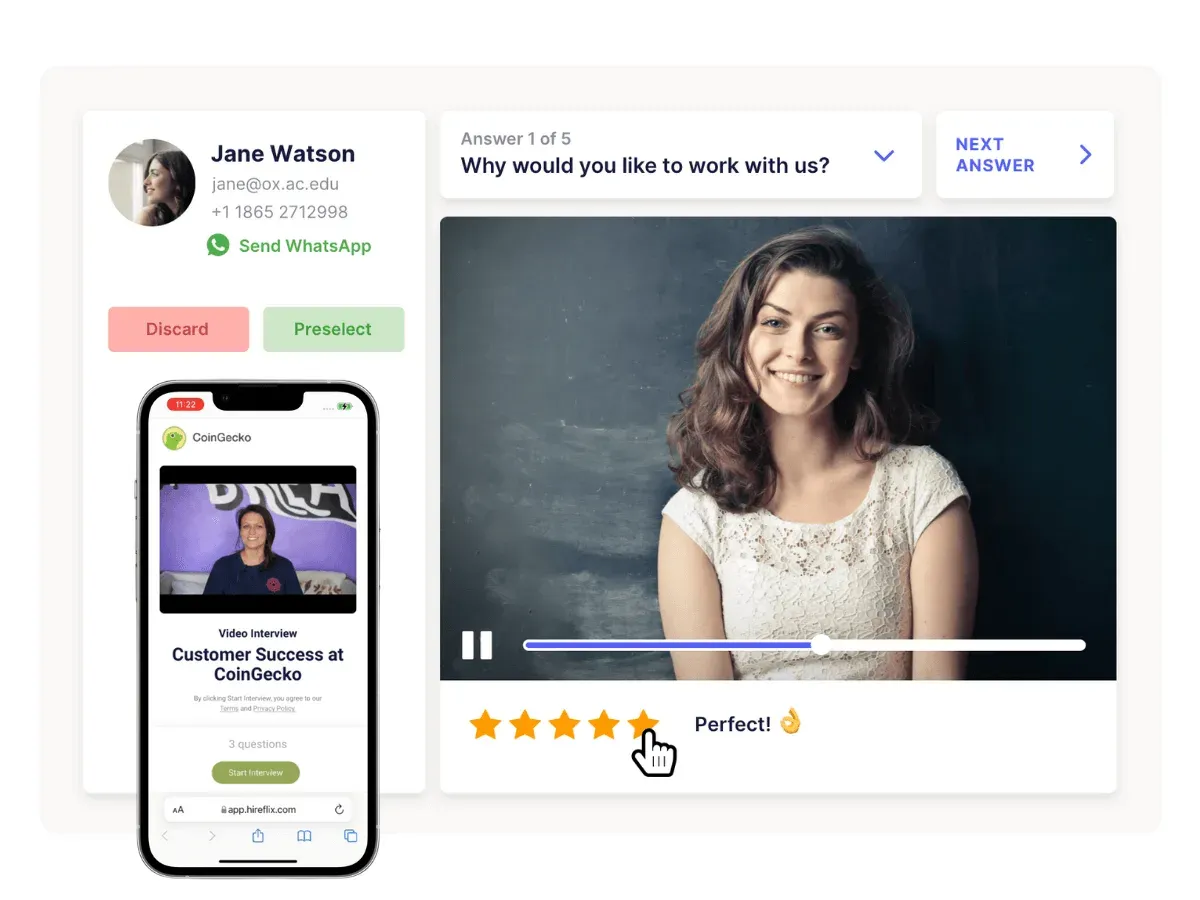 Features
Hireflix offers all the features you'd need for one-way video interview collection, including:
Works everywhere/anywhere without an app or any download required
Custom intro/outro videos
Customizable thinking time, answer time and retakes per question
Individual invite links per candidate, or unique link per position
Automated and customizable email/SMS/Whatsapp notifications
Custom brandings per interview (color and logo)
Rating and collaboration tools
GraphQL API with webhooks
Shareable interview links
Hireflix focuses exclusively on doing one thing well — building and sharing one-way video interviews and easily collecting video responses from your candidates. You won't have to learn a complicated system or wade through lots of set-up options when you first get started.
Best for
Hirelfix is the best platform for simple one-way video interviews. Hireflix works great for companies of any size and it's an especially great option if you seek a simple and user-friendly system that will also habe all the features and compliance you need.
Pros and Cons
With Hireflix, even smaller organizations can afford to leverage the power of a video interview tool to meet their current hiring needs. The system is the most simple, easy to use, and straightforward in the market.
Hireflix is also known for its amazing customer support and top-notch integrations. In fact, these are the features most often mentioned in consumer reviews.
The con is that because Hireflix focuses exclusively on one-way video interviewing, if you are looking for two-way live video interviews then Hireflix wouldn't be able to help you.
Pricing
Hireflix has great pricing options for their pre recorded interviews that meet companies where they are.
Small - Companies with fewer than 50 employees pay $75/month.
Medium - Companies of 50-250 employees pay $150/month.
Custom - Large corporations and high-volume recruiters are guaranteed the best rates depending on their needs.
No matter the size of your company, all Hireflix plans include unlimited user seats, unlimited positions and all features included.
Spark Hire
Spark Hire is great for conducting remote video interviews if you need a live interviewing option.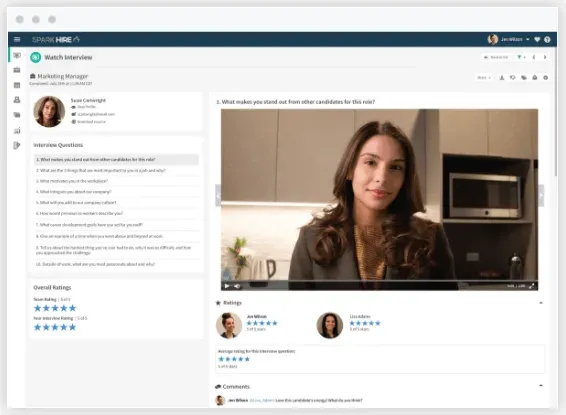 Features
Like other services on this list, Spark Hire offers asynchronous video interview capabilities but also interview scheduling and live interviews as well.
Special features include:
Integrations with Google, iCloud, Outlook.com, Exchange, and Office365
Bulk scheduling
Limiting candidate "think time"
Limiting the number of video re-takes
In addition to these features (and more), Spark Hire allows you to schedule job candidates for a  live interview, which can be recorded in real-time and played back later.
Best for
Spark Hire is a popular pick for companies that seek live two way video interviews.
Pros and Cons
Spark Hire does help companies shave time off their hiring process, and the option to schedule and record live video interviews for replay is a stand-out feature. However, consumer reviews complain of the system being hard to use sometimes and overall the UX/UI is outdated which makes the candidate experience a bit clunky.
Pricing
While Spark Hire does have specific tiers available, those tiers are not based on the size of your company. Its pricing is based on the number of positions you're trying to fill and how many users will have access to the software on your end.
Starter - For $199/month, you can post 1 job at a time and have access for 3 users.
Pro - For $249/month, you can post 5 jobs at a time and have access for 5 users.
Team - For $599/month, you can post an unlimited number of jobs at the same time and have access for 6+ users.
Enterprise - For $849/month, You can post unlimited jobs at the same time and give unlimited users access.
As you can imagine, while this somewhat unique pricing system will work for some companies, it could hinder others.
HireVue
HireVue offers users plenty of bang for their buck, including some heavy-hitting features.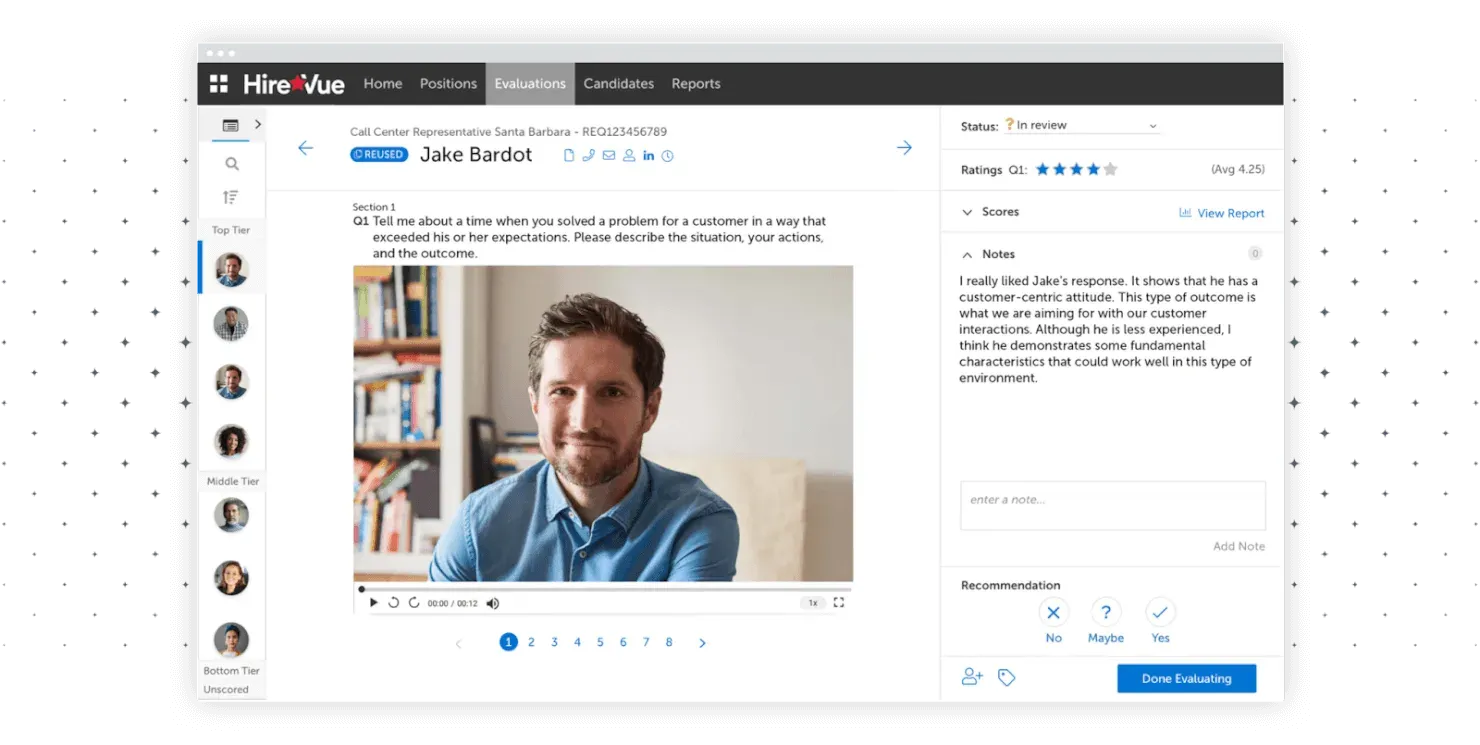 Features
In addition to the expected one-way video interviewing tools, HireVue also offers:
Live video interviews
Customizable branding
24/7 chat, email, and phone support
Game-based and coding assessments
Structured interview builders
Conversational AI
AI-driven insights
Text recruiting
Best for
Geared for true high-volume hiring, HireVue seems best suited for large-scale recruiters and enterprise-level operations.
Pros and Cons
On the plus side, HireVue's hiring and recruiting software offers all the bells and whistles your hiring team could possibly imagine.
On the downside, all these high-powered features are often unnecessary, particularly for small businesses. Midsize companies and even enterprise clients may find it a bit much if they are just looking for the best video interviewing software to conduct asynchronous video interviews and fill open positions quickly.
Pricing
As you can imagine, all HireVue's features come with a hefty price tag.
The "Essentials" package (for companies of 2500-7500 employees) starts at $35,000. Enterprise clients (7500+ employees) are encouraged to request a demo to receive a quote.
But for every video interviewing platform like HireVue that prices organizations out, other—more affordable—options are available.
Vidcruiter
Vidcruiter provides different kinds of video interviewing for people seeking for a comprehensive and advanced system.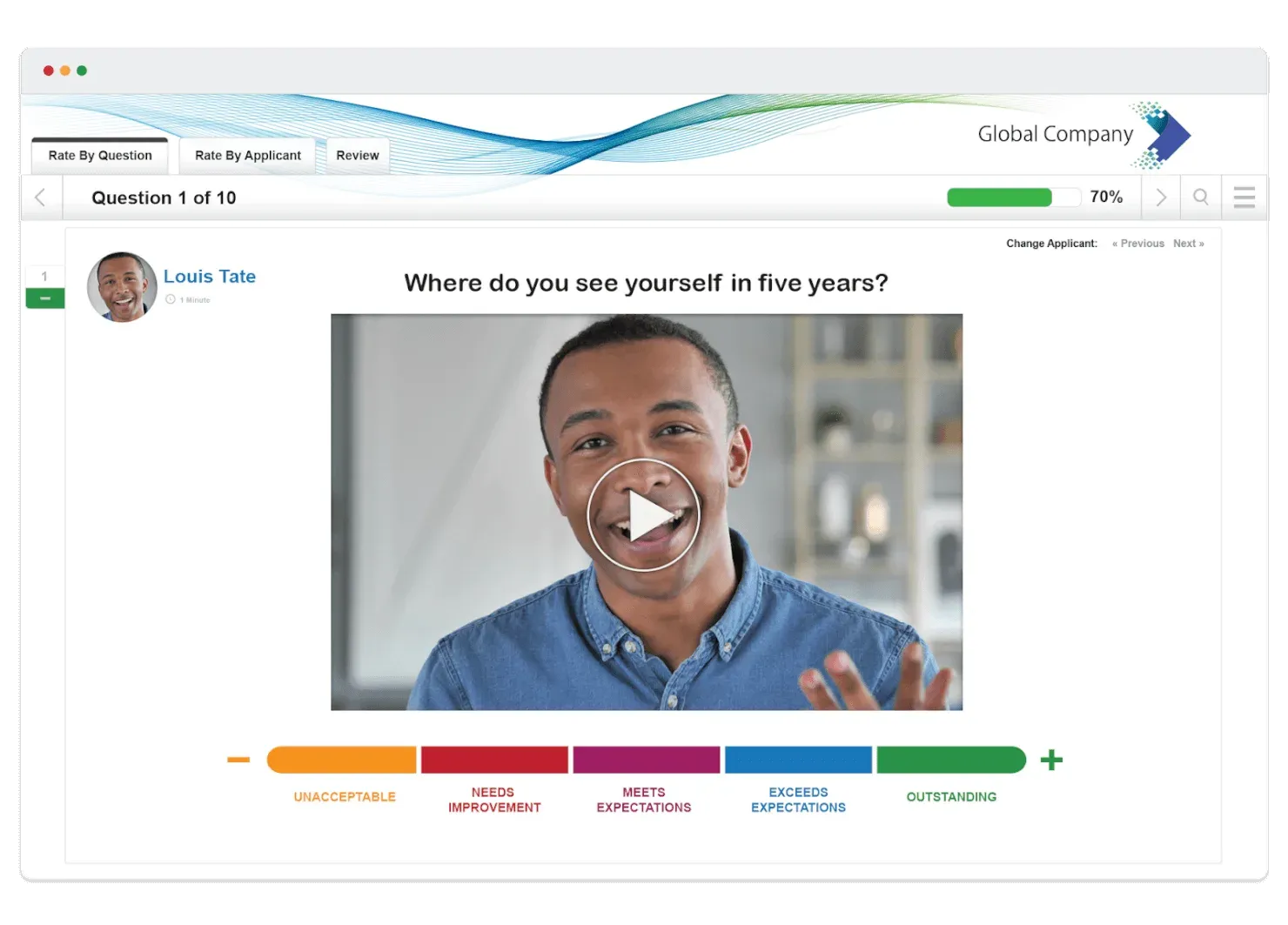 Features
Vidcruiter has decided to go broad, and offers several tools inlcuding live and asynchronous interviewing.
Other features include:
Rating guides
Collaborative interviewing
Automated Scheduling for live interviews
Live video interviews
Best for
Vidcruiter could be good for big corporates if looking for an end-to-end solution that can deliver two way video interviewing and scheduling as well as one-way.
Pros and Cons
Focusing on big enterprise clients, Vidcruiter integrates with some of the heavier ATS's such as SAP Success Factors. The con is that, being a corporate focused product, pricing for instance is not transparent.  
Pricing
Vidcruiter doesn't offer transparent pricing. They usually charge $4-$6 USD per assessment but this can vary depending on the products you want to hire.
RecRight
RecRight provides video interview software to streamline the screening and hiring process.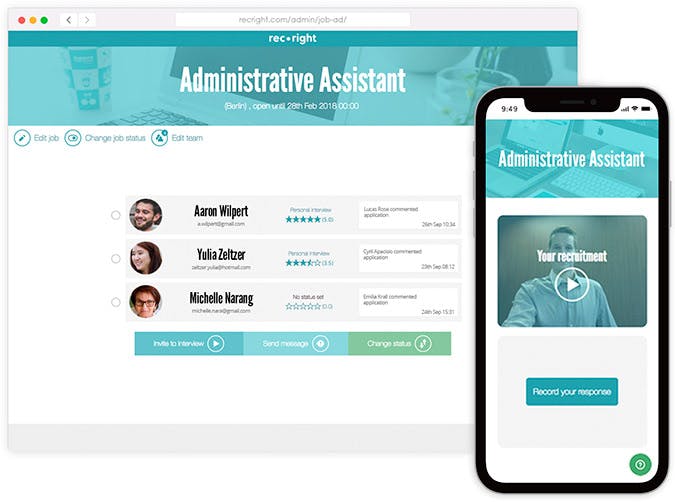 Features
In addition to recording video interview questions and receiving video responses, RecRight's features include:
Mobile access without downloading an app
Collaborative candidate-management tools
ATS features
Best for
Because RecRight starts with a pricing plan that includes just 10-20 hires a year and then builds upward from there, it seems that it could be a great fit for smaller to midsize companies while still providing for the needs of larger companies as needed.
Pros and Cons
RecRight is based in the EU, with a European focus and Euro pricing options. Depending on where you are in the world, this could be either a pro or a con.
Pricing
Like most other video interview software, RecRight has a tiered pricing model.
Easy - At €265/month, you will max out at 50 candidates per position.
Pro - At €475/month, you will enjoy 30-50 positions per year and have access to more features.
Enterprise - Though you'll have to contact RecRight for a quote, you're assured over 60 positions per year and a range of services to meet your unique needs.
Deciding whether RecRight (or any video interviewing software) is the right one for you will depend on more than just the price tag, however.
5 Factors to Consider When Choosing the Best Video Interviewing Software
Remember, choosing the best video interviewing software is less about comparing and contrasting them all and more about choosing what's best for you at this moment.
A few aspects to consider:
Candidate experience. Will candidates find the learning curve too steep? Will they be annoyed by having to download an app or choose yet more login info?
Asynchronous versus live. You may need either or both. Choose an option that meets your needs.
Customer support and training. You may have some bumpy roads ahead. Choose an option that offers the support you need to thrive.
Integration. In cases such as these, smooth integrations are everything. All else being equal, always prioritize integrations.
Pricing. Though many start their decision-making here, a low cost should not be the only deciding factor. After all, if a platform is affordable but doesn't offer exactly what you need, are you truly getting a deal?
Hireflix Can Help
Learn how Hireflix's one way video interview software can help you save time in finding great candidates.