Did Hirevue suddenly changed pricing for you making it even more expensive for you? Looking for a HireVue alternative for your recruitment process? One that is simpler, more focused, and more affordable? Hireflix is it.
In order to keep up with today's fast-paced hiring market, hiring managers are always on the search for the products and services that can help them streamline their approach to finding the best and most qualified talent.
Using automated hiring software is one way to keep ahead of the curve. While HireVue has garnered a fair share of attention in this regard, Hireflix's video interviewing platform makes an effective (and surprisingly affordable!) HireVue alternative.
Hireflix vs. HireVue: An Overview of Hireflix's video interviewing platform
While both HireVue and Hireflix serve as online hiring platforms where you can build one-way interview systems and receive video applications, there are definite differences between these two platforms. One offers a wider array of products and services, and the other specializes in simplifying one specific aspect of the hiring process.
While HireVue relies heavily on Artificial Intelligence (AI) in an attempt to navigate complicated features that may not even be necessary for everyone, Hireflix has maintained a laser focus on perfecting an easy-to-use, one-way video interviewing platform done right. This allows for an ideal hiring manager and candidate experience.
Breaking Down the Differences
In many respects, Hireflix is a more elegant and affordable HireVue alternative.
HireVue Features
It's no secret that, on the whole, HireVue brings a lot to the table. Maybe even too much.
HireVue offers hiring managers a dizzying array of heavy-hitting features, including:
Access to both live and on-demand video software
Game-based and coding assessments
Conversational AI tool
While there may be some human resources managers or recruiters who will benefit from the many variables offered by HireVue, there are others for whom these features will be irrelevant—not to mention time-consuming to set up and learn how to maximize.
Hireflix Features
If you're looking to get started right away and scale quickly, then you are going to love Hireflix's video interviewing platform. Find and hire qualified candidates with ease.
Unlike some other Hirevue alternatives, Hireflix provides access to simple and straightforward technology. And the platform doesn't require a learning curve to operate. (Music to your hiring manager's ears!) With fewer bells and whistles, the system is easy-to-navigate. Uncomplicate your hiring process. Start sorting out each step of your interview process with ease.
With Hireflix, you can build a one-way interview in minutes and get started interviewing job candidates right away.
A few of Hireflix's best features:
Receive one way video interviews 24/7
Responsive to all formats (desktop, tablet, phone)
Interview questions with both video/text response options
Custom intro and outro videos
Perhaps best of all, Hireflix is supremely user-friendly, with no apps, logins, or registration required to create a better candidate experience.
Try it out today! We have a free one-month demo so you can see for yourself how simple it is to use.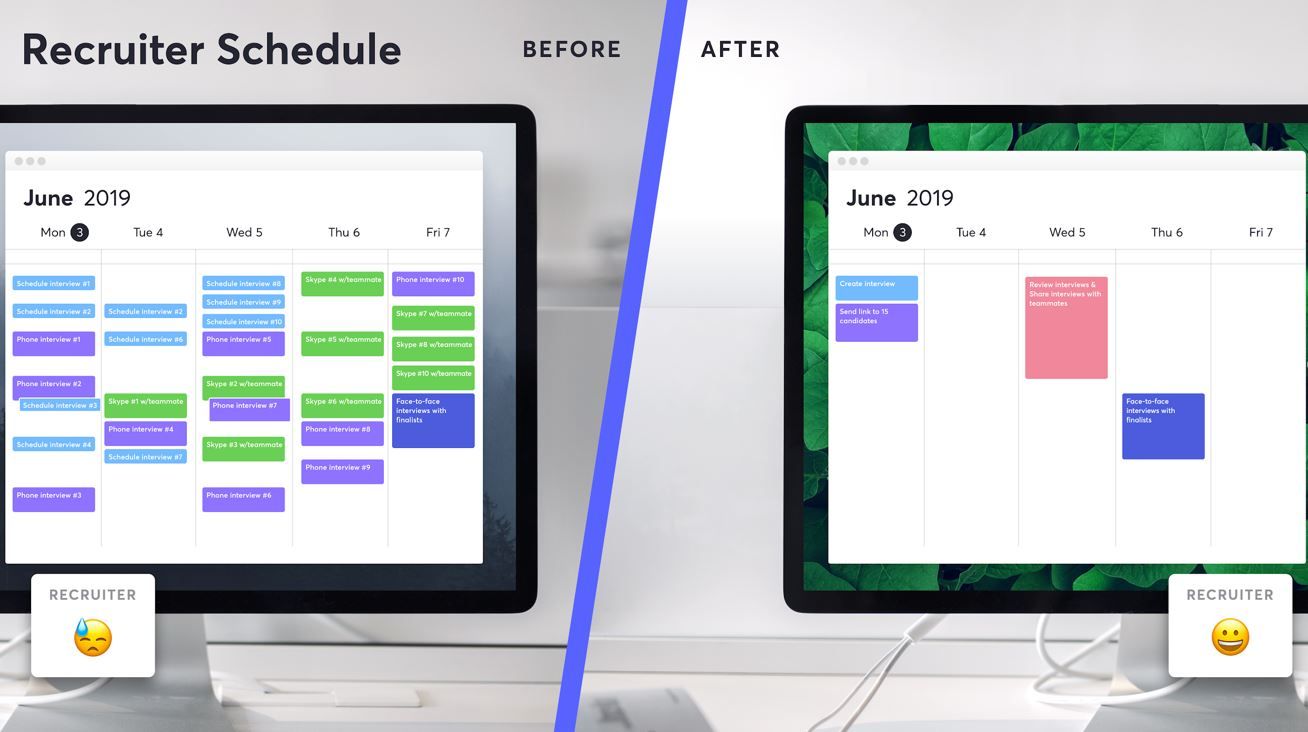 Asynchronous Interviewing
HireVue includes one-way (or asynchronous) interviewing in their platform. But it is just one of many features. And it is not as simple to use or effective as Hireflix as a result.
This is the feature that actually saves time in hiring, which is why at Hireflix, one way video interviewing is our core functionality. It's not some afterthought.
"What I like best is the asynchronous interviewing feature of their product." –Verified G2 review of HireVue
Integrations
Not only has Hireflix intentionally minimized the use of any AI tool in its development, but its platform also provides vastly superior integrations to help you find the right candidate. Hireflix integrates with both ATS and Zapier, and its robust video interview API even allows for custom integration.
Pricing
With all they offer, it only makes sense that HireVue's services come with a fairly substantial price tag.
While HireVue does quote specific prices based on a company's size and needs, even HireVue's "Essentials" package starts at $35k, and that doesn't include access to all the features they offer. While there are large companies that wouldn't blink at such a price, there are others looking for a more affordable HireVue alternative.
That's where Hireflix really shines. Hireflix is a great alternative for companies of all sizes, particularly ones that are still growing.
Hireflix offers three plans, each of which can be paid monthly or annually.
Small - $150/month. Perfect for companies of 50 employees or fewer.
Medium - $300/month. Best for companies of 50-250 employees.
Custom - Custom rates for high-volume, large-scale operations.
Not only are Hireflix rates affordable for employers of all sizes, but paying by annual lump sum will bring your bottom line down even lower. And because Hireflix offers a free monthly trial, it costs you absolutely nothing to try it out and see how simple video hiring can be.
Bells and Whistles or Simplicity
HireVue's Bells and Whistles…
HireVue comes with all of these robust features, but prepare yourself to dig into documentation and spend loads of time troubleshooting to put them to use. Even using standard features can become a daunting task that consumes hours of your day.
Hireflix's Simplicity
If you're looking for ease of use and simplicity, Hireflix has you covered. We get rid of the complexity, so you can get to hiring faster and more effectively. Isn't that the point, after all, to save you time?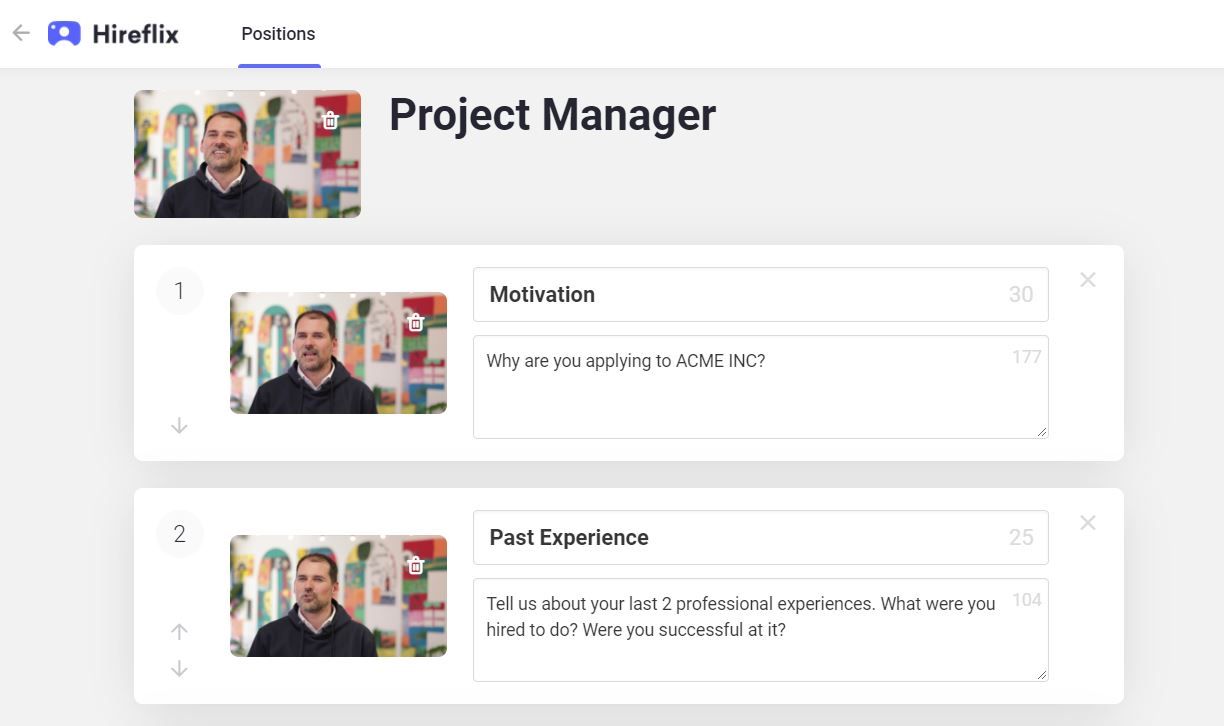 Testimonials
I've reduced my interviewing process by 90%. Hireflix wins for my favorite software this year!
Casey Truffo - SoCal Counseling Center
The platform is extremely easy to use. We rolled it out to 1000+ people and the experience was flawless. The customer service is also OUTSTANDING.
Helena Woodcock - Propel International
This has revolutionized how I approach recruitment. We can now structure our pre-screening process in a very fair and inclusive way for all applicants. Best HR SAAS investment!
Ahmed Al Rawi - Calo App
Just try it. There are no good alternatives. I tried more than 30 services. Hireflix is the best by far and we do +4000 interviews a month.
George Solovev - Skyeng
Feeling the Technology Bloat?
You want to save time during the candidate screening and hiring process while maintaining quality. But choosing the incorrect software ends up costing you time, and you end up doing things the old-fashioned way anyways. So it's important to find the right video interview platform for your recruiting process.
HireVue Customers
Spend more time implementing and piecing together the tool than actually using it to hire
"It is extra work for the on-site recruiter." –Verified G2 user
Have a hard time managing and configuring projects
"What I dislike is…the management of candidates, ease of configuration and UI." –Verified G2 user
Struggle to learn how to use it quickly
"I'm still learning the process, but [it] doesn't seem to be as easy as explained." –Verified G2 review
Who Needs HireVue's Platform?
Enterprise-level companies with a team of developers with time on their hands to troubleshoot and integrate the platform
Hiring managers and HR departments who can take months to learn how to use video interviewing software.
Companies that like AI and facial-recognition software that invades privacy and creeps out job applicants.
Switch to Hireflix and Actually Save Time in Hiring
Pay Only For the Video Interview Tools You Need
If you are exploring your options, you'll see that one way video interview software pricing levels can vary by wide margins. If you're looking for a simple, scalable, and affordable video interviewing solution, Hireflix is a great HireVue alternative. There's no need to pay a huge price and only use a fraction of the features.
Integrate Hireflix to Your Hiring System Without the Frustration
There's no need for another app. You can integrate Hireflix with your current ATS and recruiting software. And we've made it easy. Shocking, right?
Quickly and Easily Start Interviewing
In addition to being extremely straightforward and user-friendly, laying out the simple steps for applicants to set up a one-way video interview, Hireflix provides great value and consistently high consumer ratings.
Because of Hireflix's free monthly trial, there's literally nothing stopping you from trying it out and experiencing the difference for yourself. You can sign up for your trial, build your interview in moments, quickly invite candidates at scale, and start filling open positions.
Step up your talent acquisition and try Hireflix today. Choose the HireVue alternative with a smooth (and scalable) virtual hiring process.