5 Aspects of Your Hiring Process to Streamline or Automate for Maximum Hiring Efficiency
Every company wants to increase hiring efficiency.
With so many fluctuations in the job markets in the last few years, hiring managers, recruiters, and human resources departments find themselves completely overwhelmed.
These days, it seems there are just too many applicants, not enough time, and more junk resumes floating around than anyone cares to acknowledge. On top of that you have industries where as many as 90% of job seekers don't show up for their scheduled interviews. In many cases, it's because the hiring process is simply taking too long— your ideal candidate may end up accepting a job elsewhere.
It's one thing if you are just trying to fill one or two open positions. But when you are trying to fill hundreds or thousands, the challenges increase exponentially. Is it any wonder high volume hiring has been ranked one of the top five recruitment challenges since the onset of the pandemic?
Fortunately, there's hope.
You can increase your talent acquisition efficiency without sacrificing effectiveness. With a streamlined, repeatable structure in place—one that includes automated elements to lighten your workload—you will be able to screen a large number of candidates simultaneously, weeding out those who aren't serious about the job, and allowing the cream to rise to the top.
We have the tools and resources in one place and can show you how it's done.
5 Aspects of Hiring to Streamline or Automate for Maximum Hiring Efficiency

Streamlining your hiring process and automating any aspects that you reasonably can are two important steps in boosting your hiring efficiency. This will both decrease your mental load and increase the speed at which you can move job seekers through your hiring pipeline.
Below, you will find five aspects of hiring that generally bog hiring managers down and add unnecessary time to the hiring process. Figuring out how to streamline your approach or automate aspects of each will make a huge difference in overall hiring efficiency.
Communication
There are two aspects of communication to consider here, both internal and external.
Internal Communication. Naturally, everyone involved in the hiring process must be on the same page before you get the collective ball rolling. Proper planning and good communication among recruiters, hiring managers, and the team is a must. Sadly, not everyone has a good structure in place to coordinate internal communication, and endless email chains just don't cut it. Instead, making use of collaborative tools offered by a good HR hiring software can help get everyone on the same page and keep them there.

External Communication. Candidates say a general lack of communication about the recruiting process or timeline is a big frustration. Given that their livelihoods are on the line, it's only natural that they move on to other opportunities when they don't hear back from you quickly. This is where an automated system can really come in handy.
Streamlined structures to handle internal communication and automated systems to help manage external communication can greatly reduce both your workload and the lag time between when a quality candidate applies and when they hear back.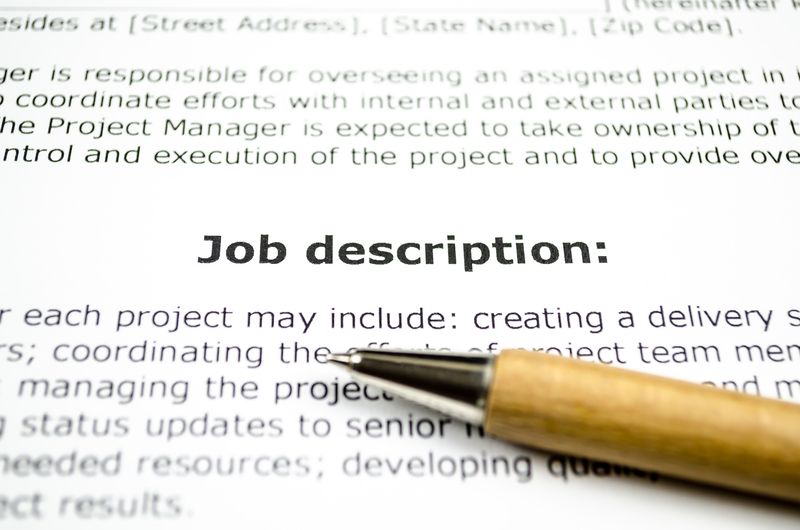 Job Descriptions
When it comes to hiring efficiency, poorly written job descriptions are a huge problem.
Without clearly stated duties and performance standards, you increase the chance of hiring someone without the necessary skills, experiences and personal qualities for the job. (Chron)
In short, chaotic (or outright nonexistent) job descriptions will bring in the wrong employee.
Though crafting a thoughtful and effective job description might feel like work, when you see it as an investment in streamlining your process to bring in the best potential employees, you'll be able to value this work as a wise investment of your time and energy.
Thankfully, much of the recruitment process can be automated and integrated with ATS software, which has been designed to help you to clarify the requirements for all roles. Best of all, these can be updated from one location, after which job descriptions and open positions can be pushed out to job boards simultaneously with just a few clicks.
Screening
One of the most time-consuming hiring scenarios is when you receive a large number of responses only to begin sorting through them and discover that you actually have only a low number of qualified talent or serious applicants.
An applicant tracking system can help you wade through hundreds of applications and find the right candidate.
Additionally, an automated system to set up one-way screening interviews (also referred to as asynchronous interviews) can help you quickly and efficiently weed out unqualified candidates and focus your time on those who have a serious chance of landing the job.
Structured Interviewing
However you decide to conduct interviews, it's important to have a structured process in place.
These days, you have quite a few options for structuring your interviews; however, you must choose wisely.
Conducting in-person, remote, or one-way video interviews all come with their own pros and cons.
Scheduling interviews. In-person interviews are the most complicated to schedule, remote video interviews a bit less so, and one-way video interviews the least. With a one-way video interview, you can let the job seeker record their answers at their convenience, and you can evaluate and review them with your hiring team when you're ready.  

Consistency between interviews. In-person and live video interviews both allow for the personal touch; however, they also have the potential to go off the rails. By contrast, one-way video interviews allow for greater consistency, giving each applicant a more fair shot.

Evaluation. Unless the entire team also sits in on live interviews (whether in-person or via screens), they will have to rely on the interviewer fully to remember the details of each interview and correctly read each candidate. Remote one-way video interviews, on the other hand, can be shared and reviewed by the entire team after the fact, giving everyone access to the same information.
While conducting remote video interviews may be a relatively new phenomenon, it's one that can significantly speed up your hiring process. With one-way interviews, scheduling isn't a factor, and you can interview a high volume of candidates using the same questions for each one.
Hireflix further contributes to an efficient hiring process by allowing you to:
Send out automated invitations and reminders.
Share video responses easily among your team.
With these tools, it's never been easier to maximize hiring efficiency.
Evaluation
As indicated above, deciding on a new hire proves increasingly difficult when several people need to have input. The more people you add to the mix, the more opinions you have to consider.
Even more seriously to consider is this: when you're rushing to fill open positions, you're working against the clock. Not only do separate interviews take time to schedule and complete, but they take time to evaluate as well—particularly if you're conducting high-volume hiring in a team context.
This is where one-way video interviewing can really speed up the process.
With Hireflix, all team members can have access to the recorded interviews. Working at their own pace and on their own schedules, each member of your team can view candidate responses, share comments, and offer individual ratings for each.
How to Measure Hiring Efficiency
Putting automation and streamlining techniques in place will help you increase your recruiting efficiency. However, if you don't track your progress, you won't have a good idea of what's working (so you can keep it) and what's not (so you can retool or try a new strategy.)
As you measure your hiring efficiency moving forward, some important KPIs to track will include:
Time to fill – As you tighten your hiring process, the time between when the job is posted and when it's filled will naturally drop. Not only is this a good thing overall, but measuring your time to fill will give you a solid benchmark moving forward to predict how long it will take to fill positions.

Time to hire – How much time elapses between when a candidate enters your hiring pipeline and when they accept an offer? Decreasing the length of time candidates spend in the process will decrease the likelihood that they will ghost you or accept a position elsewhere before you have a chance to make a job offer.

Number of candidates per opening – This is a simple metric to track, and there's a lot you can do with it. Comparing the number of total candidates per opening versus the number of candidates who are not weeded out by initial screening allows you to judge the average of qualified candidates you generally receive per opening. You'll be able to set expectations and make more accurate plans for future hiring campaigns.

Acceptance rate – Comparing the number of offers made to the number of acceptances is important. While we know a one hundred percent acceptance rate isn't possible—since not every candidate will accept every offer made—if a high percentage of offers aren't being accepted, you can assume something in the hiring process has gone awry. Why are expectations and reality not matching up for a high percentage of candidates? You can then target the issue and fix it before it wreaks further havoc.

Quality of hire - In the hiring process, hiring efficiency isn't just measured by filling positions. It's measured by filling them with the right people. Measuring the quality of hire over time can help you judge how successful you are at matching qualified candidates with jobs that suit them, and vice versa. If the numbers aren't where you want them, you can then investigate areas in which you can tighten up your practices.  
No doubt all of this sounds overwhelming—especially if you're imagining using spreadsheets, transferring data manually, and doing the math yourself. The beautiful thing about the current hiring industry is that you can now use software specifically designed to help you increase your hiring efficiency with analytics to measure your effectiveness.
And with Hireflix, you can have these tools all in one place.

A Final Word on Increasing Hiring Efficiency
Nothing's ever been easy about hiring, in part because every step involves people—and people are complicated. What makes us interesting and innovative can also make us messy and prone to inefficiency and distractibility.
This is where automation and reliable structures within your hiring plan can really make a difference.
By relying on systems and structures that can work on their own, doing much of the heavy lifting for us, we are free to focus all our energies on the fun part of the hiring process: helping good people find good jobs.
And isn't that what this is all about?

If you're looking for ways to provide a better candidate experience and increase your hiring efficiency, come see how Hireflix plays an integral role in a highly effective and efficient hiring process by leveraging our on-demand interview software.