8 Essential Remote Interview Tips Recruiters Can Use to Attract the Best Hires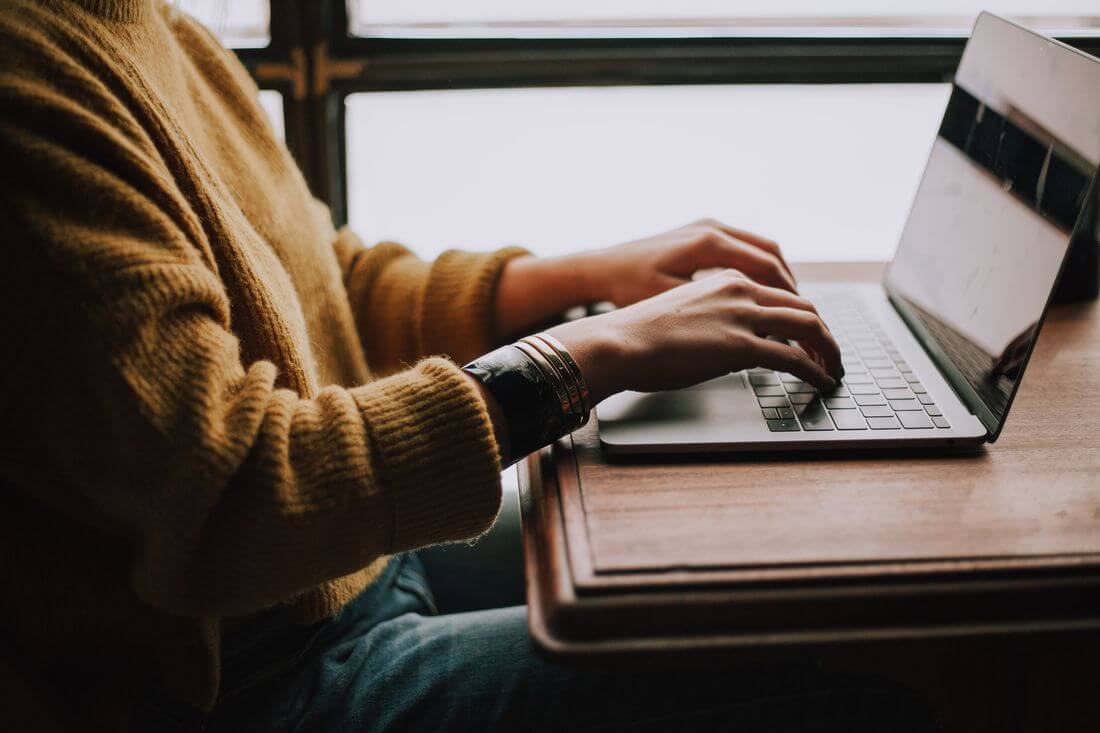 What would happen if you or your hiring team were responsible for losing your company $15,000? What about $250,000?
That's the average range a bad hire costs in 2023 according to recent research.
And with the rise of remote work – there are now three times more remote jobs today compared to 2020 – it's as important as ever for recruiters and hiring teams to nail the remote interview process.
Because if you don't, your company could face the consequences. And not just financially. But also culturally and satisfactorily.
That's why I've put together this list of essential remote interview tips – to help companies around the world improve their hiring processes and outcomes.
But before we dive in to best practices, it's important to understand the stages of the interview process and what types of remote interviews should be conducted at each stage to produce the best hires and candidate experience.
Let's get started.
The Two Phases of Interviews
While the job interview process will vary from company to company, it generally consists of two distinct interview stages – the pre-screening interview followed by the first, second, and sometimes third round of live or in-person interviews.
The remote interview tips we review today will be applicable to both stages.
The Pre-Screening Interview
The pre-screening interview is a crucial stage of the hiring process that can have a big impact on the rest of the stages, yet many companies are still lagging behind in this area.
When you think of a pre-screening interview, what often comes to mind for many is a phone screen. And that's a problem, because there are much better alternatives out there.
According to recent data, an initial phone interview typically takes 15 minutes. Multiply that by 100 candidates, and you'll spend at least 25 hours (or 3 full workdays) talking to candidates and trying to determine if they're qualified enough to move forward to the next round.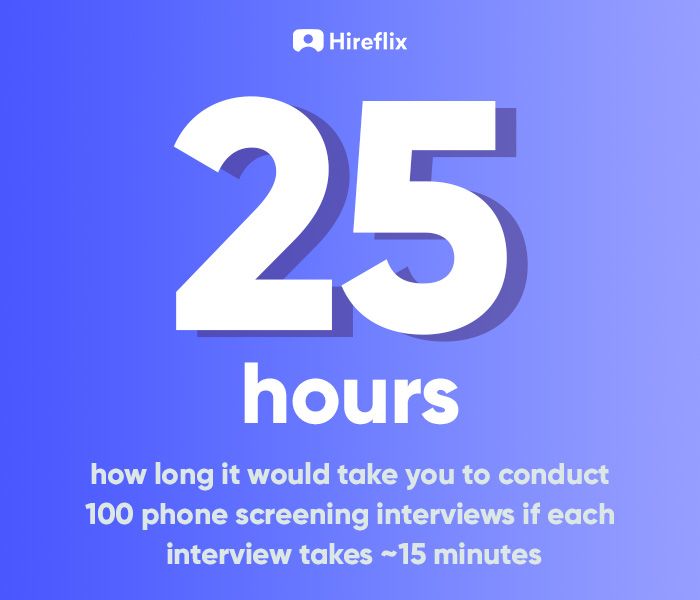 Now imagine if you could screen all 100 candidates simultaneously.
This is what today's most successful companies are doing. They're utilizing one way interview software to save time and money on the screening process, allowing employees to work on more important projects and tasks.
And as important, they're using this remote interview technology to screen a high volume of candidates at a faster rate, better identify the unqualified ones, and produce candidates that are actually worth the time for a live interview.
Because no company wants to spend time in a live interview with a job seeker only to realize 2 minutes into the interview that the candidate isn't suitable for the job. That's a waste of everyone's time.
And that is why it's so crucial to get this step right. When you master the screening process, your live interviews become way more efficient.
The Live Interviews
The live interviews often include multiple rounds and is the phase where you separate the game-changers from the contenders.
And if you've become proficient in the screening process, you'll already be a step ahead because you've: 1 – accelerated the process and moved candidates through the pipeline faster, and 2 – weeded out candidates that aren't the best fit, focusing your time and energy solely on the ones that are worth it.
These live interviews can be conducted remotely or in person. While in-person interviews are totally fine, and even preferred in certain circumstances, roughly 60% of job recruiters today are taking advantage of remote live interviews.
Some of the popular platforms on which to run your remote interviews include Zoom, Google Meet, and Microsoft Teams.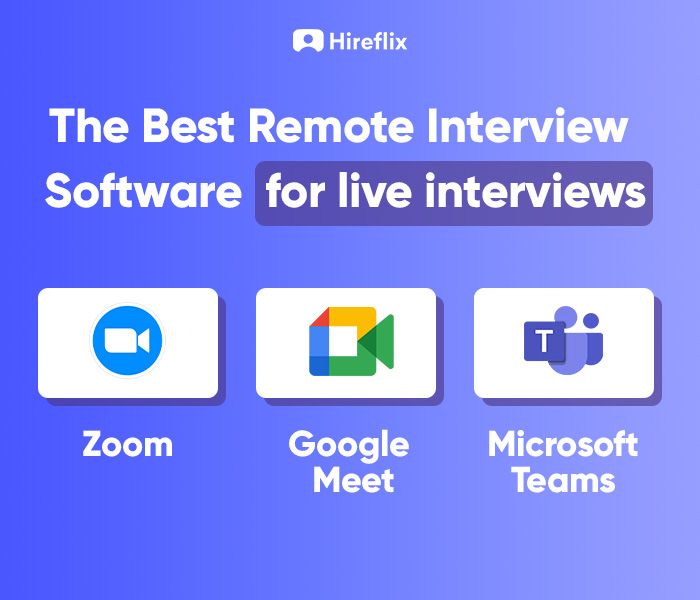 No matter which software you choose to use, the advantages of interviewing virtually are plenty:
Save time by avoiding the need to set up a physical meeting place or commute
Save money by eliminating costs like travel expenses or renting meeting spaces
Get access to a wider candidate pool and more talent
Get more flexibility with scheduling the interview
The list could go on, but I'm sure you're already aware of some of the benefits of remote interviewing, hence how you landed on this post.
The next step is to get better at them. So you can make slam-dunk hires and avoid the hires that turn out to be a big swing and miss.
So without further adu, let's get into remote interview tips. (And remember, these apply to the pre-screening interview stage as well).
Best Practices for Conducting Remote Interviews to Attract the Best Hires
In any interview process, the goal is always to find the best candidate for the job. But you also need to ensure they want to work for you. Neither is a given. Without the proper tools and processes in place, your interviewing may miss some key characteristics in candidates.
And the better the candidate, the more likely they are to get multiple offers.
Below, we've put together a list of eight essential virtual interviewing tips for hiring managers and recruiters. These best practices will help you use remote hiring to achieve valuable insight into candidates and ensure that the good ones accept your offer.
Practice 1: Choose appropriate attire
If you're not careful, interviews can remove a layer of formality expected in the in-person/onsite interview experience.
To ensure that isn't the case, always choose to wear professional attire, both to record your interviews and conduct live sessions. This signals to prospective employees the level of professionalism you expect.
Practice 2: Craft a quality presentation
When conducting remote interviews, always strive for the highest quality video presentation.
Factors to consider:
Lighting - Keep bright, natural light from windows in front of you rather than behind you, and purchase a ring light or box light to fill in the shadows and create bright, fresh visuals.
Neutral colors - Bold hues and busy patterns can prove distracting.
Quiet background - Do your best to eliminate auditory distractions where possible. Silence your cell phone, turn off music or noisy appliances/electronics, etc.
A Well-Constructed Camera Background – whether this means using backgrounds provided through your software or placing your camera in a room with bookshelves and artwork behind it, you'll want to be mindful of your camera background and how close or far you appear on-screen.
Reliable internet connection - any disruptions or technical issues can negatively impact the interview process, causing misunderstandings or delays, and potentially lead to a poor candidate experience.
Practice 3: Consider attitude and tone
Most applicants will already be a little nervous, and you'll likely be able to tell by their body language.
If you're going to get the best out of them, you'll want to set the candidates at ease and make them feel comfortable. This will help them be in the best state of mind to communicate why they're a good fit.
Of course, that doesn't mean you can't kick off the interview with a curveball question to see whether they can communicate effectively. Just be sure that overall, you open with a warm and open tone.
Since tone can be difficult to communicate via screens, you may want to practice your delivery a few times before recording online interview questions or conducting live interviews.
Practice 4: Choose your remote interviewing software and platform wisely
As we talked about earlier, online video interview software is a necessity for both the pre-screening process and the live interview process.
But to really get the most out of your tech stack, you'll need to find software that's reputable and user-friendly.
For the screening process, the best one way interview software is Hireflix.
There are other options on the market, such as SparkHire and Hirevue, but Hireflix has built a reputation for being simple to use (for both the interviewer and the interviewee), highly customizable, and offers affordable pricing.
Check out the testimonial below, where Alexis explains why she switched from SparkHire to Hireflix and what makes Hireflix a must-have for all recruiters.
For the live interviews, Google Meet, Microsoft Teams, and Zoom all offer similar functionality and the software that's best for you will likely depend on your needs.
With Google Meet and Microsoft Teams, you have the ability to integrate with Google Workspace and Microsoft Office if you want to review documents or projects with candidates in real-time.
For a more in-depth breakdown of these three live interviewing tools, check out this article.
Once you've found the software that works best for you, you'll be well-equipped to streamline your interview process and make better hires.
Practice 5: Create your structure for a successful remote interview process
Creating a structure around your remote job interview process is especially important when interviewing at scale—including both live and screening interviews.
In order to keep on top of a major influx of candidates, establish basic guidelines to keep you focused and on track.
Opening – Elaborate on the job description, your company, and any team member candidates would work alongside. Outline expectations for the role and detail the strengths essential to success in the position.
Interviewer Q&A – A list of questions you have prepared ahead of time will keep you from losing your way in this segment of the remote interview. Exact questions will depend on your company's values and the nature of the position.
Candidate Q&A – Always give candidates the opportunity to ask you questions. This not only helps them see if they are a good fit with your company, but it also offers you insight into the way they're thinking about the job.
Closing – Make the final pitch for your company and why this role is a great opportunity. Show how this role is an opportunity to grow and develop skills, whether it be in the industry or the role itself.
Be sure to time each section, estimate how long you want to spend on each, and keep the interview moving to ensure you hit every section within the allotted interview time.
Practice 6: Interview for both hard and soft skills
While it's important that candidates have the technical aptitude to fill a position, you also want to ensure they have the personality and character that will fit well into your organization. That's why when you form your remote interview questions, you probe for strengths in both types of skills: hard and soft.
While hard skills accomplish tasks, soft skills are the basis for collaboration, growth, and effective management.
A virtual interview is actually a prime opportunity to probe for soft skills because you can observe how well candidates communicate, especially amid potential challenges due to the remote setup. (This is particularly valuable if the candidate is applying for a remote position!)
How do they handle the intimacy of close, face-to-face screen time?
Can they match your energy through screens?
With one-way interviews (also known as asynchronous interviews), you can have candidates share their screens and navigate web browsers when responding to answers. With live remote interviews, you can give feedback in real time and gauge their responses. During both of these processes, you're looking not just to determine their technical proficiency but also evaluate their personality and soft skills.
Note how in this scenario, tests for hard and soft skills are integrated into both types of interviews, both pre-screening and live. While some companies use one-way interview software to screen for the requisite hard skills and then use live remote for soft skills, this is a mistake.
Soft skills dictate how capable someone is at learning and growing in skill, so even if they don't quite meet the requisite hard skill criteria, it may not take very long for them to do so if they have the right soft skills. That's why you want to evaluate both hard and soft skills during every step of the interview process.
While skills-based questions will vary depending on the position you're filling, questions to gauge communication, character, and emotional intelligence may not.
A few examples of questions that help you measure soft skills:
Can you recall a workplace conflict you were involved in and how you resolved it?
How would you handle a manager's feedback when you felt it was either unwarranted, unproductive, or incorrect?
What do you think is the most important aspect of a client or business relationship?
When evaluating answers, look for qualities that overlap with your core values and principles.
Practice 7: Standardize the process for both pre-screening and live remote interviews
If you're using one-way interview software for pre-screening interviews, standardization is simpler, since you can use the same recording an infinite number of times. Your template is your recording, and it's easy to change/improve as needed by adding to it or re-recording.
For live remote interviews, however, you should develop a document to standardize the process and then train yourself to avoid distractions as you guide interviewees through the questions.
Practice 8: For live interviews, give yourself a breather between interviews
As the hiring manager, avoiding burnout is a must. That's why it's important to schedule yourself breaks in between candidates so that you can process, rest, and take care of your physical needs.
This also provides you with some time to reflect on interviews. Some time to breathe post-interview will give you the opportunity to parse through your impressions and thoughts of the candidate. While you await your next interview, you can jot down some of your thoughts.
Fortunately, one-way interviews during the screening process can make it easier to catch a break by allowing you to find the best candidates before moving to a live remote interview phase.
One strategy for creating a healthy interview rhythm would be to conduct a round of one-way remote interviews, screen them, and then conduct live video interviews.
A Final Word on Remote Interviewing
Following these best practices for remote interviews will give you the best odds at conducting interviews at scale, finding the best possible candidates, and making great hires. They'll also sell you and your company to the candidate, increasing the likelihood that your job offers get accepted.
To see how our one-way interview software can improve your screening interview process, request a free demo of Hireflix today.