What is an Asynchronous Interview and How Can it Help You Save Time and Boost Efficiency?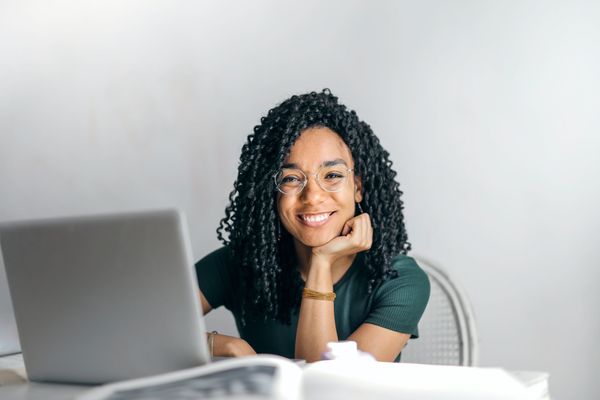 An asynchronous interview is a job interview format where candidates record their responses to pre-set questions at their own convenience, rather than interacting in real-time with an interviewer. It allows flexibility in scheduling and location for both parties, and makes the screening process more efficient.
---
Asynchronous interviews could be the ultimate way to optimize your hiring and recruiting strategy in 2023 and beyond.
We're living in a world where hiring and recruitment processes are changing at phenomenal speed. Since the pandemic, new concepts like remote and hybrid work have grown increasingly common, and the priorities of talented team members are shifting.
Today's companies need to act quickly and efficiently to avoid losing access to top talent in a skills-short marketplace. What's more, they need to ensure their recruitment process is efficient, effective, and candidate-centric.
And in a world where 75% of companies say they're struggling to fill gaps in their teams, traditional recruitment practices simply don't live up to expectations anymore.
That's where asynchronous interviews can help.
With this simple but effective tactic, you can:
Screen candidates at scale
Produce better live interviews
Reduce hiring costs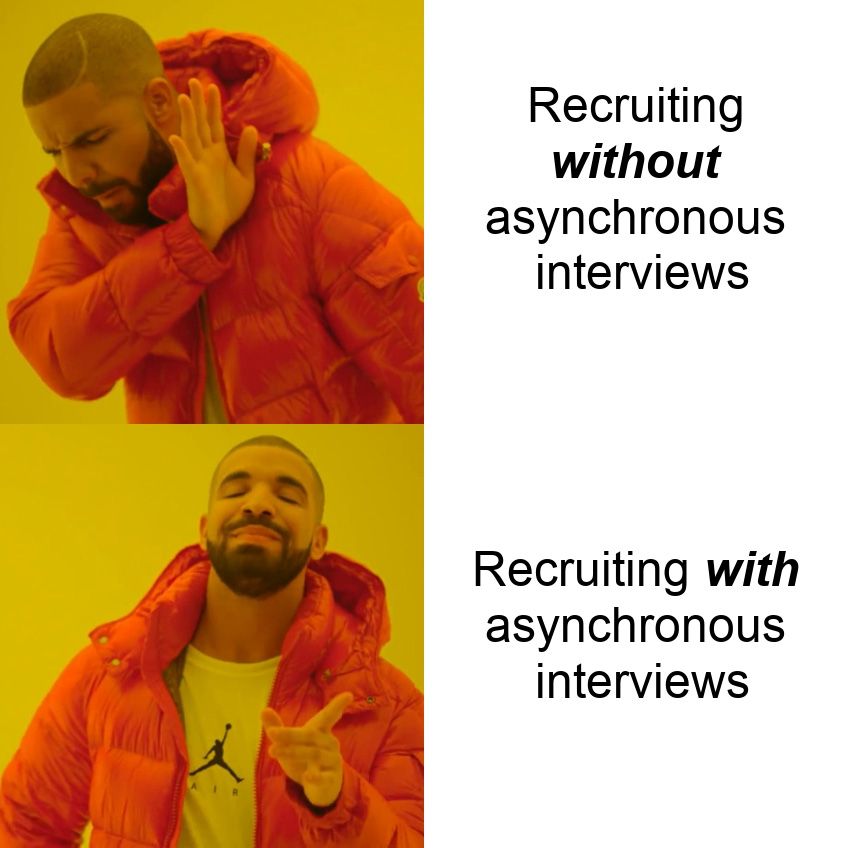 At Hireflix, we've seen firsthand the power of asynchronous interviews and how much of a game-changer they are for hiring teams.
That's why we've written this blog. To help recruiters like you save hundreds of hours during the early stages of the hiring process and simply make your life easier.
In this post, we'll review:
What an asynchronous interview is
The advantages of asynchronous interviews for employers
The advantages of asynchronous interviews for candidates
How to design an effective asynchronous interview with Hireflix
Let's get started.
What are Asynchronous Interviews?
Asynchronous interviews are one of the most popular types of video interviews adopted by brands in the age of remote, hybrid, and virtual work. They offer an effective alternative to synchronous interviews, or live interviews, which require candidates and hiring managers to communicate face-to-face and/or in real-time.
With a synchronous interview, you arrange a meeting with a potential candidate and ask them questions they need to respond to instantly. There's no pause or time for them to collect their thoughts and think of a cohesive answer.
With an asynchronous interview, on the other hand, you record your questions in advance, share them with dozens (or even hundreds) of potential candidates at once, and allow them to respond on their own time.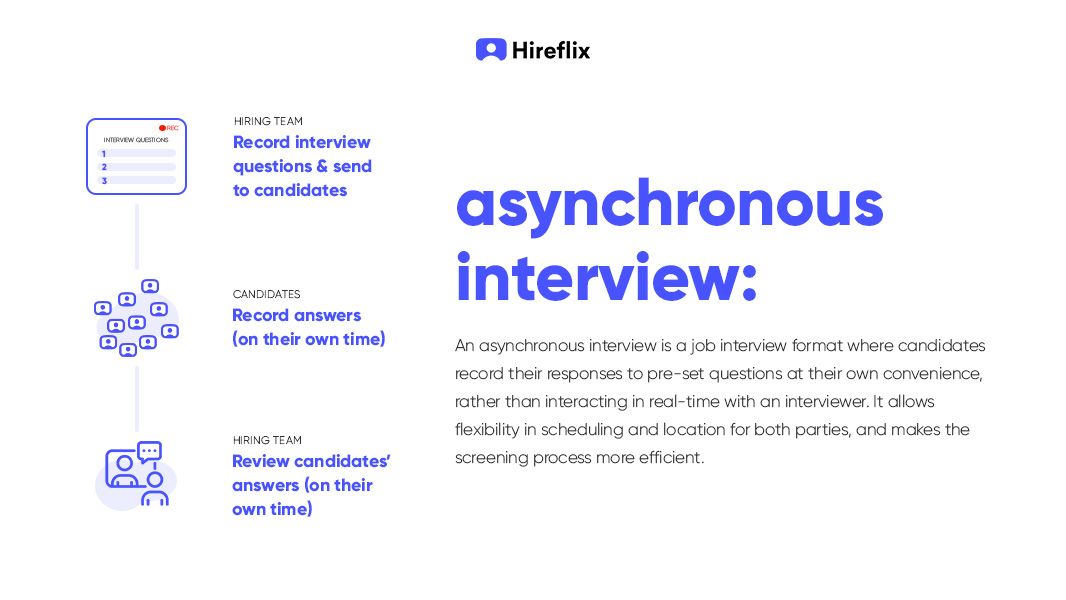 Compared to a traditional interview model, an asynchronous interview, which is also referred to as a one-way interview, saves significant time and effort.
Instead of filling a hiring manager's day with real-time interactions, businesses can send interviews out to their candidates, then arrange times when the hiring team can come together and collaboratively evaluate responses.
And asynchronous interviews don't just save companies time and money during the hiring process, they can also improve the quality of in-person interviews too.
Because they give you the ability to better vet applicants during the candidate screening process, ensuring your rounds of live interviews are spent only on candidates who are actually worth the time.
Today, around 61% of hiring managers from Fortune 500 companies are already using asynchronous interviews to screen candidates. These resources allow business leaders to rapidly pinpoint the individuals they want to progress to the next stage of the hiring process, with input from business leaders and stakeholders.
For companies investing in high-volume hiring strategies, asynchronous interviews are a perfect fit because they can lead to significant time savings, eliminating hours of unnecessary conversations.
Advantages of Asynchronous Interviews for Employers
Today, 79% of employers include video as part of the interview process. And they do this not only because video interviewing is convenient for them, but also because it offers plenty of advantages for candidates as well.
And while majority of employers are implementing video into their interviewing stages, there remain a large handful that have yet to discover the benefits of asynchronous interviewing.
But once they do, the only regret they'll have is that they didn't start sooner.
Here are some of the biggest advantages of asynchronous interviews for employers:
Increased flexibility
Say goodbye to scheduling conflicts forever. Time zones are no longer an issue.
With asynchronous video interviewing, you have the power to reach applicants across the globe without having to fill up and navigate your calendar (or theirs) for an opening. You can send out your interview questions to all your candidates with one click.
And they can answer those questions … when they have time.
And you can review their answers … when you have time.
Flexibility is at 100 with asynchronous interviews. No more blocking off an entire chunk of your week to squeeze in as many interviews as you can.

Improves candidate quality
Sending asynchronous interviews to candidates can help improve the quality of the applications you receive. That's because responding to a video interview takes time, and candidates that aren't truly interested in the job won't take the time to record their answers.
Which means, as a result, your team's time will only be spent on candidates who have genuine interest and have put forth effort to complete the interview.
Plus, after you've eliminated the applicants who aren't fully attentive, you'll have more time to sort through the engaged candidates and find the people who are best suited to your company.
Better candidate experience
Investing in one-way video interview software is an excellent way to make your hiring process more candidate-centric. It gives applicants more time to evaluate each interview question and respond carefully in their own time, allowing them to present their best selves in a more comfortable environment.
And to take it a step further and truly give candidates the best experience, you can use tools like Hireflix that allow job seekers to answer your pre-recorded video interview questions without having to sign up or create an account.

Saves time
Hiring can be an extremely time-consuming process. Some reports suggest teams can spend up to a month screening candidates. Asynchronous interviews significantly reduce the amount of time you need to dedicate to the interview process.
You don't have to constantly call candidates hoping for a response, and you don't waste time on endless in-person conversations. You can even avoid dealing with frustrating phone screening strategies.
Reduces time to hire
Because you can screen multiple candidates at once with an asynchronous interview process, you can significantly reduce the time it takes to hire someone.
Rather than having to arrange 30 different interviews with 30 candidates, you can sort through responses on your own time and find the right applicant as quickly as possible.

Improves the screening process
Using asynchronous video as part of a pre-screening interview is a fantastic way to collaboratively filter through candidates and choose the best people for your team.
You can evaluate each job candidate on their communication skills, body language, and their responses to questions you've already chosen carefully to help you pinpoint the best team members. You can also easily compare answers between candidates without having to rely on notes taken during a live interview.
Transforms decision making
Perhaps most importantly, asynchronous interview techniques can significantly improve your ability to make decisions. Access to video responses from candidates means you have plenty of time to replay answers, evaluate each response carefully, and think about your specific needs.
With the traditional interview process, on the other hand, hiring managers are often forced to make decisions rapidly or on-the-fly, which can lead to making a bad hire.
Advantages of Asynchronous Interviews for Candidates
As mentioned above, the asynchronous interview process isn't just beneficial for employers and business leaders; it's fantastic for candidates too. This is crucial at a time when the candidate experience during the recruiting process has become integral to finding and retaining the best talent.
83% of candidates now say that a negative interview experience can cause them to reject a job offer for a company they once liked. However, 87% say a positive interview experience can attract them to a role they weren't sure about in the past.
Here are some of the biggest advantages of asynchronous interviews for job candidates:
Reduced stress
Interviews can be a stressful experience for many candidates. They're forced to respond rapidly to questions they may not be fully prepared for. However, with asynchronous interviews, candidates can submit their answers at their own time, and at a pace that suits them.
They have the freedom to think carefully about their answers, go back and re-do an answer if they're not happy, and even practice responses to questions before they submit their application.
Better opportunities to prepare
With more chances to prepare the right response for each question, candidates are more likely to make the right first impression. Not every candidate can deliver an excellent answer to a question on the fly.
However, just because a candidate doesn't perform well in an on-the-spot interview doesn't mean they're not a good fit for your business. With a digital interview, candidates can take their time, think about answers, and make sure they're delivering the right message.
Improved accessibility
A complex interview process can make it difficult for companies to attract the attention of a wide variety of potential candidates. However, a remote interview with the right software ensures any candidate, whether they're a remote worker or hybrid employee, can submit answers regardless of where they are in the world.
This improves your hiring pool and delivers a better experience to candidates overall.
Research opportunities
Today's candidates want to learn as much as they can about the companies they're applying to, so they can ensure they'll be a good cultural fit. To accommodate this, before applicants start answering your interview questions, you can provide candidates background on your company culture, goals, and communication style.
You can even include an introduction to your business that helps you to showcase the unique parts of your employer branding strategy.
Designing Effective Asynchronous Interviews with Hireflix
The key to making the most of the asynchronous interview process is choosing the right software to develop your strategy. At Hireflix, we believe our asynchronous and on-demand interviewing platform offers one of the most powerful solutions on the market.
Our software ensures business leaders have everything they need to record compelling interviews, showcase their employer brand, and collect responses from candidates around the world.
Check out the job position template in Hireflix below. You have the ability to personalize everything from how long candidates can think about a question – to what team members you want to share responses with – to the type and frequency of notifications candidates get both before and after the interview.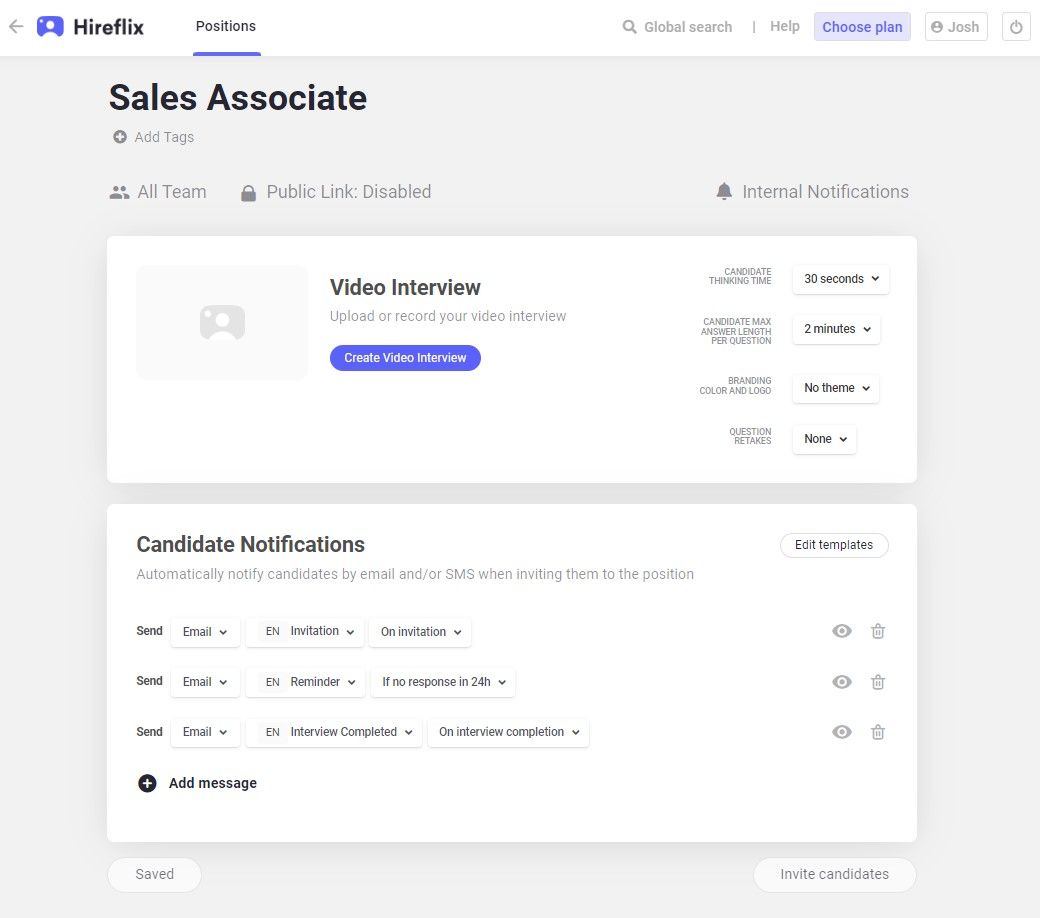 What's more, is Hireflix integrates with any of ATS or CRM, so you can curate all of the data you need to make intelligent hiring decisions in one place.
Here are some quick tips for making the most of the Hireflix platform:
Step 1: Nail the Intro
As mentioned above, today's candidates want to learn as much as they can about a company before applying for a role. In fact, 75% of job seekers consider an employer brand before they even think about applying for a job.
With Hireflix, you can record a compelling introduction to your interview process, which lets applicants know everything they need to know about your company.
We believe there are three main ingredients to a strong intro video:
Clear introduction
Warm welcome to all candidates
Brief intro for what to expect

You can introduce your company culture, highlight the unique benefits you offer employees, and welcome them into your recruitment process. You'll also be able to set useful expectations on what to expect from both the interview and the position in question.
Step 2: Choose the Right Questions
Once you've mastered your intro, the next step is developing a set of questions that will help you to rapidly filter through applications and decide who you want to take to the next step. When writing the questions for your video interview, think about:
Job requirements: What will the role involve, and what hard and soft skills will your employees need to thrive in this position? How can you use your questions to collect valuable insights into the people you're connecting with?
Question type: Some questions will be more valuable to your interview process than others. Avoid leading questions that convince candidates to give a specific answer. Use open-ended queries that allow people to expand on their responses.
Incorporate company values: Think about how you can ensure your candidate will fit with your company culture. Consider the kind of characteristics you want to see in your potential employees, and the values they should share with your business.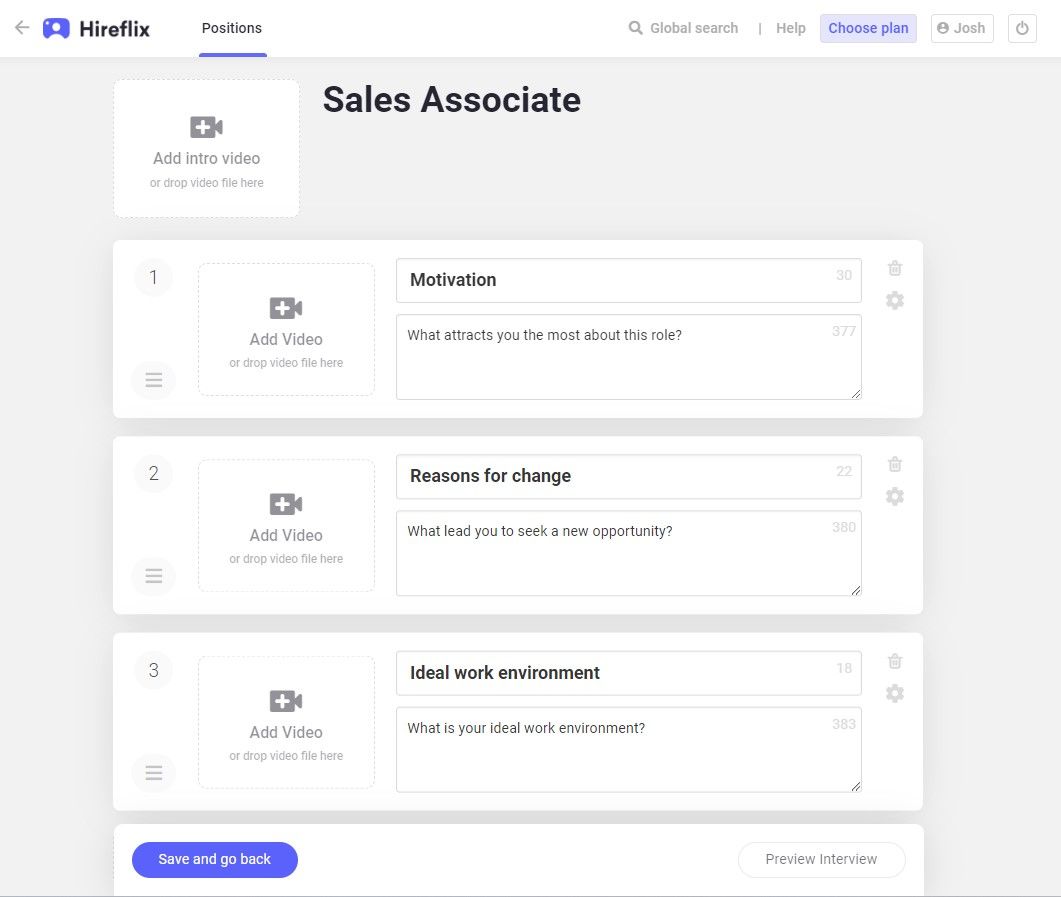 Keep it simple. Avoid asking too many questions during the asynchronous video interview. Instead, ask 3-5 questions that will help you to identify qualified candidates to take to the next stage.
Step 3: Finish on a high note
Once you've asked all of your questions, you can leave a lasting impression on your candidates by recording a farewell message. This is your chance to once again remind candidates why they should want to work with you and let them know what to expect next.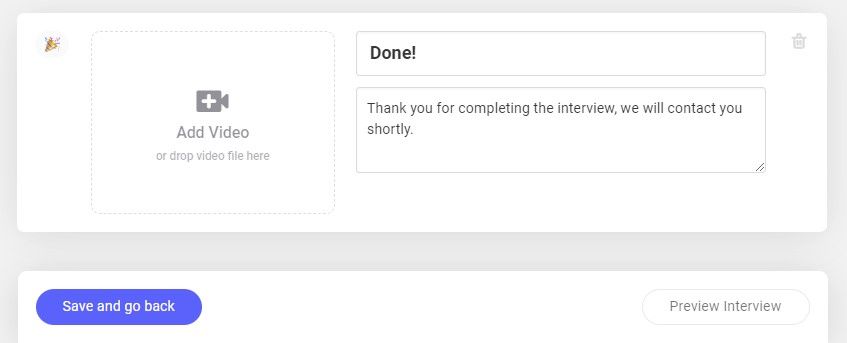 Thank candidates for their time, as this shows you respect them and their schedule. Clearly tell them what's going to happen next. For instance, you might say that someone will be in touch within the next one to two weeks to let them know if they've been successful.
Sharing the Interview with Candidates
After you've recorded your virtual interview questions, the next step is sharing them with your candidates. At Hireflix, we make this super easy. All you need to do is use the back-end environment to add your list of candidates (with their names, email addresses, and contact details).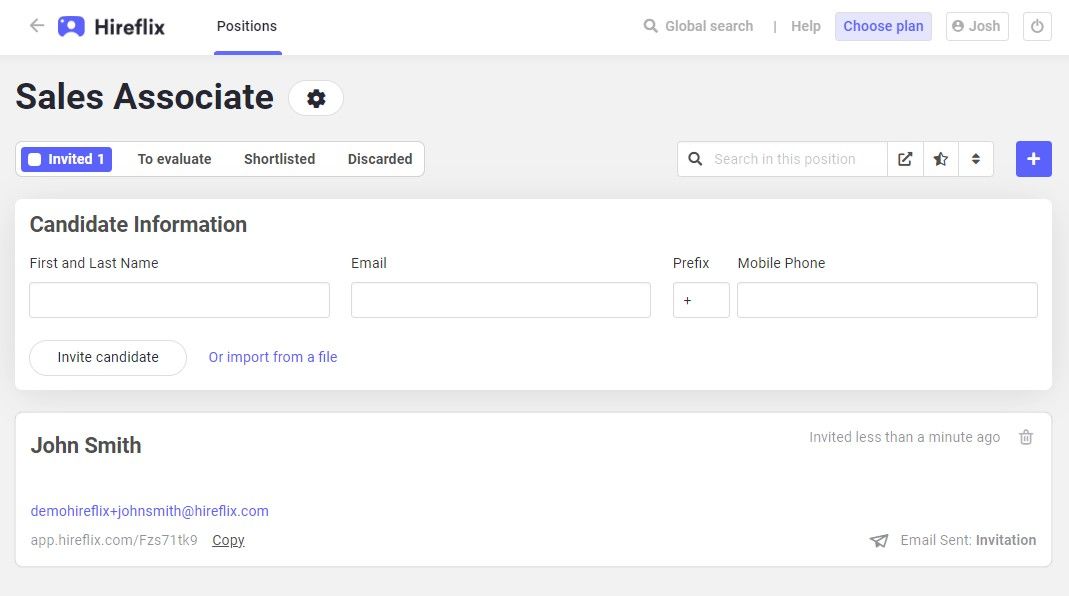 The platform will automatically generate a unique link you can send to each candidate, which invites them to see your video interview.
Remember, you can boost your chances of leaving a positive impression on your candidates by customizing the message you send alongside the link. Let your candidates know what you're asking them to do so there are no surprises.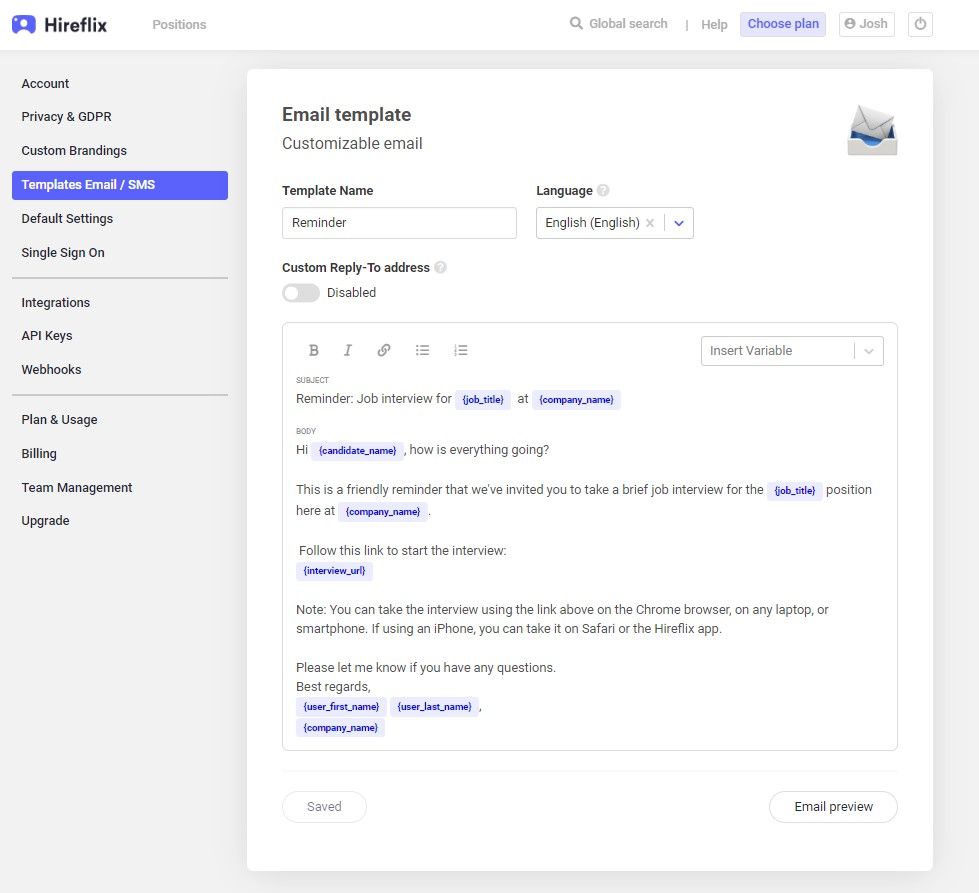 Hireflix also makes the candidate experience straightforward by ensuring applicants don't have to sign up to use the platform. Anyone can answer questions, regardless of whether they have an account.
Plus, they're free to answer questions on their own time and can return to a previous question and re-record an answer if they choose.
Evaluating Candidate Responses
The last step is evaluating the responses your candidates give to determine which job seekers you want to learn more about. We make this process easy by automatically moving all "completed interviews" into a new "evaluate" tab on your dashboard.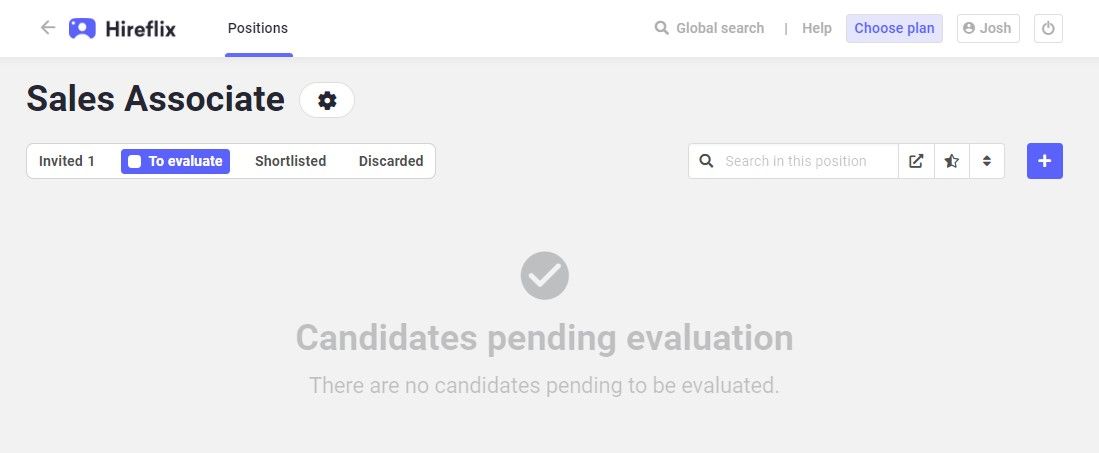 You'll be able to review the responses at your convenience and forward them to other staff members if you need to collaborate on a decision.
Here are some quick tips to ensure your evaluation process goes as smoothly as possible:
Develop a rubric: Decide in advance how you're going to score applicants. What are you going to be looking at in particular? Are there any specific key terms you want to check for? Will you be looking at communication style and body language alongside responses?
Focus on relevant skills: More than anything else, make sure the people you're evaluating demonstrate the right skills for the role in question. Pay attention to their experience and the evidence they provide of their ability.
Keep an open mind: Avoid making biased judgments based on a participant's appearance or language straight away. Remember that diversity is crucial to building a strong company culture and a creative, productive team.
Incorporating Asynchronous Interviews into the Hiring Process
With recruiting automation software like Hireflix, implementing asynchronous interviews into your hiring process couldn't be easier. The platform includes everything you need to produce, share, and evaluate video interviews, so you can focus on making the right hiring decisions.
All you need to do is:
Leverage the right software: Sign up for a Hireflix account and start experimenting with the features. Our user-friendly platform will ensure you can create your interview in no time and start sharing it with candidates across a variety of digital channels.
Develop a plan: Decide exactly what you're going to be using your video interview for. If you're using it to screen your candidates, decide what core questions you'll need to ask to make sure you're moving the right people to the next stage in the hiring process.
Choose questions carefully: Select your questions strategically to ensure you can evaluate each candidate based on the core hard and soft skills they're going to need to thrive in your role. Make sure you don't ask too many questions or make the interview too complex.
Showcase your brand: Draw attention to your company's brand throughout the interview process. In both your intro and outro, you can highlight your communication style, your employer value proposition, and even your mission as a company.
Evaluate carefully: Use the same metrics and guidelines to evaluate each potential employee. This will ensure that biases don't accidentally come into play when you're deciding who you want to move to the next stage in the hiring journey.
Conclusion
Asynchronous interviews have the power to transform and optimize any hiring and recruiting process. Not only do they save your company time on screening candidates, but they also help to ensure you can find the right people for each role.
With asynchronous interviews, you save time on scheduling conversations and managing complex calendars. Plus, you can provide your candidates with a better overall experience and a deeper understanding of your company.
With Hireflix, adding asynchronous interviews to your hiring process couldn't be simpler. With all the tools you need to connect with candidates and evaluate applications in one place, you'll be able to streamline your path to hiring like never before.
Contact Hireflix today to learn more about using asynchronous interviewing techniques, or request a demo of the software to discover the benefits for yourself.