Spark Hire Alternatives: 3 Reasons Why Hireflix Is the Best Option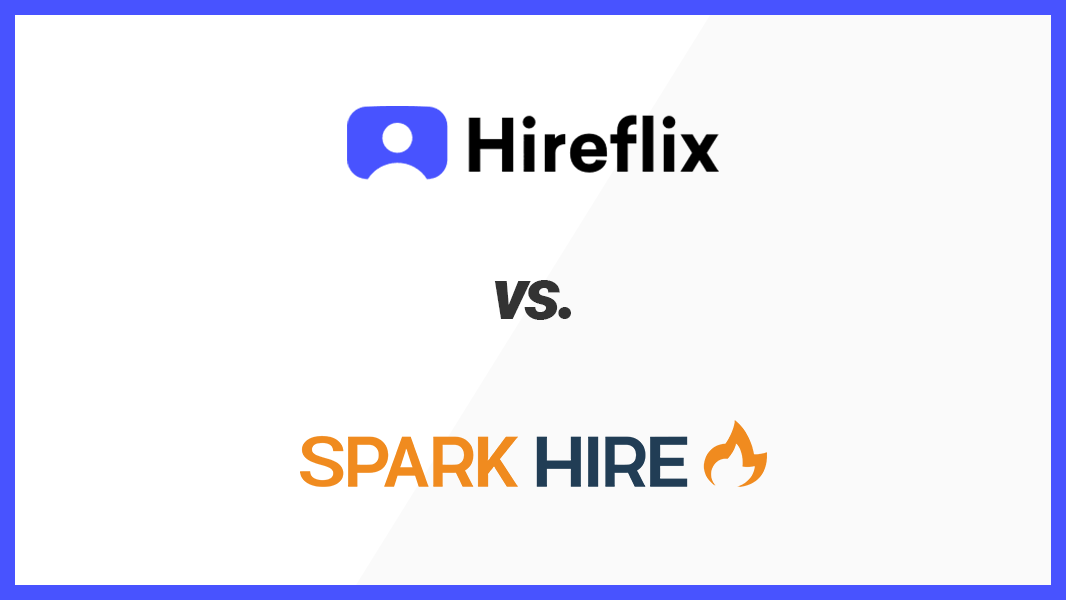 Are you seeking a truly seamless and user-friendly one way video interviewing platform where candidates don't actually have to download anything, nor register anywhere to take your interviews? Is SparkHire forcing you into a yearly plan? Keep reading because we have the solution for you 😊🙏
The labor market and demand for new talent heated up during the end of 2022, and is still on pace to continue strong this 2023. As a result, hiring managers and recruiters across the globe are scrambling to keep stride. And as busy people struggling through a busy season will tell you, any resource or tool that can help keep you ahead of the curve is worth noting.
Hence the rising popularity of one-way video interview software.
When it comes to choosing the best video interview platform to conduct a remote interview, Spark Hire has gained a lot of attention being one of the first tools to offer a one-way video interviewing service in 2012.
However, as many of you know, Spark Hire has been spreading themselves thin trying to do everything from live interviewing to interview scheduling and more, without mentioning other debatable decisions such as forcing their customers to move to yearly plans or asking candidates to register in order to submit their interview answers - among many others.
This has sent hundreds of users on the search for an alternative solution, and they're all flocking to one platform, the best of all the Spark Hire alternatives – Hireflix.
Hireflix is the best Spark Hire alternative all around. It's better, less expensive, and much more user-friendly:
Let's jump into the details.
Improve Your Hiring Process
These days, as a hiring manager, it's more important than ever to make sure you're constantly improving your recruitment and hiring process and keeping it up-to-date. With the pace at which the business world is moving, it just doesn't make sense to get comfortable with the status quo.
Outdated practices can slow your entire hiring process – and in the end, lead to poor outcomes.
💡
It may be tempting for some leaders to simply accept that hiring is not a perfect science and use that as an excuse to stick with the same outdated interview process corporations have relied on for decades. But today, it's safe to say that most businesses can't afford to take a chance on bad hires.
(
Harvard Business Review
)
If your recruitment process is slower than it needs to be, you have a much bigger problem than simply wasted work hours.
Without an efficient recruiting and hiring system in place, it will take recruits longer than necessary to move through your screening and interviewing pipeline.
As a result, you'll miss out. Big time. The slower you are at screening, the more likely it'll be for the most qualified candidates to get snapped up before you even get a chance to interview them.
So speeding up your interviewing process is an essential step in improving your hiring and recruiting process.
The best way to interview multiple candidates faster, is by leveraging one-way video interview software. With this technology, each video response can be shared with team members to help you find the best talent, fast.
And if Spark Hire isn't the best fit for everyone (based on reviews, it likely isn't!), then it's time to check out your best Spark Hire alternative.
That's where Hireflix comes in.
3 Reasons Why Hireflix Is the Best Spark Hire Alternative
Hireflix is the best alternative to Spark Hire. Here's why:
Reason 1: Hireflix doesn't limit your features, nor positions, nor users, nor do they force you into a yearly contract - all this while being significantly more affordable than Spark Hire
We won't have to do much to convince you. All you need to do is take a look at how the pricing comparison between Spark Hire and Hireflix breaks down (Image below from Jan 2023).
Hireflix plans are significantly more affordable than Spark Hire and include all features, unlimited users, and unlimited positions. Spark Hire, however, caps the number of open roles, which features you can use, etc. We're not talking about SSO or advanced features, Spark Hire is blocking very basic needed features.
For example, in Spark Hire, only 'Pro' users can control the "think time" of the interview which is a very basic needed feature. If you need it, the cheapest Spark Hire plan you can consider is $250 USD a month.
In Hireflix, all features are included in all plans, even the $75 USD one. Crazy, right? This includes important features such as automatic transcriptions that aren't even available in Spark Hire.
Hireflix also provides you with a 1-month free trial! Can you believe that it wasn't until 2021 that Spark Hire started offering free trials? It took them almost 10 years to make that change. Hireflix has been offering customers a free trial since day 0.  
Lastly, in Hireflix there's a very clear philosophy of not wanting to "lock" you into a contract. Hireflix wants to be held accountable, and only "retain" you if you're extremely happy. That's why monthly plans are always an available option (extreme customer care is one of the reasons why Hireflix is rated #1 in the industry).
Spark Hire instead decided in 2022 to start forcing all their customers into yearly plans. We also have seen reports of Spark Hire users angry because they are being "locked" into contracts they don't want to because they forgot to inform they won't be renewing 60 days before the end of their contract. We don't support those kinds of tactics. In Hireflix all we want is your satisfaction and success. You having freedom to stop using us anytime is something that pushes us to deliver the very best every single day. There couldn't be more contrast between both approaches.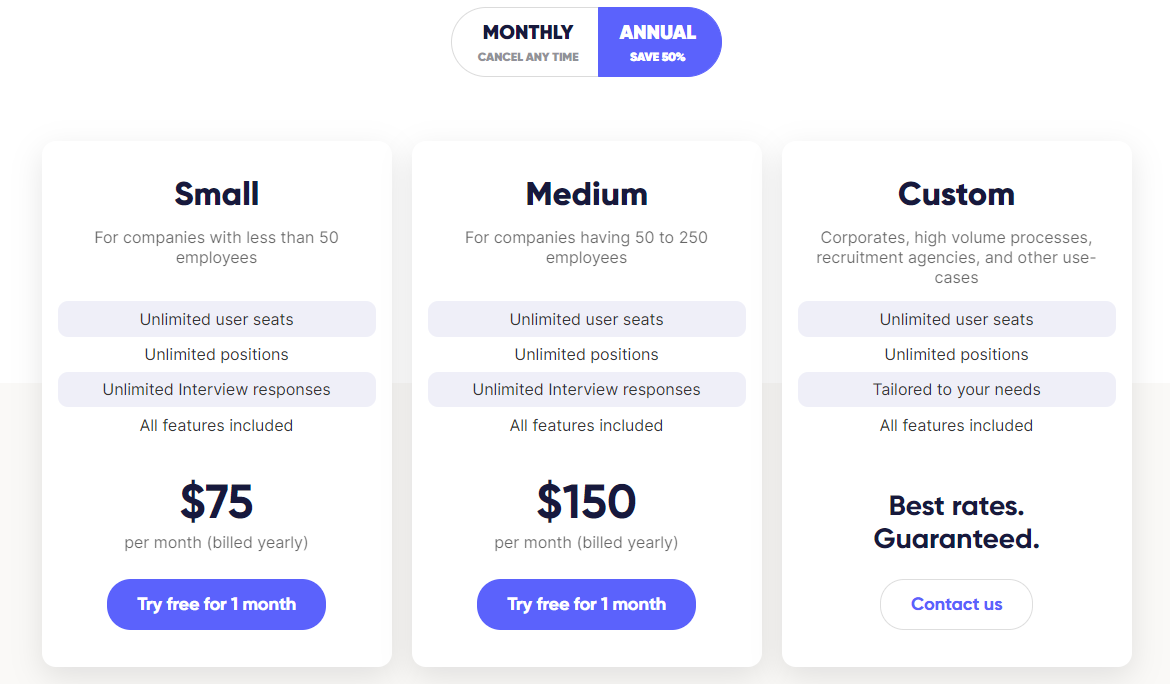 If you're thinking about making the switch, start your free trial now.
Reason 2: Hireflix has a clear focus and value proposition, and this leads to better software and better results – The best and most user-friendly one-way video interviews. Period.
As we all know, to be the best at something, one has to focus. Spark Hire has been trying to do everything from live interviews and automatic scheduling to one-way video interviews and more. Few recruiters or companies need all of the bells and whistles of Spark Hire.
In fact, many of these features are likely already present in their current systems, meaning if they signed up for Spark Hire, they'd be paying for redundancies.
Since Spark Hire has chosen not to specialize in one particular service, they're not known for being remarkable in any particular area. In other words, while they do offer lots of services, users report their experiences to be sub-optimal.
Spark Hire has spread itself too thin.
Hireflix, instead, focuses exclusively on one-way video interviewing and making it as user-friendly and simple as possible. This means that every single day, Hireflix is working to keep perfecting and making their service more and more flawless, which is another reason why they climbed to #1 in their industry so quickly.
Reason 3: Hireflix is significantly more user-friendly than Spark Hire – No registration required, no downloads, and a minimalist UX/UI
Taking a few minutes to skim online reviews is all it takes to gather that, on the whole, Spark Hire customers report a less-than-satisfactory user experience (UX).
With Spark Hire, users often report a steep learning curve. It takes 8+ clicks before someone has navigated far enough to start interviewing. Compare that with Hireflix, where just 1 click gets you to the interview.
Another common frustration among users is that Spark Hire requires candidates to register to be able to take your interview. For example, candidates are asked to log in with LinkedIn or register before taking the interviews. This creates too many steps and too much friction for the applicant. Downloads are also a pain. We have also heard of interviews not working well on Safari etc.
Hireflix is the complete opposite. Your candidates will have a seamless and frictionless experience: they don't need to download anything nor create a profile nor log in. They can just access the questions in any browser, anywhere in the world, and get started right away!
Spark Hire users have also reported that due to its poor UX/UI, even after used the software for years, they have to "relearn" how to use the software every time they want to create a new interview. This causes frustration and stress, and could ultimately impact the quality of interviews.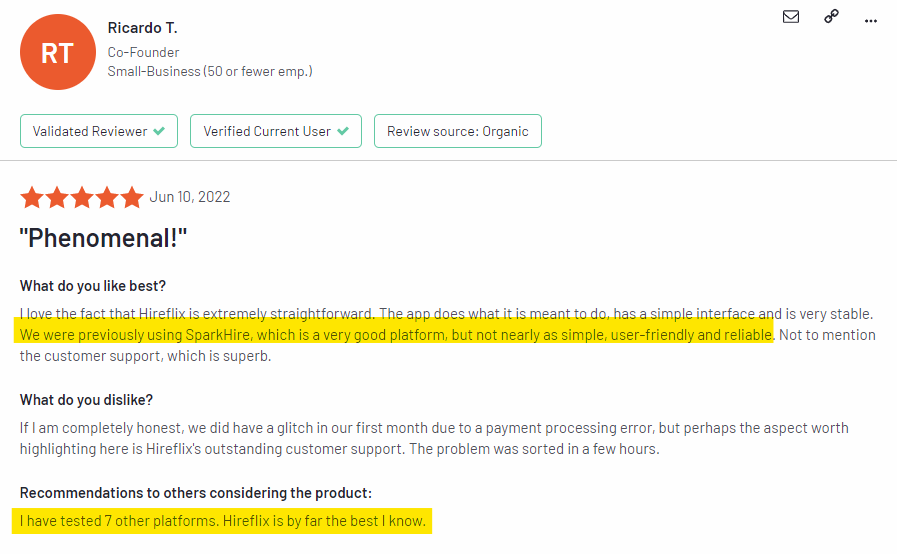 Next, Spark Hire only allows 10 questions per interview. This limits how much you're able to learn about each applicant, and although it's true that keeping the interview short is the preferred approach in 90% of cases, in some situations 10 questions aren't enough.
What's more, is that communication is not easy to track or navigate within Spark Hire's system.
For instance, you can't see if an email invite has been opened, you can't customize reminders or invites, and you don't know who's received them. Hireflix, on the flip side, gives you full control and visibility over all communication that goes to your candidates.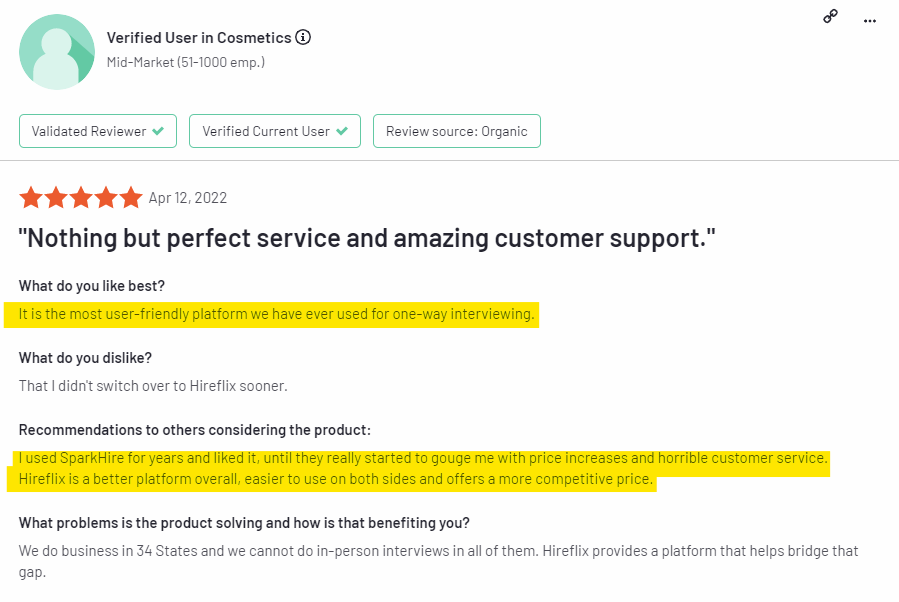 Lastly, the Spark Hire API simply doesn't cut it. Hireflix has a full-fledged GraphQL API that allows you to do absolutely everything. You can build exactly what you need and tailor it to your own specifications.
Hireflix can integrate seamlessly with your applicant tracking system (ATS), customer relationship management (CRM), or any custom system to help you streamline your hiring process.
Hireflix's native integrations include (among others):
Lever
BambooHR
Teamtailor
Greenhouse
JazzHR
SmartRecruiters
Ashby
Workable
Recruitee
50 Skills
TalentClue
The bottom line?
With Hireflix on your side, you can start conducting one-way video interviews simply, effectively, and affordably without having to start from scratch while using a complicated, hard-to-learn system. You can keep doing what you're doing – only better and more efficiently.
Speeding your time-to-hire and drawing top talent has never been simpler.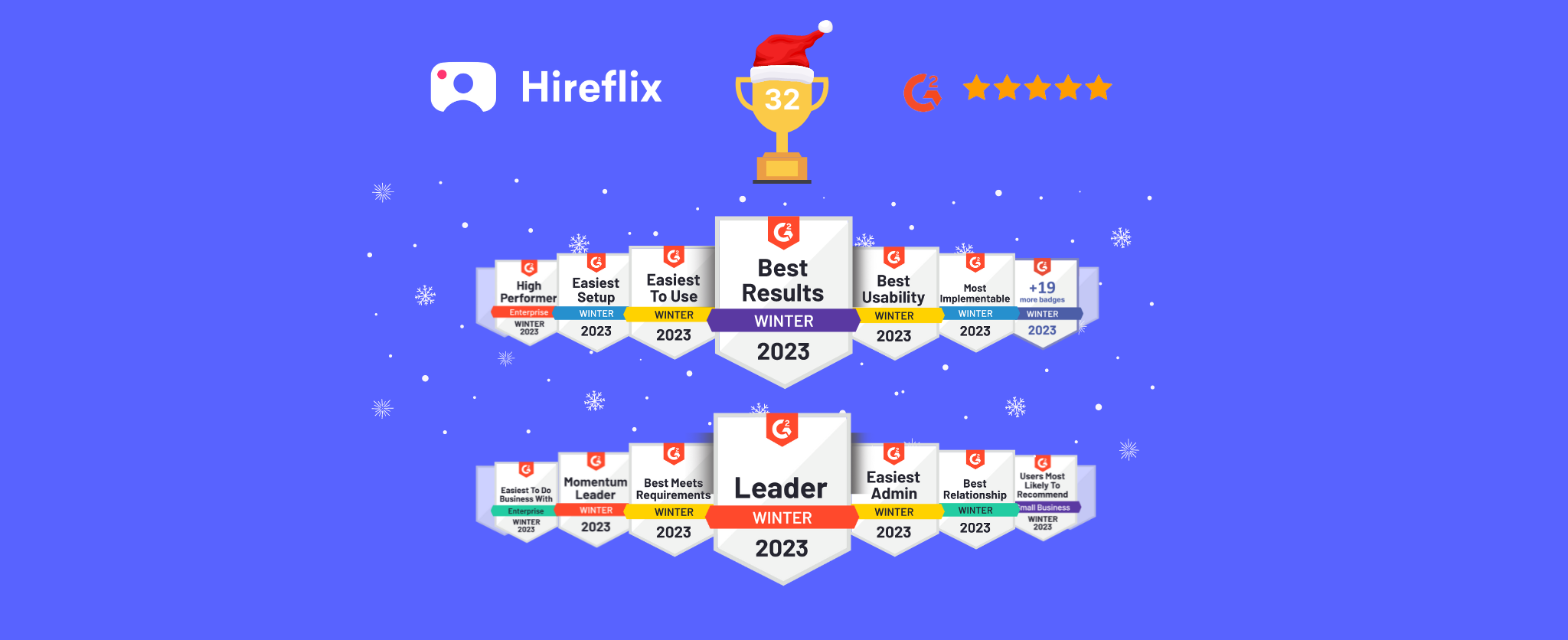 Looking for the Best Spark Hire Alternative?
If you're looking to screen for the right candidate for your job opening and speed up your time-to-hire with premium one-way video interviewing software, your search is over. Not only do we have exactly what you need, but we've made it simple, seamless, and affordable to get started.
Hireflix is truly the best Spark Hire alternative. Our one-way video interview software helps you quickly fill open positions with quality candidates.