Top 15 Recruitment Assessment Tools for 2023
Hiring managers have never had it easy – especially in today's hiring landscape. These days, leveraging recruitment assessment tools to boost hiring efficiency is absolutely essential to snagging top talent, starting right from the initial assessment interview.
At Hireflix, our experience spans more than five years in the video interview software space, and we've seen directly how life-saving this technology can really be.
Today, we're here to review the best recruitment assessment tools on the market. While no one tool is a one-stop shop, you will find that depending on your current needs, one or the other may be a better fit.
Top 15 Recruitment Assessment Tools in 2023
Selecting the right candidates is easier with the right tools.
All 15 recruitment assessment tools on this list have specialized in different areas. To help you quickly sort through them, we've grouped them by specialties.
Video Interviewing
1. Hireflix
2. Modern Hire
3. Vidcruiter
4. Willo
5. Jobma
Test Screening
6. Adaface
7. Skillsarena
8. ThriveMap
9. Pymetrics
10. Wonderlic
From Outsourcing to Onboarding
11. Workable
12. Harver
13. iMocha
14. SmartRecruiters
15. Zoho
Video Interviewing
Nothing speeds up candidate screening and the entire recruitment process quite like an easy-to-use one-way interview software.
Simply build your interview by recording your questions once, then invite as many candidates as you want to record their answers.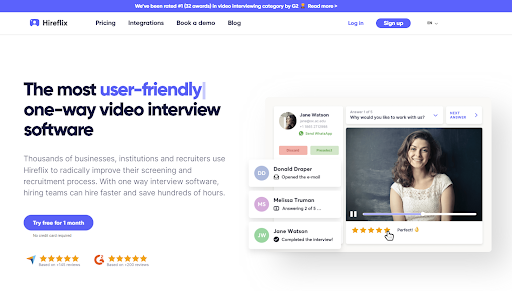 Category: Video Interviewing
Strengths: Hireflix's one-way, pre-recorded interviews allow you to screen more candidates in less time, saving you both time and money. In particular, one-way video interview software will help companies speed up high-volume hiring with:
No more scheduling
Share recorded interviews with the whole team
Great candidate experience
The best UX/UI and most user-friendly experience in the market
Recognizable Clients: FIFA, Coca-Cola, Chick-fil-A, PGA Tour, Sotheby's
Pricing:
Hireflix always offers a 1 month free trial so that you can get real results before making the decision to upgrade.
Small: $150 per month / $75 per month (annual)
Medium: $300 per month / $150 per month (annual)
Enterprise: Custom pricing

If this meets you where you are, book a demo with Hireflix today.
2. Modern Hire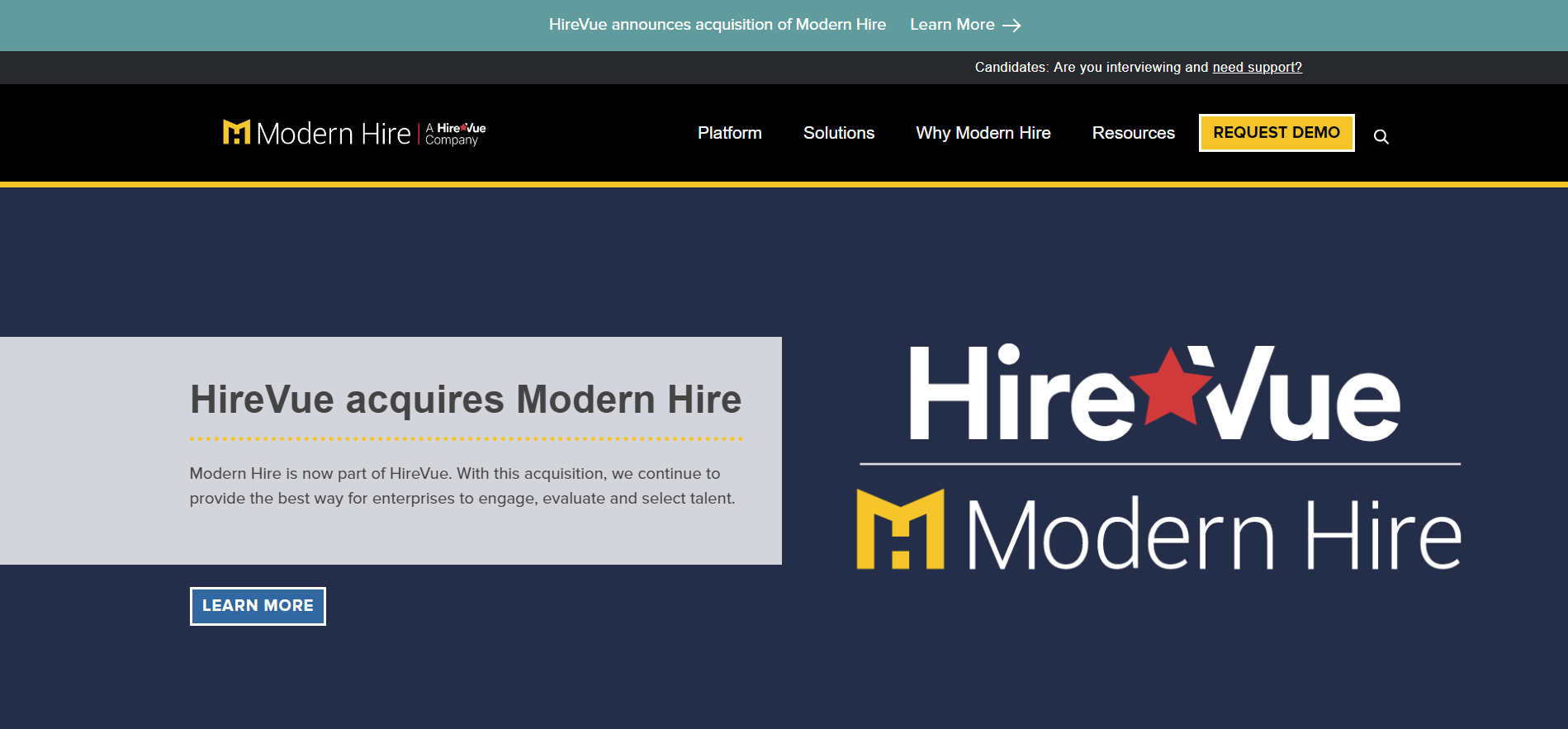 Modern Hire was acquired by Hirevue in May 2023
Category: Video Interviewing
Strengths: Modern Hire is an all-in-one hiring platform, featuring automated interview tools and predictive analytics to help you narrow your focus on the best candidates.
In particular, Modern Hire's live, remote interview capabilities provide an overall user experience that is:
Faster
Smarter
Candidate friendly
TrustRadius Reviews: 6.7 out of 10
Recognizable clients: FedEx, Delta, Nationwide, Starbucks
Pricing: Free and paid plans. Contact for pricing.
3. Vidcruiter

Category: Video Interviewing
Strengths: Vidcruiter offers a fully fledged ATS system with both live and pre-recorded interview options, helping businesses decrease their time-to-hire while also allowing them to maintain the personal touch with a potential candidate once they move further down the talent pipeline.
With both synchronous and asynchronous interview options, Vidcruiter is a powerful, all-around solid option with lots of bells and whistles. It comes at a hefty price, but for those interested in an ATS type of solution they are a possible option.
With Vidcruiter, you will have:
Ability to create fully branded hiring experiences
Guidance for establishing structured digital interviews
Access to fully automated scheduling features
Recognizable clients: Lionsgate, Samsung, UPS, United Nations
Pricing: Contact directly for pricing.
4. Willo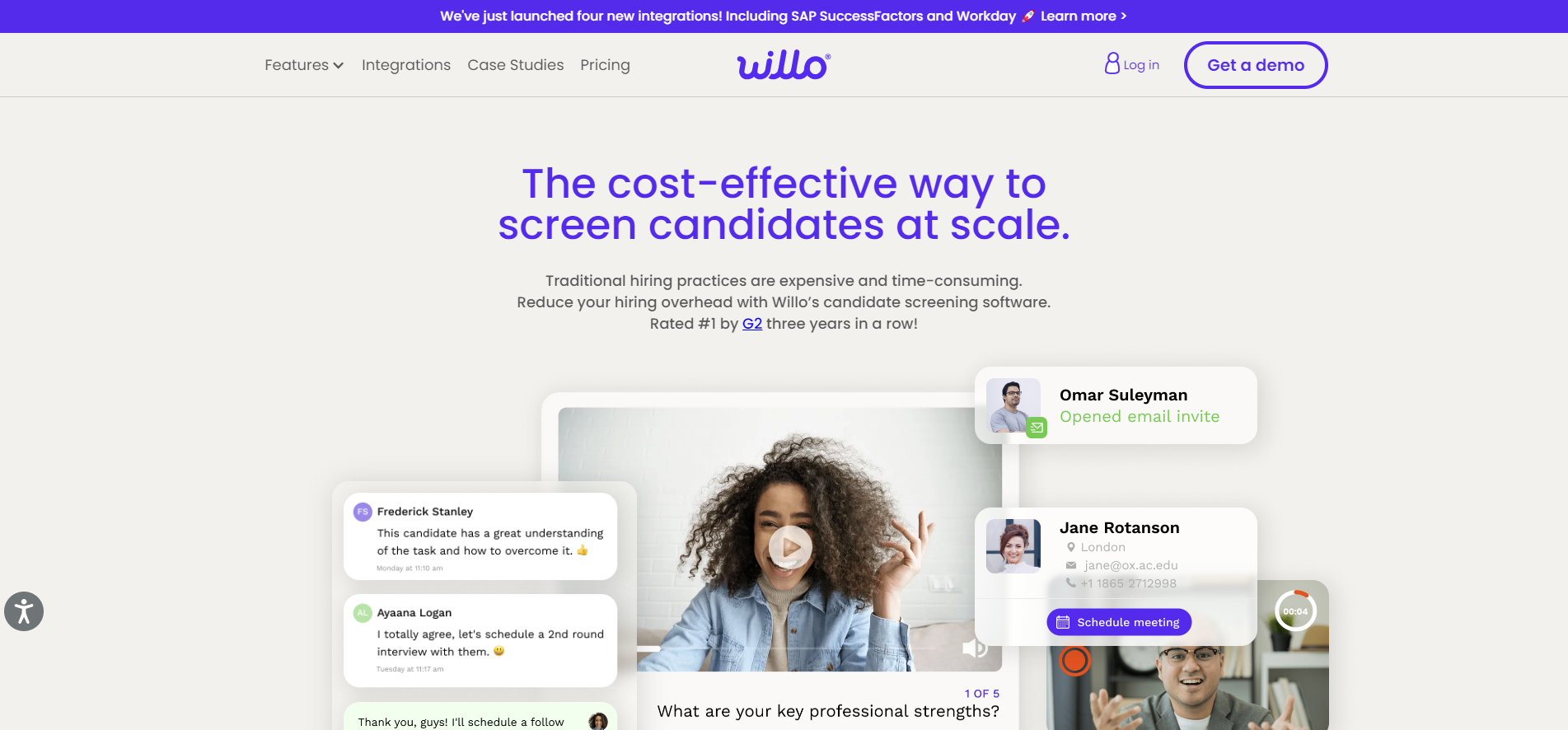 Category: Video Interviewing
Strengths: They provide a broad platform with text based answers, audio only etc. which makes Willo a popular choice for companies looking for a broad solution.
Willo's one-way video interview software is:
According to Willo, customers can cut their time-to-hire by 30% and save roughly 12 hours of admin time in the recruiting process.
Recognizable clients: Samsung, Seattle University, 7-Eleven, NHS Scotland
Pricing: With Willo, pricing starts low and scales up.
Launch: $68/month
Growth: $187/month
Scale: $299/month
Enterprise: Contact for a custom quote.
5. Jobma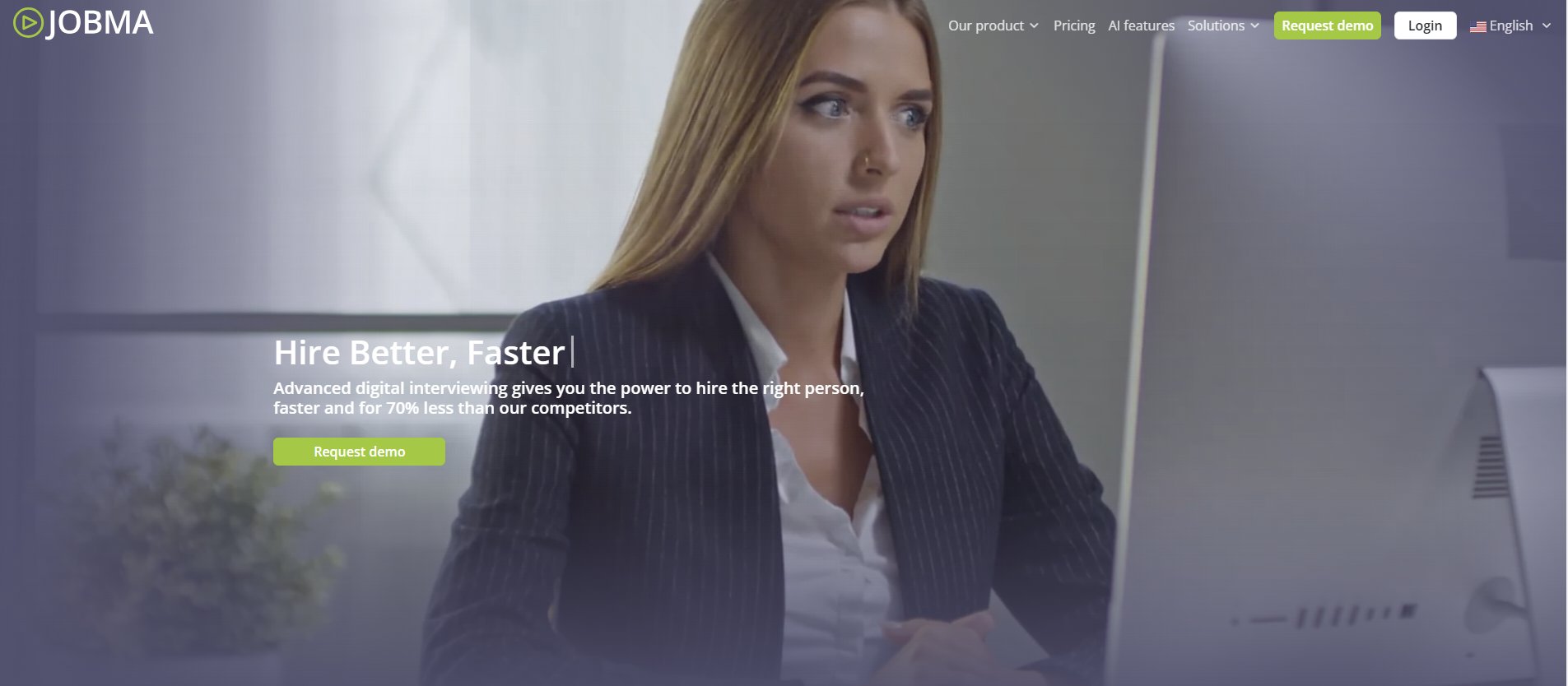 Category: Video Interviewing
Strengths: While Jobma does offer live interview capabilities, its main focus is one-way interviews.
With Jobma's one-way interview software, applicants proceed through a series of video, audio, written, and multiple-choice questions. Hiring managers can then review, share, and collaborate on applications at scale.
Recognizable clients: Polaris, University of Virginia, Schneider Electric
Pricing: Custom pricing
Test Screening
Quickly screening out candidates who do not meet basic job requirements via a series of screening interview questions is a great first step toward using your time and energy well.
The following platforms have made skills assessment one of their main focuses.
6. Adaface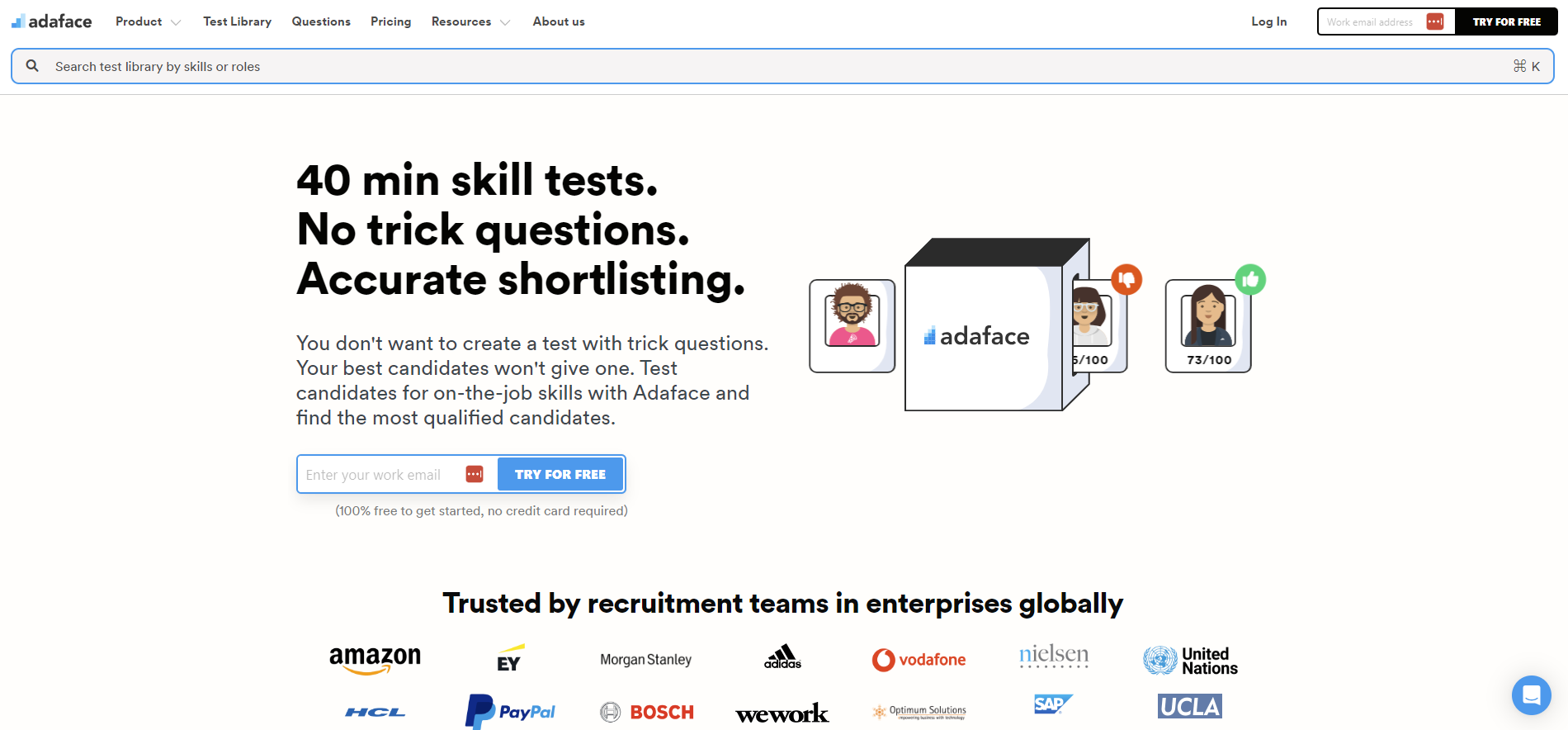 Category: Test Screening
Strengths: Through a series of high-quality, scenario-based questions, Adaface gives employers, hiring managers, and recruiters the tools they need to test the fundamental concepts potential employees need to do their jobs well. This includes:
Coding tests
Aptitude tests
Psychometric tests
Personality tests
Adaface claims an 85% reduction in screening time, greatly shortening candidates' time in their hiring pipeline.
Recognizable clients: Amazon, PayPal, WeWork, United Nations
Pricing:
Individual: $180/year
Starter: $500/year
Pro: $900/year
Scale: $3,000/year
Growth: $5,500/year
Enterprise: $20,000/year
7. Skillsarena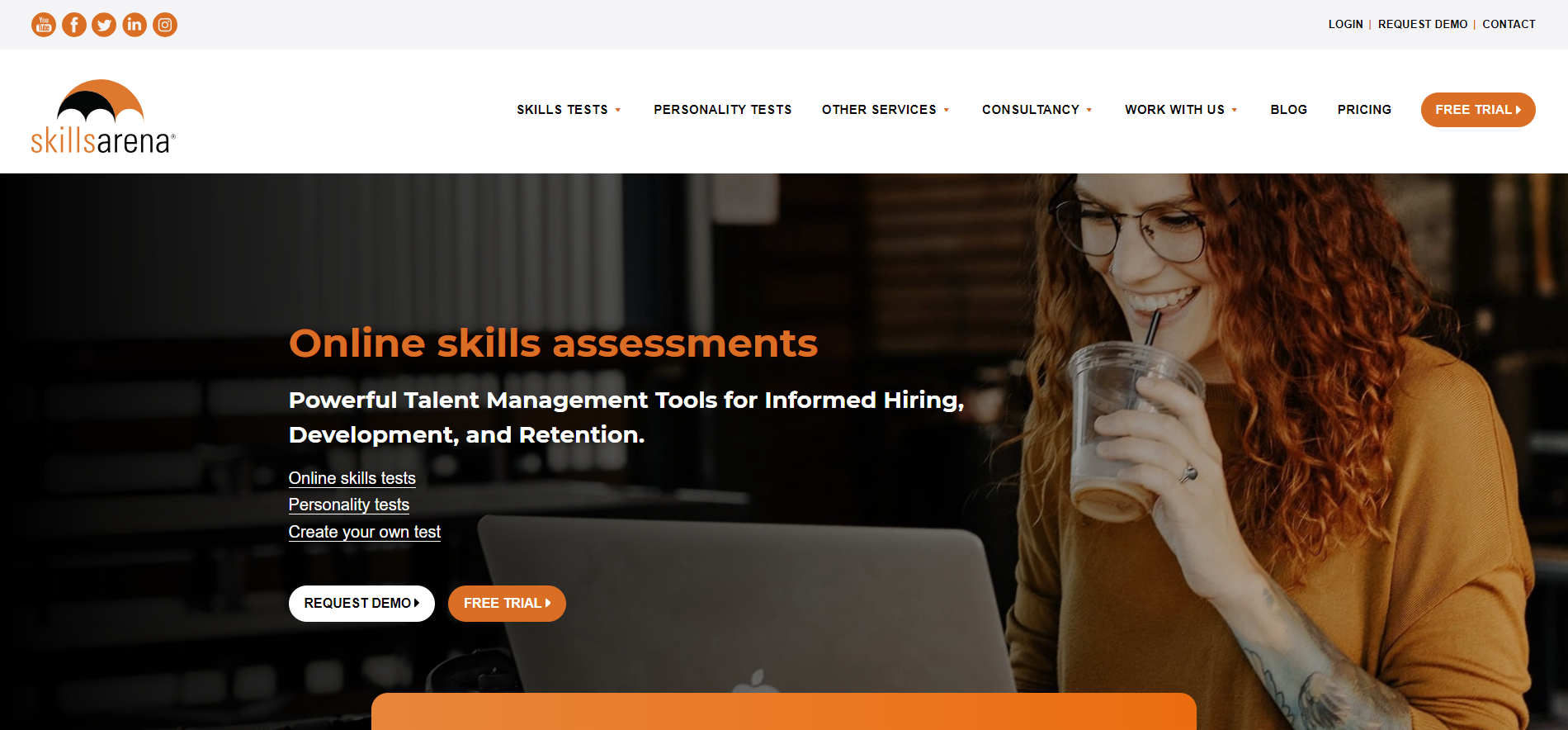 Category: Test Screening
Strengths: Skillsarena allows employers to assess job seekers quickly and efficiently, greatly speeding their recruitment process. Prebuilt and custom talent assessment tools allow for a wide range of screenings.
Psychometric tests
Situational judgment tests
Skills assessments and tests
Cognitive skills assessments
Personality color and behavioral styles assessments
Capterra Reviews: 4.7 out of 5
Recognizable clients: SECOM, Capita, Edge Hill University, BBFC
Pricing: Skillsarena offers both free and paid plans.
Free (limited features)
Innovator: £39/month
Business: £299/month
Infinity: Contact directly for custom pricing.
8. ThriveMap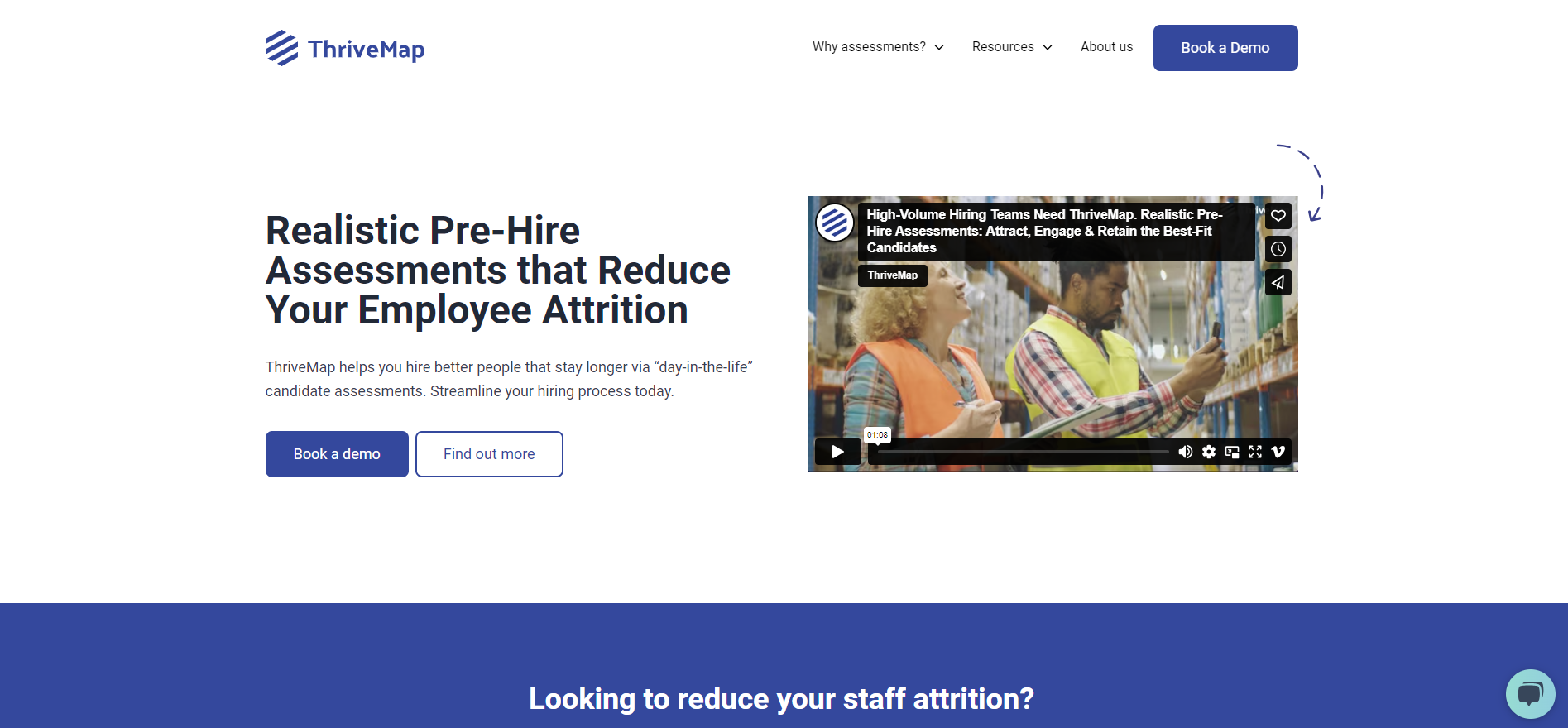 Category: Test Screening
Strengths: In the age of "one-click" applications, employers, hiring managers, and recruiters are finding it harder than ever to know how to narrow their focus on candidates who will not only be a good fit for the job but will also stick around for the long haul.
Through immersive, pre-hire assessments, ThriveMap combines digital assessment technology with realistic job previews to keep potential hires both engaged and informed as they move through the pipeline.
Recognizable clients: Bulb Energy, Belron International, Wincanton, Cote Brasserie
Pricing: Contact directly for custom pricing.
9. Pymetrics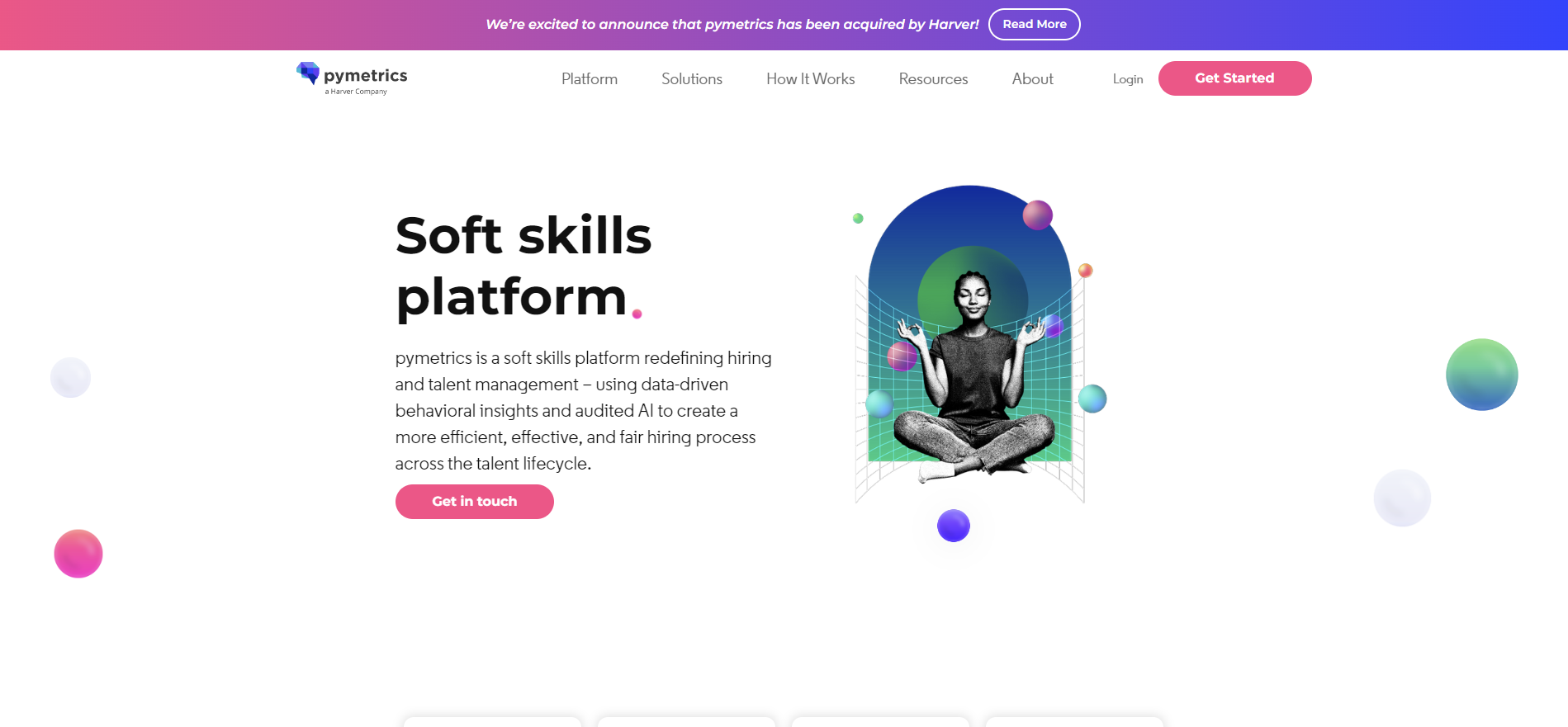 Pymetrics was acquired by Harver in August 2022
Category: Test Screening
Strengths: Touting itself as a "soft skills platform," Pymetrics uses data-driven behavioral insights that lead to both a 59% decrease in time-to-hire and a 198% better tenure over the long haul.
Moving beyond resumes, Pymetrics leverages a forward-looking candidate assessment system to collect and evaluate both cognitive and behavioral data according to custom algorithms, gamifying the process to best evaluate job seekers for every role.
Recognizable clients: KraftHeinz, Colgate-Palmolive, Hyatt, Swarovski
Pricing: Contact directly for pricing.
10. Wonderlic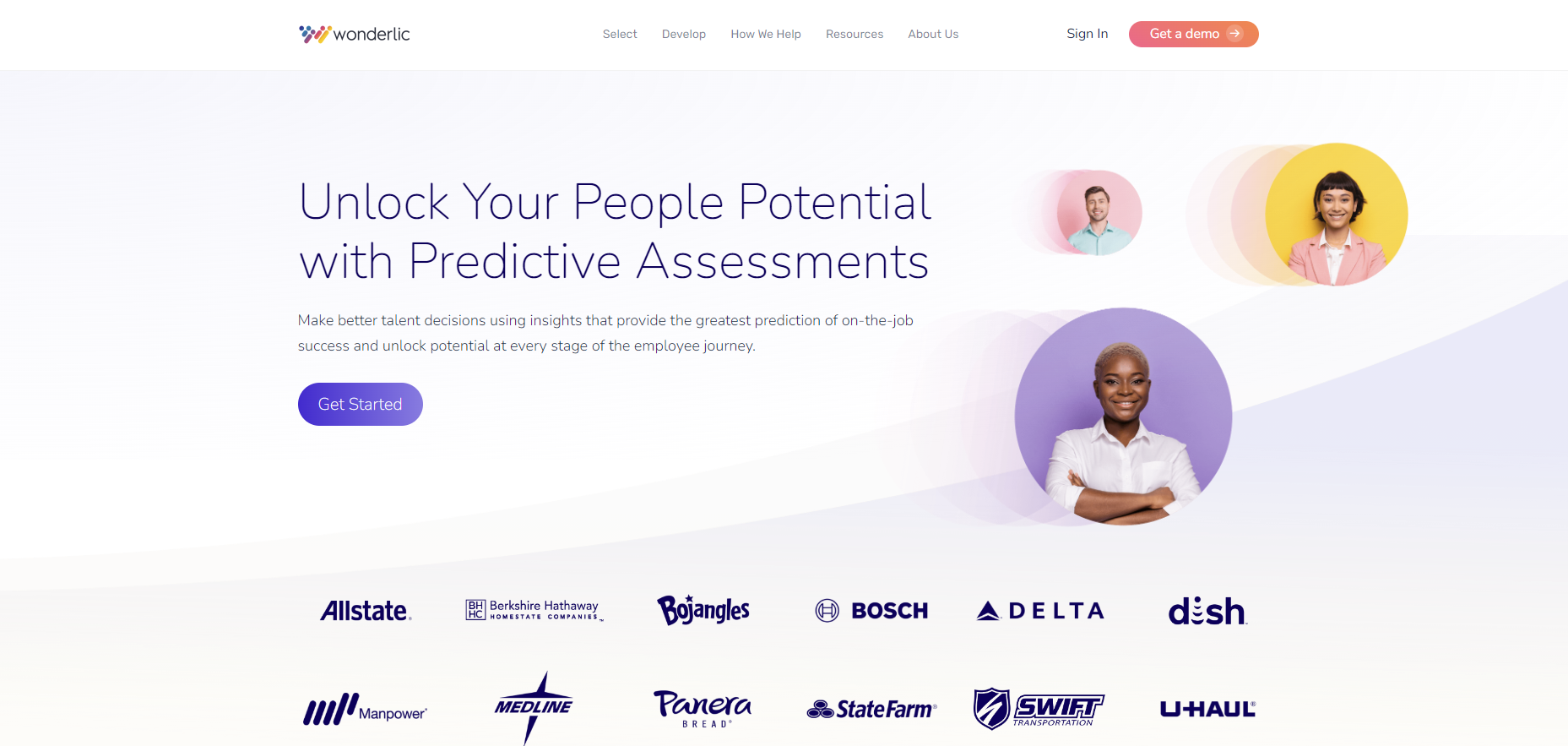 Category: Test Screening
Strengths: Wonderlic's Predictive Talent Assessments help employers identify high-potential candidates by analyzing cognitive ability, personality traits, and motivation.
Boasting unique talent insights with no customization required on the front end, Wonderlic allows for quick onboarding that allows you to get started collecting assessments right away.
Recognizable clients: Delta, U Haul, Allstate, Berkshire Hathaway
Pricing: Contact directly for pricing.
From Sourcing to Onboarding

From end to end, a jobseeker's experience as they journey from recruitment to employment matters.
The following platforms work to make that journey as smooth as possible – both for you and for potential hires.
11. Workable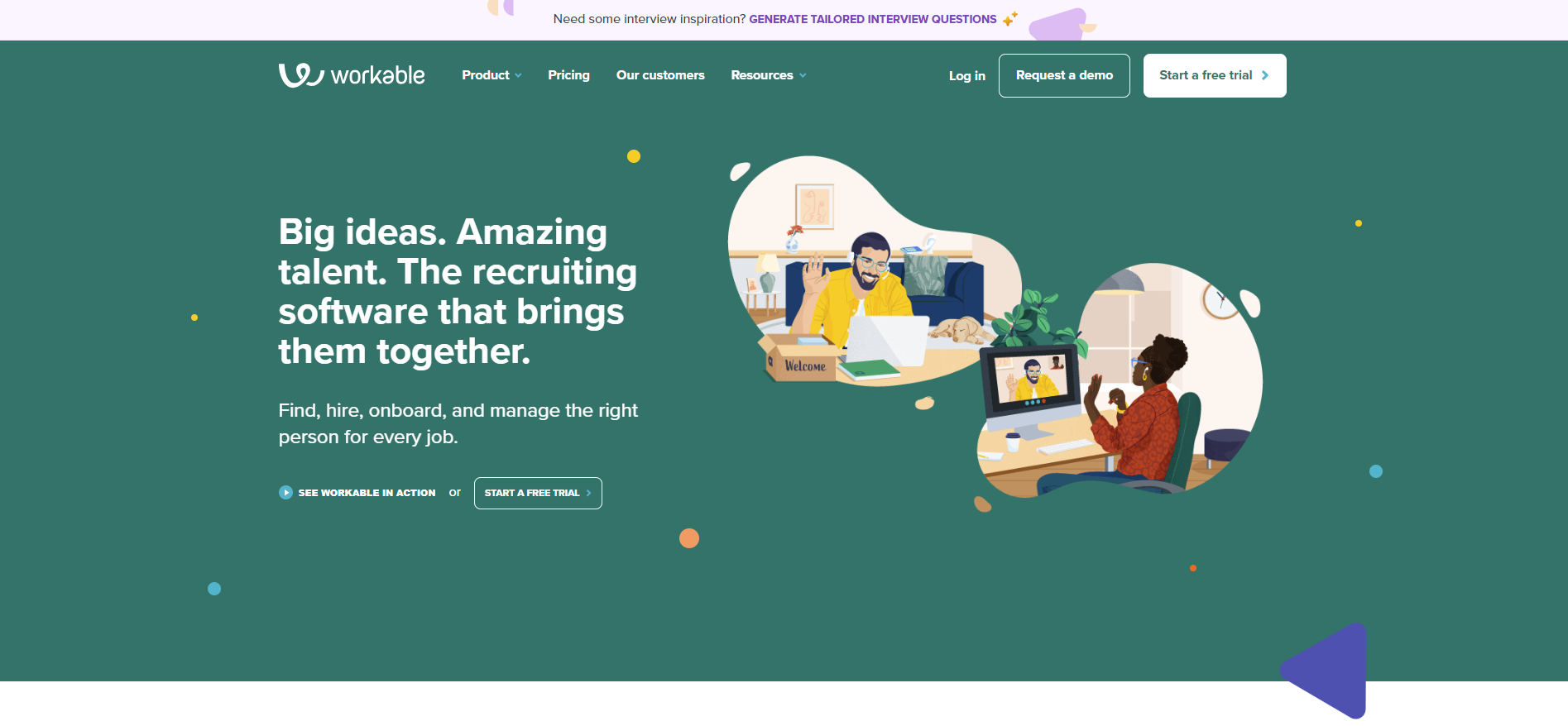 Category: From Sourcing to Onboarding
Strengths: Workable boasts a broad reach, having served 27,000 companies of all shapes and sizes, building the insights they've gained along the way into their talent recruitment software.
Notably, they've created a huge library of resources, including 1,400+ job descriptions, sample interview questions, company policies, and email templates.
Recognizable clients: Sephora, Ryan Air, Hire Vue, Bevi
Pricing:
Starter: $149/month
Standard: $299/month
Premiere: $599/month ($7188 paid annually only)
12. Harver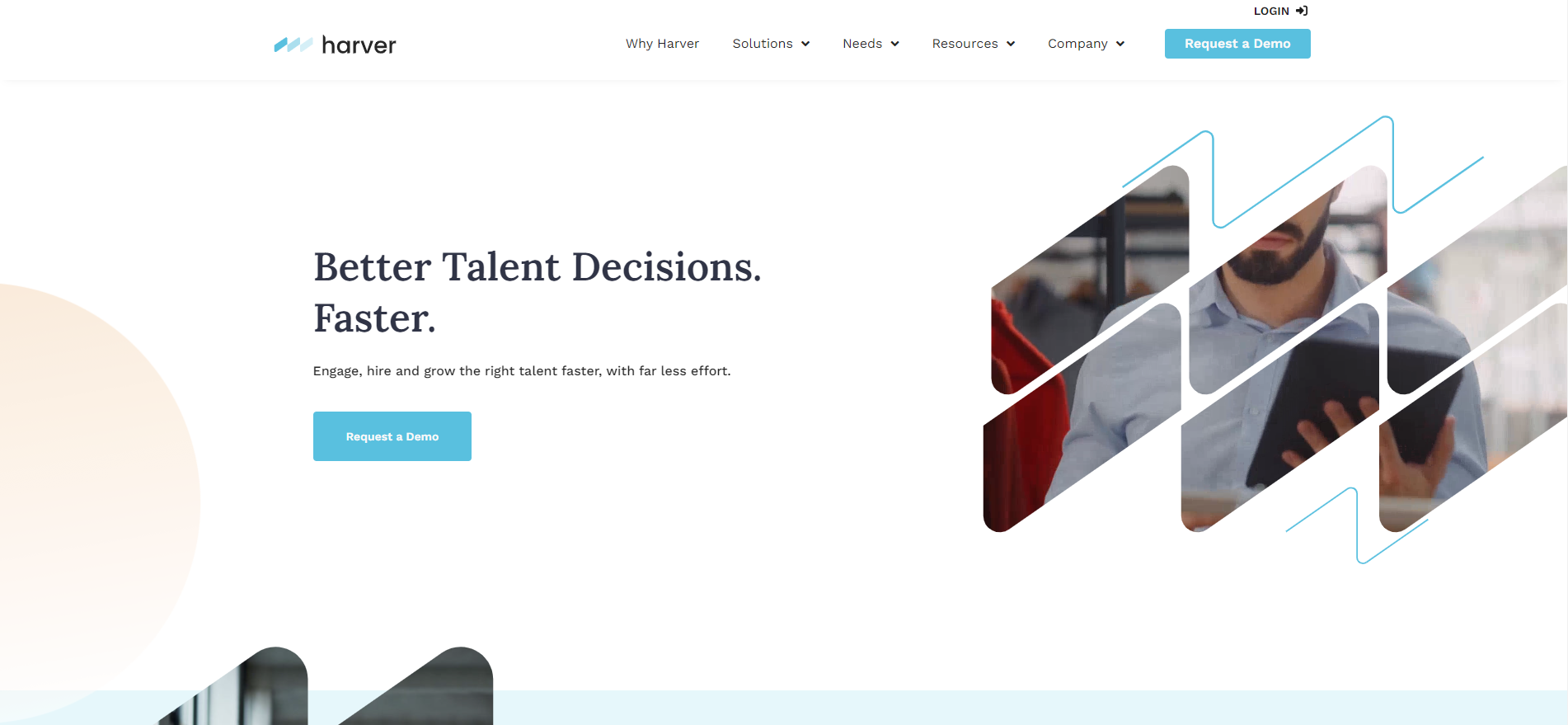 Category: From Sourcing to Onboarding
Strengths: By signing on with Harver, you'll work with a team of psychologists specializing in industrial-organizational and cognitive science to help you create assessments that drive efficient, high-quality, unbiased talent decisions.
Harver's software is optimized both for professional talent recruitment and hourly hiring.
Recognizable clients: McDonalds, Valvoline, Chili's, Peloton
Pricing: Contact directly for pricing.
13. iMocha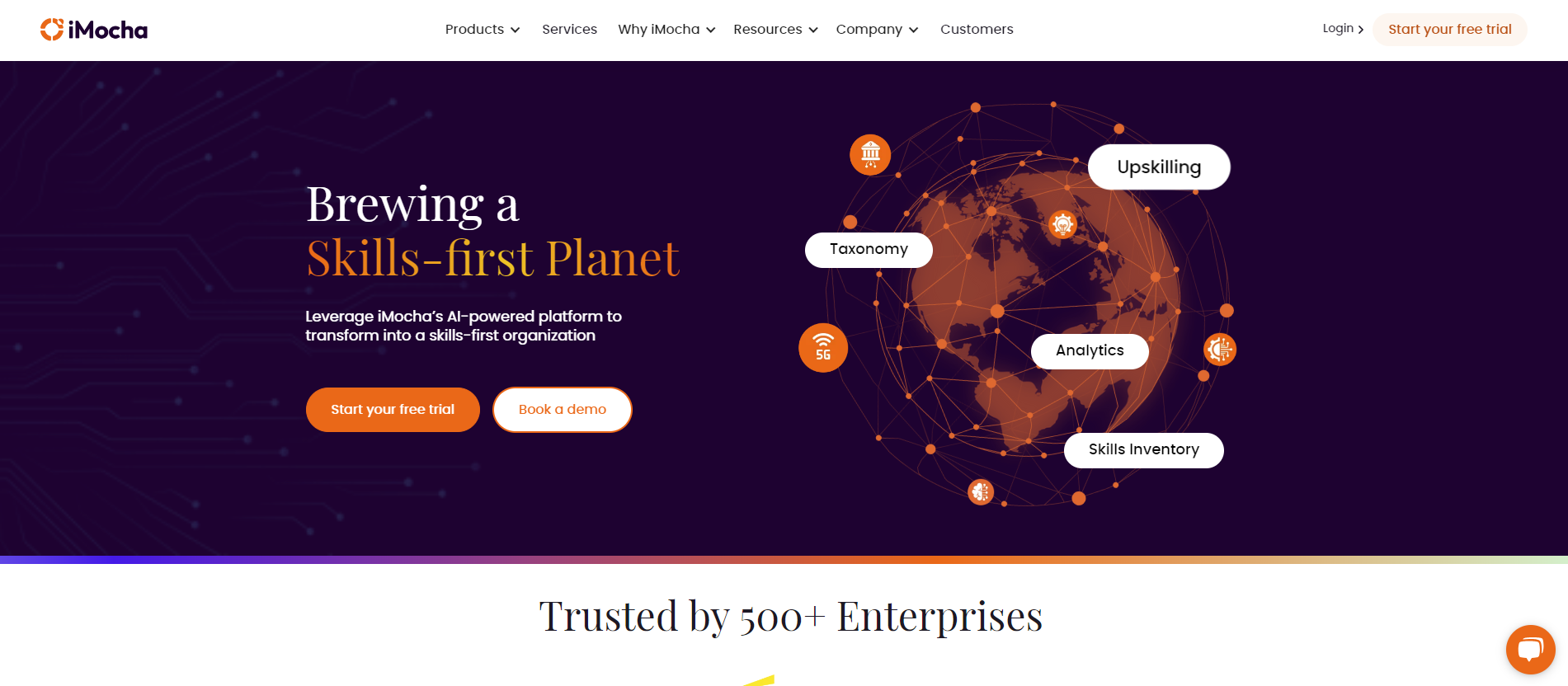 Category: From Sourcing to Onboarding
Strengths: iMocha focuses on helping organizations gain insights into the workforce's technical skills to create "a skills-first" approach to hiring. This includes the following:
Skills Assessments
Skill-Gap Analysis
Skills Matching
Skills Benchmarking
Skills Inventory
Skills Intelligence Cloud
Recognizable clients: PayPal, Capgemini, Deloitte, Vanguard
Pricing: iMocha offers two plans, Professional and Enterprise. Contact directly for pricing.
14. SmartRecruiters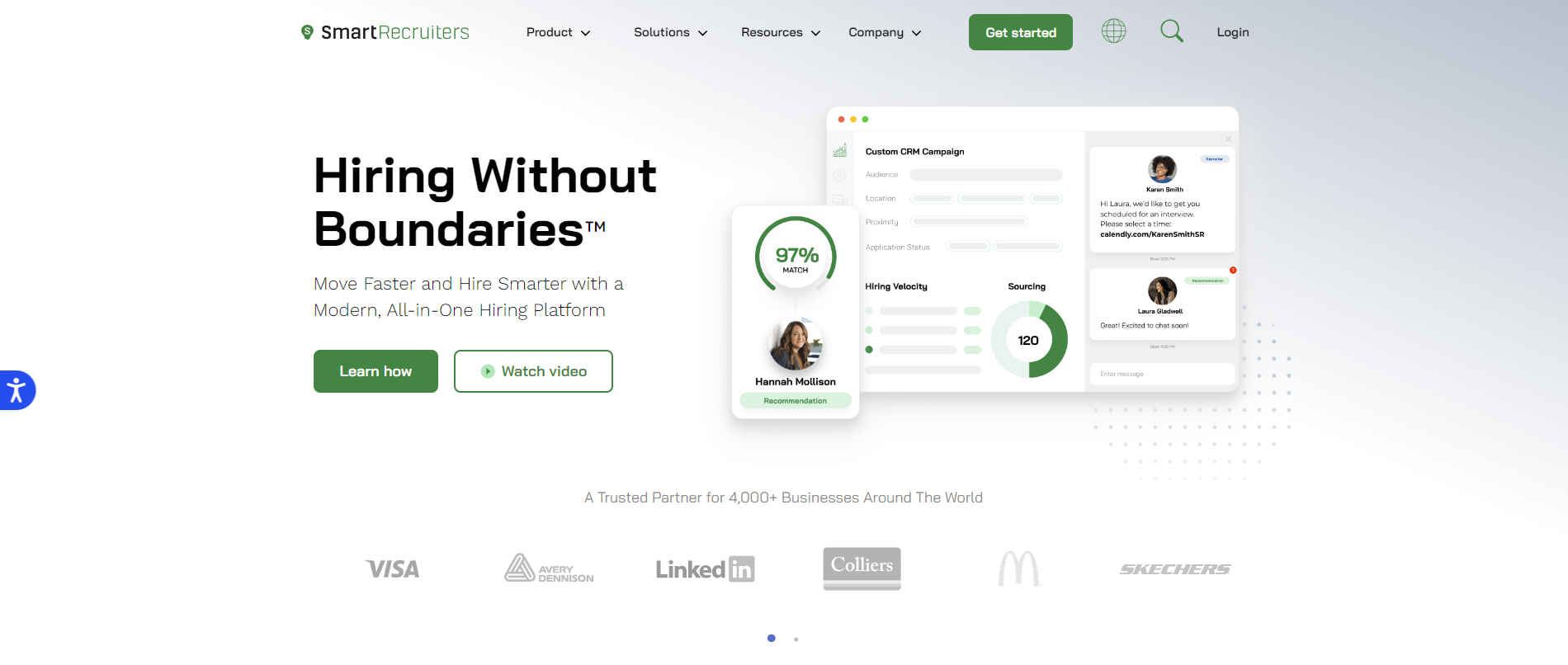 Category: From Sourcing to Onboarding
Strengths: As routine winners of "best place to work" awards, SmartRecruiters prioritizes people over process. They put their core values to work both inside and outside their own organization.
SmartRecruiters helps you create systems that produce results without losing sight of the individual – even while leveraging chatbot and AI-powered recruiting.
Recognizable clients: LinkedIn, Visa, Skechers, Equinox
Pricing: If hiring for 10 or fewer roles, you can access SmartStart for free. Beyond that, contact for pricing.
15. Zoho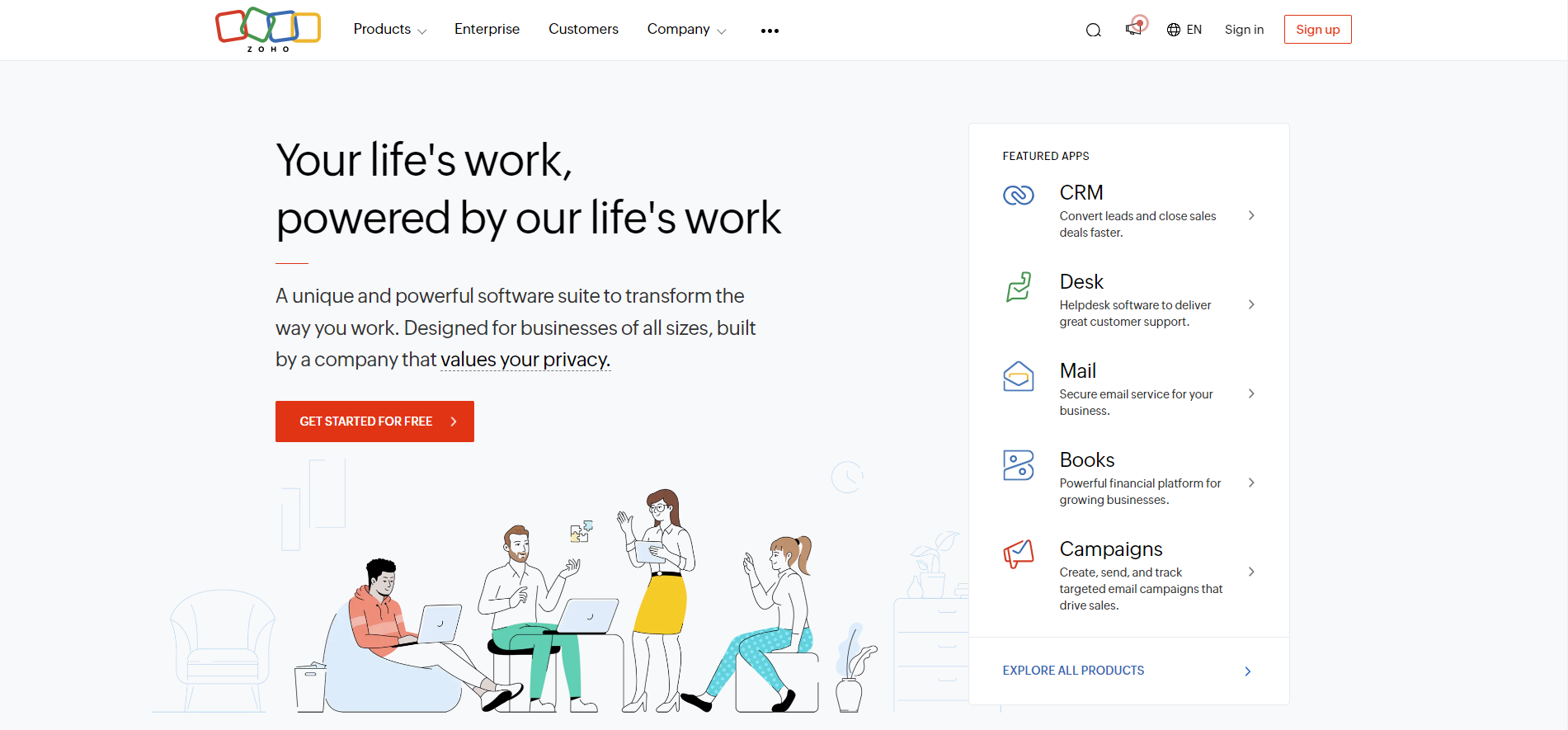 Category: From Sourcing to Onboarding
Strengths: This end-to-end recruitment software combines the best of both worlds, acting as both a customer relationship management (CRM) tool and an applicant tracking system (ATS) at the same time.
Zoho makes it easy to source, track, engage, target, and onboard the right people for the right positions.
Recognizable clients: Bosch, Philips, Puma, Dell
Pricing:
Forever Free: $0 (limited features)
Standard: $25/month
Professional: $50/month
Enterprise: $75/month
Additionally, Zoho offers the following as add-ons:
Client Portal: $6/license/month
Video Interviews: $12/license/month
How Best to Utilize Your Recruitment Assessment Tools
No matter which pre-employment assessment tool you choose, get the most out of your investment by following these steps:
Learn all you can about the software and train your team to use it effectively
Most of these services offer free training and 24/7 support, often with a dedicated account manager. Be sure to take full advantage of them, and then pass what you've learned along to your team.
Write clear job descriptions
This is perhaps the most vital step in the recruitment process because it will determine both the types of candidates who will find the role appealing and the strategy you will use to help them find you. Though it may feel tedious, it's worth taking time to get this step right.
Prioritize candidate communication
Top talent doesn't stay in the hiring pipeline very long. If qualified applicants don't hear from you early and often during their hiring journey, they will quickly turn their attention elsewhere, going where they feel most seen and valued.
Continually assess and refine assessment strategies
Over time, your organization and its needs will change. So will the markets. Your hiring strategies should constantly evolve as a result. Intentionally build times of evaluation and adjustment into your quarterly goals.
Conclusion
Though there are plenty of recruitment assessment tools on the market, each comes with a wide variety of specializations and features.
Finding the right assessment tool might take time, but it will be worth the long-term investment.
The right recruiting assessment tools will help you and your team improve your hiring process and benefit your entire company.
Increase in-house productivity
Identify and target top talent
Reduce overall cost-to-hire
Speed your time-to-hire
Scale hiring quickly and easily
Here at Hireflix, we work hard to create practical and affordable solutions to all your recruitment needs. Our one-way video interviews will help your recruiting team save time, money, and resources while decreasing your time-to-hire and increasing your success rates exponentially.
To experience the difference for yourself, come try Hireflix free for one month.
See why – of all the options on this list – thousands of businesses, institutions, and recruiters have chosen Hireflix to radically improve their recruitment, screening, and hiring processes.
FAQs
What is a recruitment assessment?
A recruitment assessment is a talent acquisition tool used to test a potential employee's hard and soft skills to determine if they could be a good fit to pursue for employment. Recruitment assessment tools help potential employers narrow their focus on the most likely candidates for option positions.
Why use a recruitment assessment tool?
Recruitment assessment tools streamline and standardize the hiring process, simplifying consistent talent acquisition. Most leverage the power of AI to save time, energy, and resources.
What features should you look for in a pre-employment tool?
In researching online pre-employment assessment tools, always look for tools that blend skills assessment with cognitive, integrity, ability, and emotional intelligence tests. Depending on the type of job, a physical ability test may also be necessary.
How do you evaluate recruitment methods?
Recruitment methods should always be evaluated on your rate of hire success, including such metrics as time-to-hire, quality of hire, cost of hire, and other important factors. The key is to set specific, measurable standards and plan regular evaluations as part of your quarterly goals.