The Ultimate Guide: Video Hiring Software and 4 Ways It Can Improve Your Hiring Process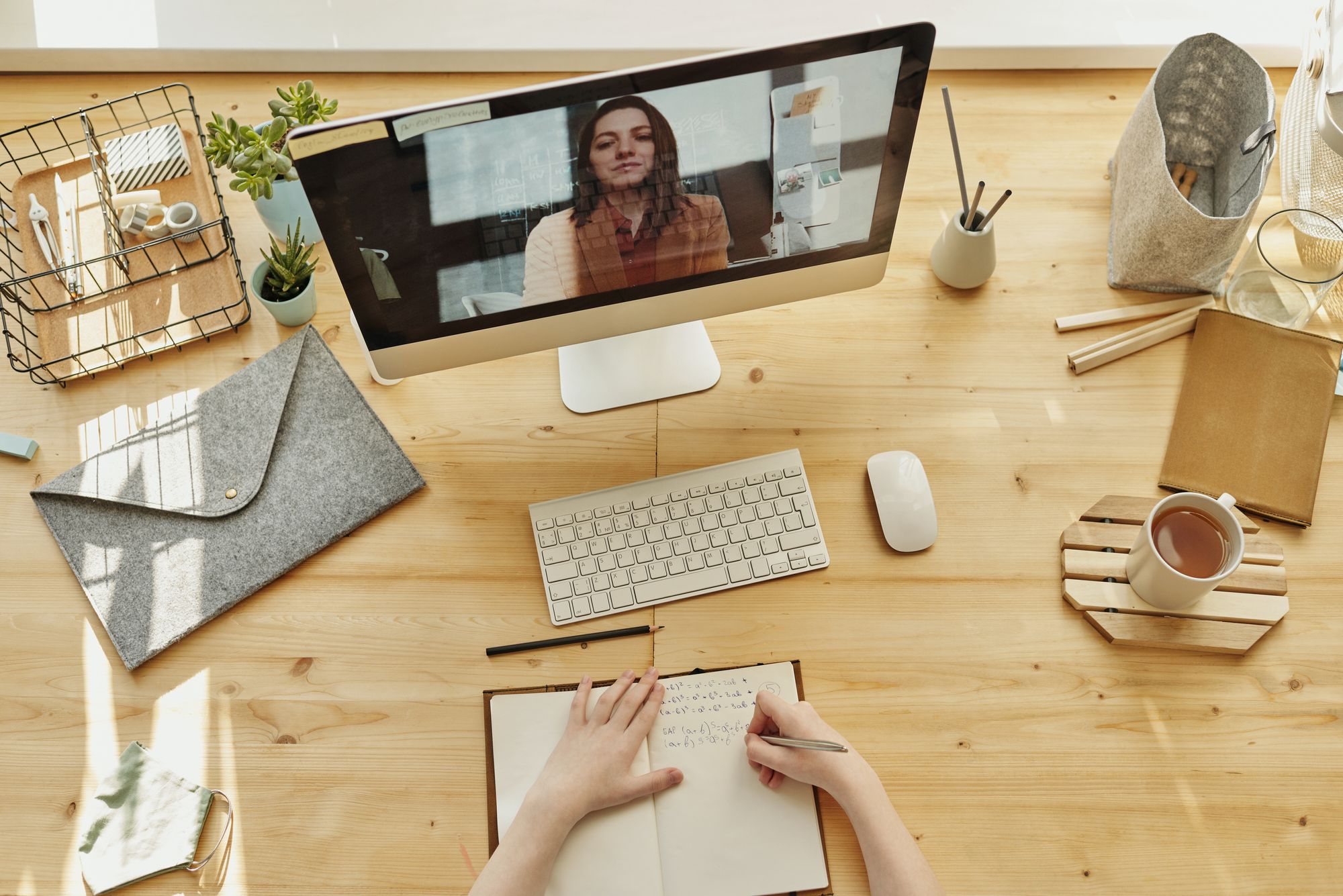 While recruiters and hiring managers have always had a lot on their plates, the past few months have likely triggered an increase in the workload.
With unemployment dropping in the first quarter of 2023 and hiring on the rise, everyone involved in the hiring process will need to step up their game to keep ahead of the curve.
Cutting the amount of time people spend in your pipeline is pivotal because good talent never stays on the market for long. Stepping up your game is key.
This might prove complicated, especially if you already feel like you're at capacity.
But it doesn't have to be that way.
What if you could significantly cut down your company's time-to-hire without dramatically increasing your workload?
What if creating a competitive edge is more about finding the right hiring software to improve your recruitment process?
Finding the right video hiring software can help you pick up the pace of your interview process without adding to your already-backlogged to-do list.
But what is the right video hiring software? And how do you know which type of video hiring software is right for you?  This is an important question to consider. Hiring efficiency could make or break your organization, and in many cases, the results aren't pretty.
💡
Businesses have never done as much hiring as they do today. They've never spent as much money doing it. And they've never done a worse job of it. (
Harvard Business Review
)
Bottomline – the right video hiring software could be a game changer.
That's why, in this post, we'll review what types of video hiring software are out there and which one would be most beneficial to your company so you can turn hiring into a breeze.
What Is Video Hiring Software?
Video hiring software provides systems and structures by which interviewers and job seekers can connect for interviews online. This can happen via synchronous or asynchronous interviews. (More on that in a moment).
There are a handful of benefits video hiring software can bring to your hiring process, which include:
Lowers costs
Streamlines scheduling
Speeds up the hiring process
Allows a larger pool of candidates to apply
Lightens workloads for interviewers and recruiters
Fosters increased collaboration among recruiters, hiring managers, and the whole team
In short, finding the right video hiring software can help adjust your approach to talent acquisition, streamline your recruiting process, make your job easier, and increase the chances that you'll find the best candidates fast.
But you're already busy under the limitations of your current system.
How can you find the time to determine which option is right for you?
We've got you. Read on.
Two Basic Types of Video Hiring Software
In order to choose the best video interviewing software, you'll want to take a look at all the options.
Most video hiring software models can be boiled down to two categories:
One-way Video Hiring Software
Live Video Hiring Software
Option 1: One-way Video Hiring Software
Also known as on-demand video interviewing, one-way video hiring software provides a fixed structure that can greatly streamline your screening and hiring process.
This type of software is perfect for evaluating a large candidate pool and reviewing applicants at scale and ensures you're spending the bulk of your time and energy on only the best candidates moving forward.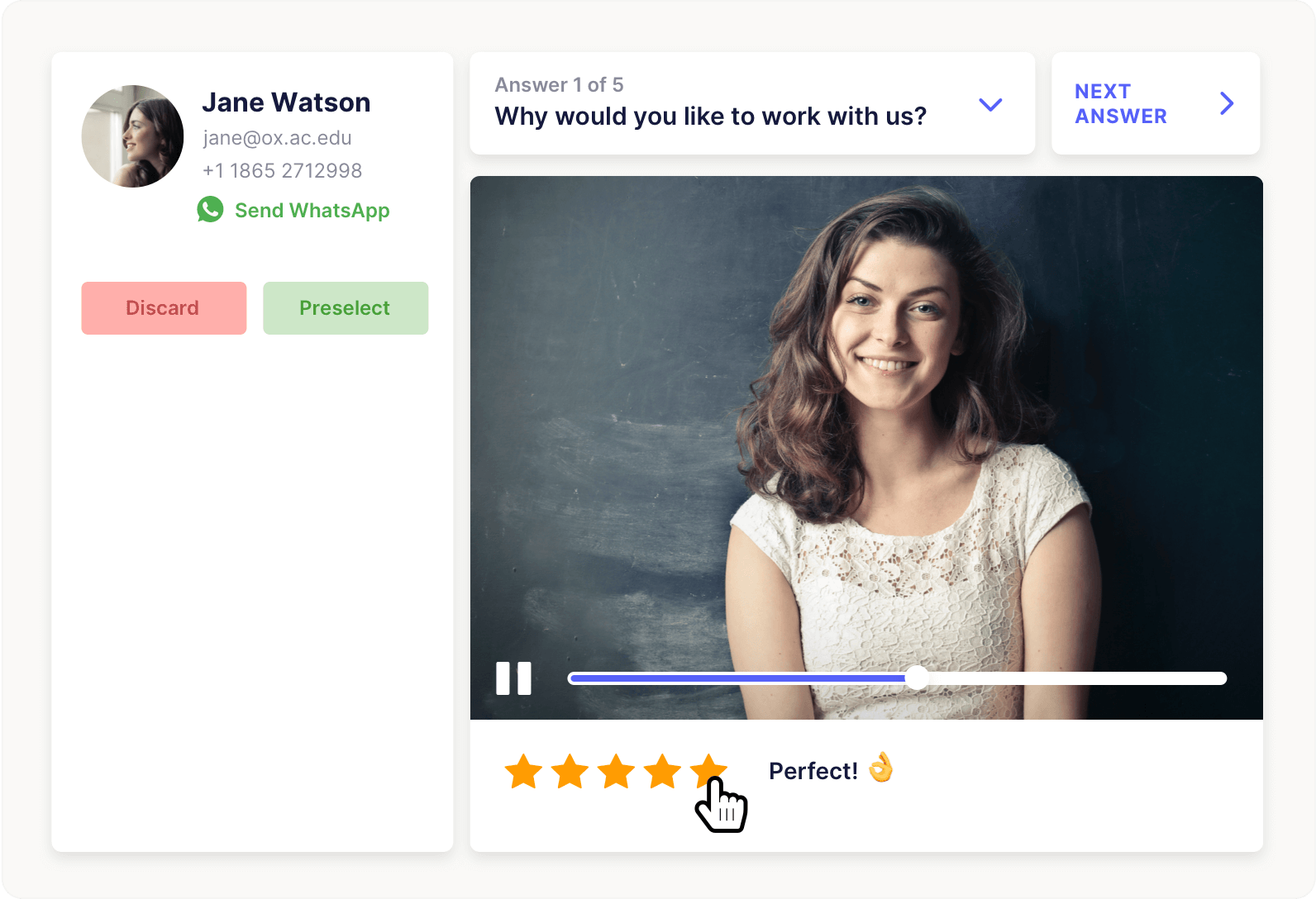 How One-way Video Hiring Software Works
With one-way video hiring software, the steps will look something like this:
Step 1: Build your digital interview. Record and post your interview questions. You'll only need to do this once!
Step 2: Invite as many candidates as you want. Since the interviews are asynchronous, there's no need to coordinate your schedules. Simply send the invitations, and let the system begin collecting responses.
Step 3: Collect, review, and share responses. Watch the video responses at your own pace. When you find a likely candidate, quickly collaborate with your colleagues.
Step 4: Move candidates through your pipeline. Hiring efficiency matters. When you're making better use of your time, you're in a better position to find and hire the right people before someone else snatches them up.
The Best Option for One-Way Video Hiring Software
Hireflix is hands-down the best one-way video hiring software currently on the market.
Because we do one thing and do it well.
We don't overburden our system with frills and flourishes, and we're able to concentrate on doing one-way video interviewing at the highest level as a result.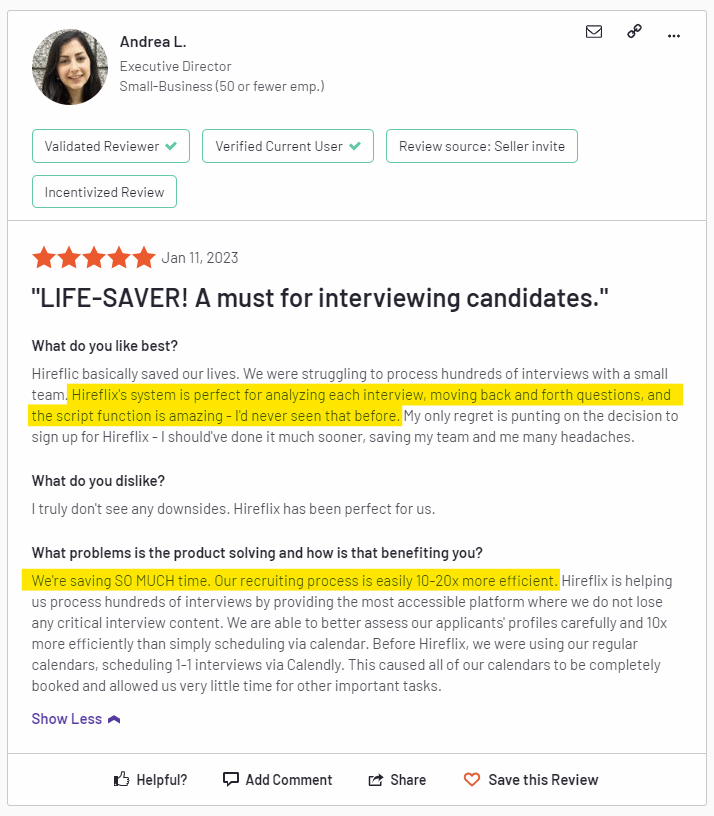 Hireflix is easy to set up, has an intuitive system that's easy to learn, and holds a nearly 100% consumer approval rating.
If you're looking for a one-way video interview software that will help you improve your hiring process immediately, start your search with Hireflix.
Option 2: Live Video Hiring Software
In conjunction with one-way video hiring software, live video software provides a great tool for hiring teams and recruiters because it offers real-time interaction and communication with candidates, allowing for a more thorough evaluation of their qualifications, skills and overall fit for the role.
But to get the best out of your live video hiring software, you'll need to utilize your one-way software first. One-way interview software will help you narrow down the candidate pool and only spend time on candidates that are qualified and most interested.
This will prevent you from moving an applicant to a live interview, only to realize they aren't a fit for the role and you've ended up wasting everyone's time.
That being said, once you have identified the best candidates in the screening process, live video hiring software will make your life easier by allowing you to conduct live, real-time interviews with the candidates, which can help you make more informed decisions about who to hire.
Additionally, live video software can facilitate collaborative decision making by allowing multiple team members to participate in the interview process and provide their feedback.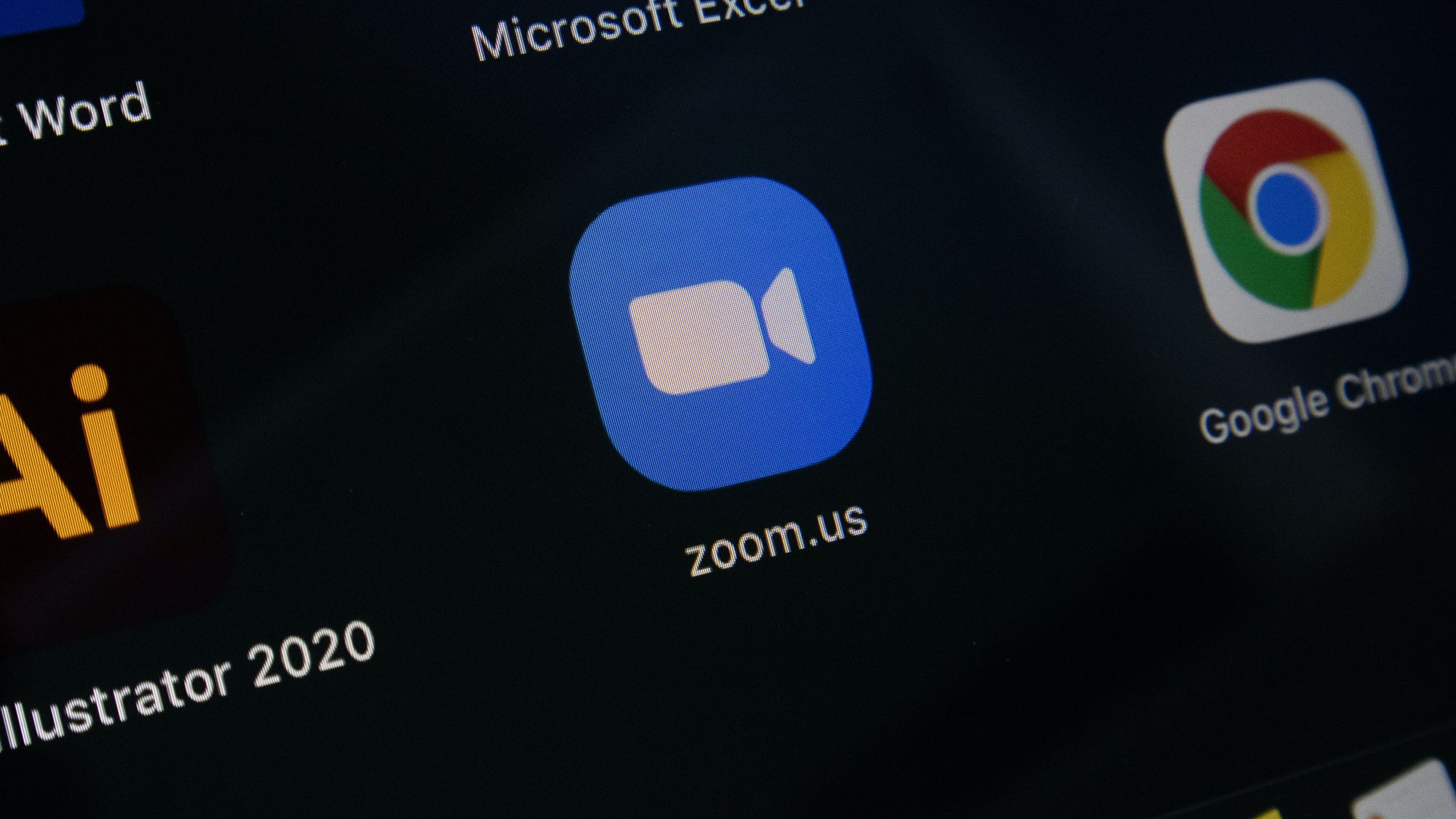 How Live Video Hiring Software Works
You probably already know how live video software works and have likely used it before reading this post. But it's important to review again because it will help us identify its strengths, and where it should fall into your recruitment process based on those strengths.
Live video hiring software utilizes video conferencing technology to connect the interviewer and interviewee, regardless of their location.
To use live video hiring software, both the interviewer and the interviewee need to have a device that's compatible with the software (a computer or a smartphone) and a reliable internet connection.
Step 1: Scheduling a time & sending an invite. Once a time for the interview has been agreed upon by all participants, the interviewer will send an invitation to the interviewee, which will contain a link to the video call.
Once the interviewee clicks on the link, they'll be prompted to install the necessary software (if they don't already have it) and then they'll join the video call.
Step 2: Conduct the interview. During the live video interview, the interviewer and interviewee can see and hear each other in real-time, just like in an in-person interview.
The interviewer can ask questions and the interviewee can respond, just like in a traditional interview. The interviewer can also share his or her screen to show any relevant documents or information to the interviewee.
Live video hiring software also allows for multiple team members to participate in the interview process and provide their feedback. This facilitates a collaborative decision-making process and allows for a more thorough evaluation of the candidate.
Step 3: Review the candidate's qualifications & move to next steps. After the live video interview is finished, the recruiter and/or hiring manager needs to review any notes from the interview, further evaluate the candidate's qualifications and skills, and reach out to any references if needed.
Then they'll make the decision to advance the candidate in the process or explore other options.
While each company has its own specific recruitment process, the flow of a live virtual interview will usually follow a similar structure of evaluating a candidate and making a decision whether or not to move forward with them.
But no matter the process or company, one thing remains true about live video interviewing – it's time consuming.
And that's not necessarily a bad thing. No one wants to make a rushed hire. Especially if it's for an important position.
But the strengths that live video software have are best suited for candidates who are further down in the recruitment process. Not at the beginning of the pipeline.
Imagine having to coordinate interview times with 100+ applicants. And then the time it'd take to actually do those 100+ interviews.
You wouldn't have time to get anything else done!
This is why it's important to know the strengths of both one-way video hiring software and live video hiring software and where they best fit into your recruitment process.
Best Options for Live Video Hiring
Overall, live video hiring software is a valuable tool for recruiters and hiring teams as it allows for real-time interaction and communication with candidates, which can help make more informed decisions about who to hire.
To help you discover the live video software that's right for you, here are some of the best options available:
Google Meet. All things considered, Google Meet is a great choice for remote interviews, particularly if you are already using the Google Suite. As a plus, Google Meet includes live captioning, making this a fully accessible option. However, if you're trying to hire at scale, scheduling through Google Meet can prove cumbersome.
Zoom. There's a reason why Zoom is so popular. Zoom Meetings is known for having high security and high usability. The software is intuitive and consistent, and integrations with Outlook, Gmail, and iCalendar facilitate scheduling in a way some of its competitors do not.
Microsoft Teams. Because Microsoft Teams has a free browser version, candidates can join an interview without having to download anything or figure out a new app. When the time comes, they can simply join the call and complete their live interview.
All of these options, however, require you to create a procedure for scheduling, and you and all job candidates must be able to show up at the same time for interviews.
In some situations, that may be difficult (if not impossible). And in the end, you may lose out on some of the best candidates simply due to scheduling conflicts.
And you obviously don't want that.
With one-way video hiring, however, you can streamline and accelerate your hiring process while giving immediate access to anyone who wants to apply.
4 Ways One-Way Video Hiring Software Can Improve Your Hiring Process
If you're looking to improve your hiring process, one-way video hiring software can help with four very specific improvements.
Improvement 1: Verification
As opposed to starting by reading a resume or conducting a phone screening, one-way video hiring software allows you to physically see the potential candidate and evaluate how he/she presents himself/herself in their video responses.
With one-way video hiring software, you can:
Verify a candidate's identity
Evaluate how candidates present themselves
Allow first impressions to take into account the whole person, not just their on-paper claims
Improvement 2: Specification
The benefits of first impressions, including a video interview (as opposed to reading an application or resume—or even conducting a phone interview) are enormous.
This is largely due to the fact that up to 90% of communication is actually non-verbal.
💡
The 90% figure wasn't plucked out of thin air. It was Albert Mehrabian, a researcher of body language, who first broke down the components of a face-to-face conversation. He found that communication is 55% nonverbal, 38% vocal, and 7% words only.
(
The University of Texas
)
Video interviews allow you the benefit of going beyond past answers and reading the candidate's
Body language
Tone of voice
Facial expressions
Overall energy
In this way, you gain the full nuances of communication in your interviews.
One-way interview software can allow candidates to present themselves to their best advantage while also giving you more context with which to make an informed decision.
Improvement 3: Confirmation
When you conduct a live interview, even if you're taking good notes, it's possible that you might miss something.
Even if you haven't missed anything, it could be difficult to communicate to your team exactly what you found so compelling about one particular candidate over the other.
This is the power of recorded one-way video interviews. You can share video responses internally among your entire hiring team, allowing you all to work from the same information.
Together, you can refer back to specific answers and analyze them fully based on something other than just one person's memory.
Improvement 4: Motivation
If there's one thing that recruiters know, it's that not all job candidates are created equal. And we're not just talking about skills and qualifications.
We're also talking about motivation to follow through on the next steps in the hiring process.
For as often as job seekers have complained about getting ghosted by a company mid-hiring process, the opposite is also true.
Some job seekers approach the process with a more passive mindset, giving a recruiter or hiring manager little to go on when it comes to assessing motivation.
When a candidate is willing to show up on video, however, this reveals a refreshing element of intent on their part.
A person who's willing to be seen and go on the record in a video interview is a person less likely to drop out midway through the hiring process.
One-way video hiring software, therefore, can do more for you than simply streamline scheduling and interviewing.
It can also help reveal who the most energized and motivated candidates are, helping you and your hiring team narrow your focus and move the most likely hires through the pipeline at accelerated rates.
Which Video Hiring Software Option Will You Most Benefit From?
Now that you've seen an overview of both one-way and live video interview software options, your choice may already be clear.
While synchronous live video interviews offer some advantages, asynchronous one-way video interviewing remains one of the best and most reliable ways to streamline the beginning of your hiring process so you can grab the attention and advance the best hires before they're off the market.
The next step is to choose the right service.
Why Hireflix Is the Best One-way Video Interview Software
While there is a host of one-way video interview software currently available for you to try, we believe Hireflix stands a cut above the rest for three specific reasons.
Our Focus
Hireflix is not a jack of all trades. Instead, we work to provide a specialized tool that focuses solely on one-way interviewing.
While other platforms may claim to be more "powerful" due to a wide array of bells and whistles, the reality is this: they're generalists. Not specialists.
These platforms, in trying to offer everything in addition to one-way interviewing, really specialize in nothing. Therefore don't stand out in anything. Hireflix, on the other hand, provides premium one-way video interview software with premium video interview API.
Our Fees
In addition to offering a free trial that will allow you to check us out and experience the Hireflix difference at no cost or commitment, Hireflix fees are also super affordable.
And it goes back to doing one thing, really well.
Because we aren't maintaining a lot of extra frills, we're able to provide premium one-way video interview software without cutting costs or quality.
Our Ease of Use
The Hireflix video interview platform is simple and intuitive, even when you're just getting started.
From day one, you'll find Hireflix simple to navigate, making it easy to get started accelerating your interview process today.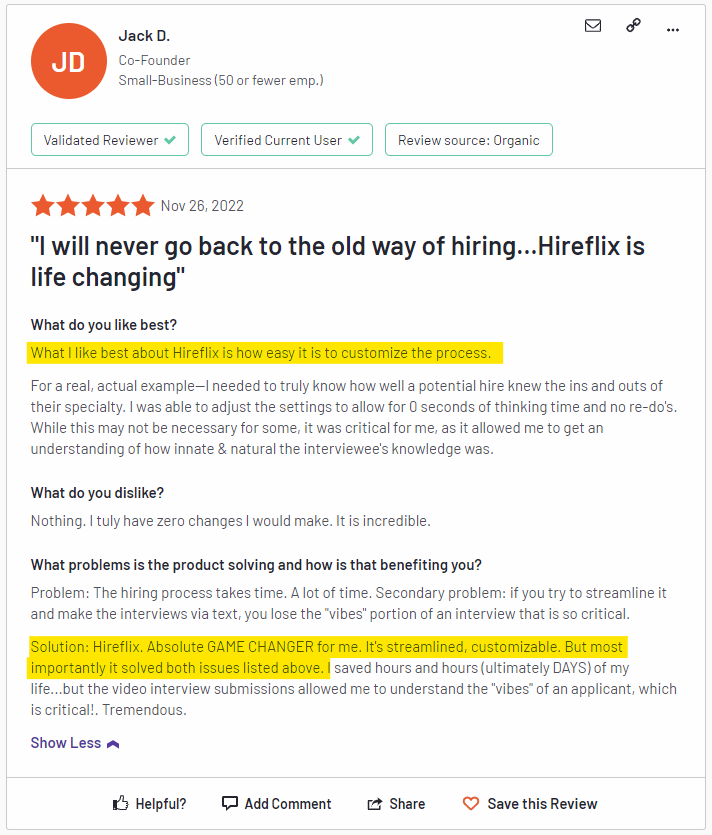 Our High-value User Experience (UX)
The Hireflix video interview tool is not just easy to use on your end.
We also provide an unparalleled user experience for interviewees. Here's how:
Fast. Applicants can access pre-recorded video interview questions and get started recording their responses with just a few clicks.
Free. Job seekers don't need to download yet another app or learn new software, meaning there are no additional barriers or hurdles to applying.
Easy. There's no need to log in or create a user profile.
Because the Hireflix system is fast, free, and easy, there's nothing to hinder candidates from starting their application right away.
Once their interest is sparked, nothing slows down their momentum.
When they see a likely job, they can apply immediately.
Everyone wins.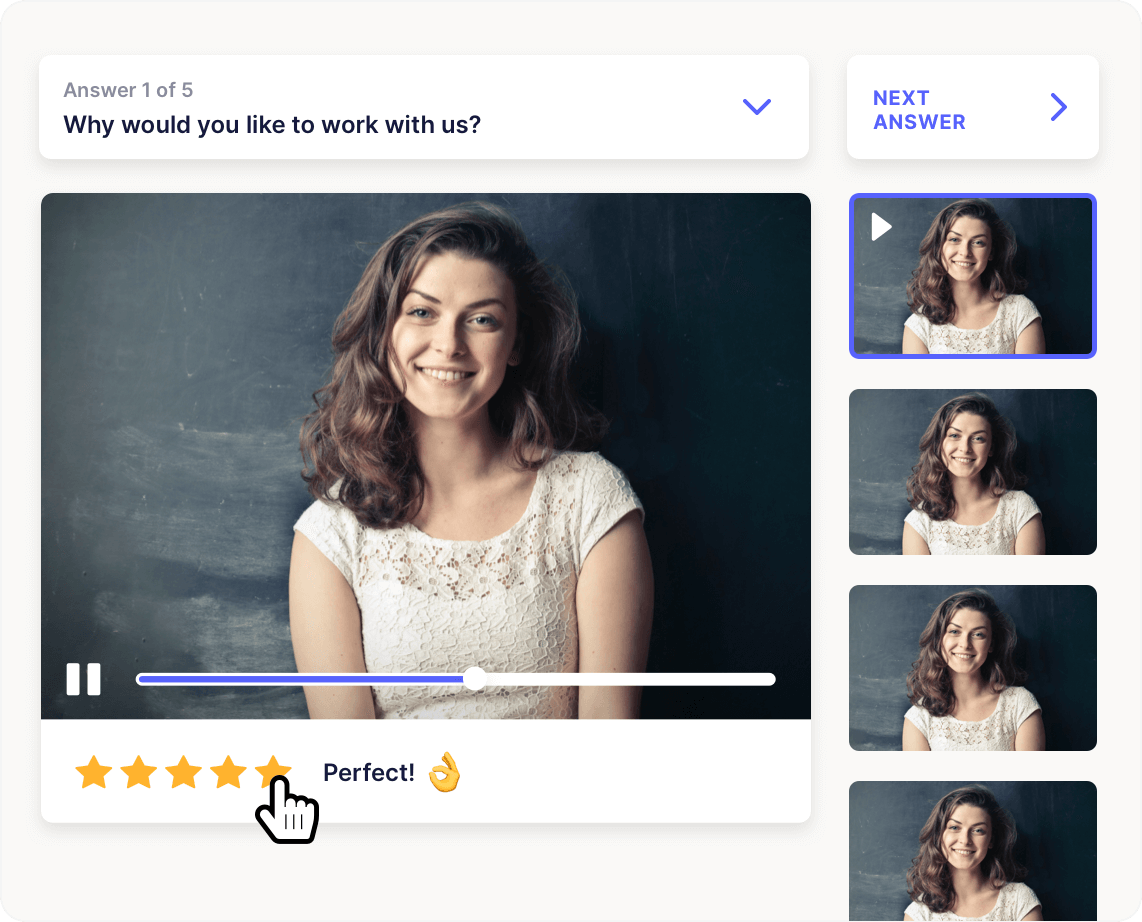 Connect with Hireflix
If you're ready to get started with a premium one-way video hiring software, we're here for you.
Stop by, see what we have to offer, and request a demo today.
We look forward to hearing from you!

FAQs

What is video hiring software?
Video hiring software leverages innovations in on-screen communication to speed the hiring process. Candidates can interview from the comfort of their own homes, and recruiters and hiring managers can evaluate interviews and streamline their hiring process accordingly.
What are the different types of video hiring software?
Video hiring software systems fall into two basic categories: live (synchronous) and one-way (asynchronous). While both options have different benefits, one-way video hiring software provides on-demand convenience that makes the best use of everyone's time and keeps the hiring pipeline moving.
What are the benefits of video hiring software?
Video hiring software allows for identity verification, the nuance of communication, confirmation of details, and increased motivation for applicants to follow through on the interview process.
What is the best video hiring software tool?
While you currently have a variety of options at your disposal, Hireflix has the asynchronous video interview process down to a science. Our specialized tools accelerate and streamline the hiring process, allowing you to move qualified candidates through your pipeline quickly and efficiently.